Godzilla l Débarque sur Netflix en film animé
Godzilla, figure emblématique de la culture populaire japonaise au cinéma à vu le jour en 1954. Créer par le studio Toho avec Tomoyuki Takana ce film à engendrer un succès fou lui valant à l'heure actuel plus de 30 films lui étant consacré ainsi que des jeux vidéos, des mangas, des comics, des séries et cette année il devrait passer une nouvelle étape : Le film animé toujours en compagnie du studio Toho.
Cette version animé est réalisé par Kobun Shizuno ( Knights os Sidonie) et Hiroyuki Seshita er le scénario est écrit par Gen Urobuchis. Elle sera dirigé par le studio Polygon Pictures ( Star Wars : The Clone Wars ou bien Ghost In The Shell 2 : Innocence). Il sera diffusé à l'international sur la plateforme Netflix qui ne s'arrête plus avec les exclusivités ( Scorsese) Et il disposera d'une sortie en salle dans son pays natal le Japon … Ça ne sera donc pas pour tout de suite en France.
Il devrait tout d'abord être présenté dans quelques jours, le 26 mars à l'Anime Japan 2017, nous devrions avoir plus d'informations à ce moment là.
Il sera baptisé Godzilla aussi sobrement et promet selon Netflix :
Il va offrir une nouvelle interprétation du monde de Godzilla dans le futur
Voici les premiers concept Art :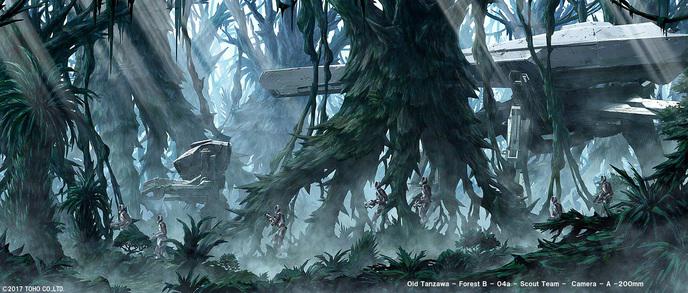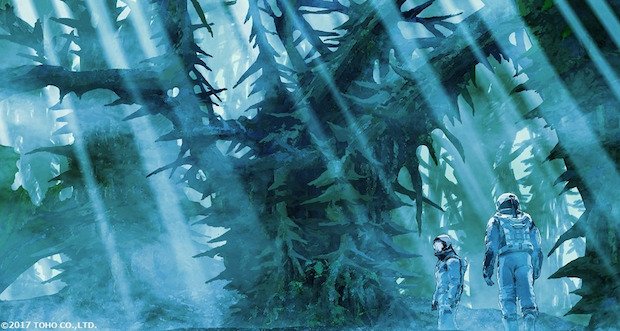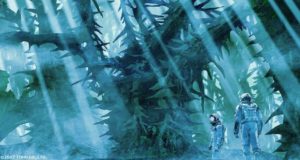 Un monde en effet très futuriste avec une végétation luxuriante.
Enfin au niveau du casting vocale nous retrouverons :
– Yuki Kaji ( l'attaque des Titans )
– Tomokazu Sugita ( metal Gear Solid : peace Walker )
– Kana Hanazawa (Psycho-Pass)
À noter tout de même que le gros lézard à déjà eu le droit à sa phase de série animé en 1998 inspiré du film Godzilla de Rolland Emmerich. Godzilla affrontait alors des ordres de créatures terrifiantes. Ce reboot n'avez pas du tout convaincu les Japonais ainsi que la presse américaine et européene … Ça fait quand même beaucoup espérant donc un meilleur animé pour cette année. Mais au vue du studio qui le prépare et la plateforme Netflix on devrait avoir une nouvelle pépite de ce personnage déjà bien connu.
Première série animé de 1998 :
Le film d'animation se placera donc avant le prochain film Kings of Monsters en 2019 réalisé par Michael Dougherty que l'on attend avec impatience tout comme l'affrontement des deux King : King Kong et Godzilla dont on vous parlez dans cette article.
Rendez vous le 26 mars pour d'autres informations.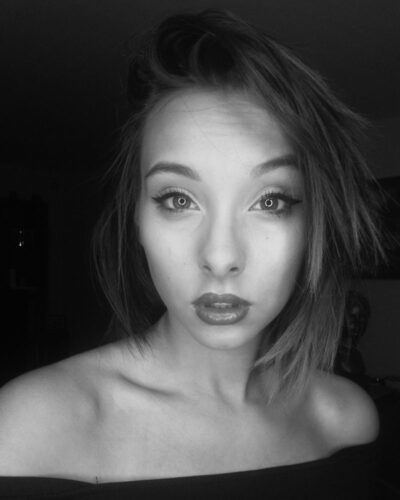 Journaliste gameactuality.com