[Guide] Disney Dreamlight Valley : All ingredients location
Our guide lists the locations of all Disney Dreamlight Valley ingredients. Disney Dreamlight Valley is a hybrid between a life simulator and an adventure game packed with quests, exploration, and engaging activities alongside Disney and Pixar friends old and new. Disney Dreamlight Valley is a free-to-play video game developed by Gameloft.
Where to find ingredients ?
You can find ingredients in all biomes and realms. Some areas are more conducive to certain types of materials, follow the guide to find your way around.
How to acquire ingredients ?
Use your pickaxe on the following (Rock, Ore, Ice Spike). Use your shovel on the following (soil, tree stump). Gather materials from the ground (stone, wood, clay). You can also purchase ingredients directly from Dingo's booth once unlocked.
How to get ingredients quickly?
To get ingedients faster, assign the task of gathering, or digging to a kingdom character. Take them with you on your expeditions to multiply your rewards.
List of all Dreamlight Valley ingredients
Vegetables :
Fruits :
Cereals :
Rémy's Pantry :
Butter
Peanut
Cheese
Milk
Egg
Glace pillée
All these ingredients are on sale at Rémy's restaurant on the esplanade.
Spices and herbs :
Seafood :
Asparagus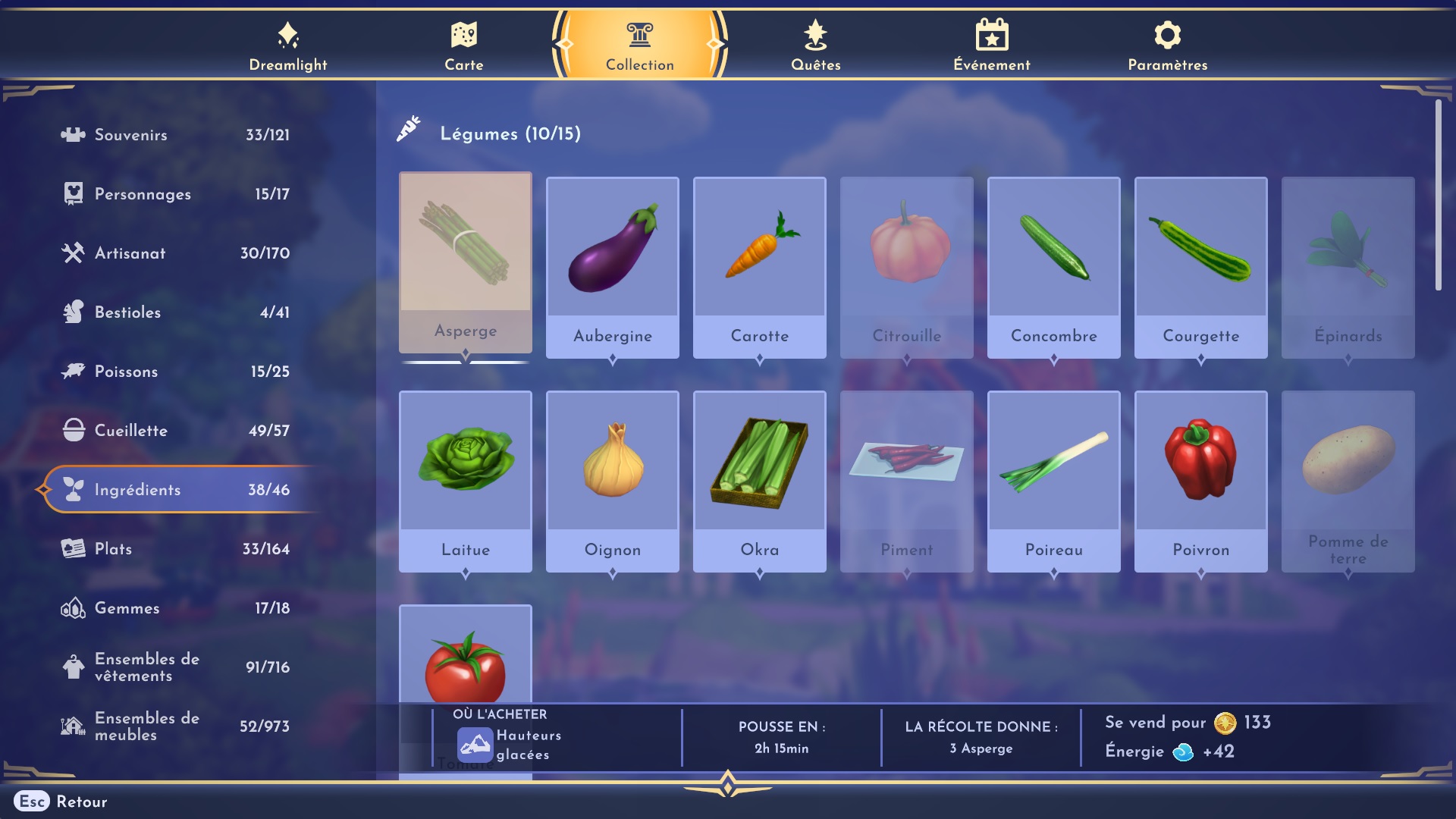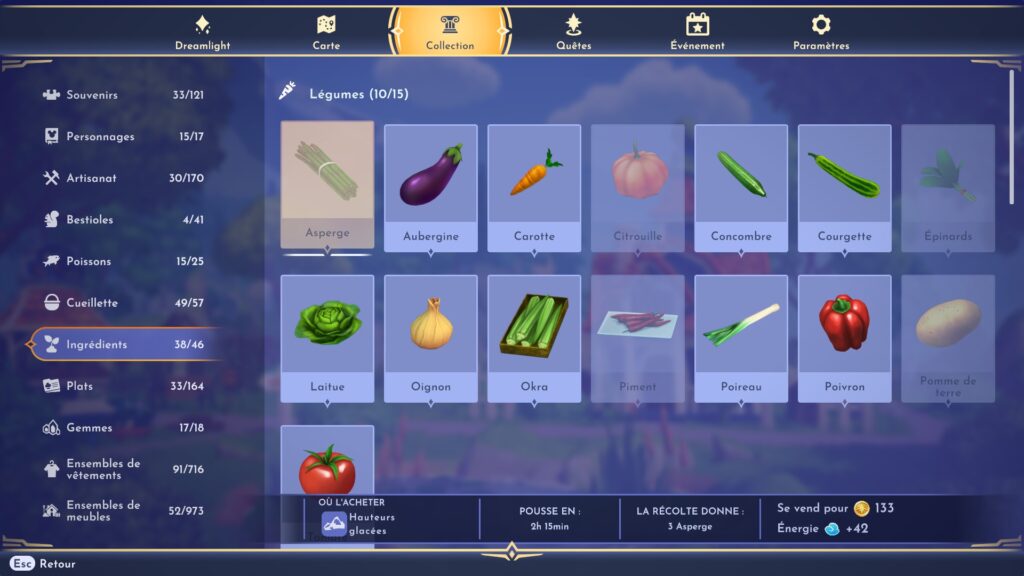 To get the asparagus ingredient, you need to go to the following area: Frosted Heights
Eggplant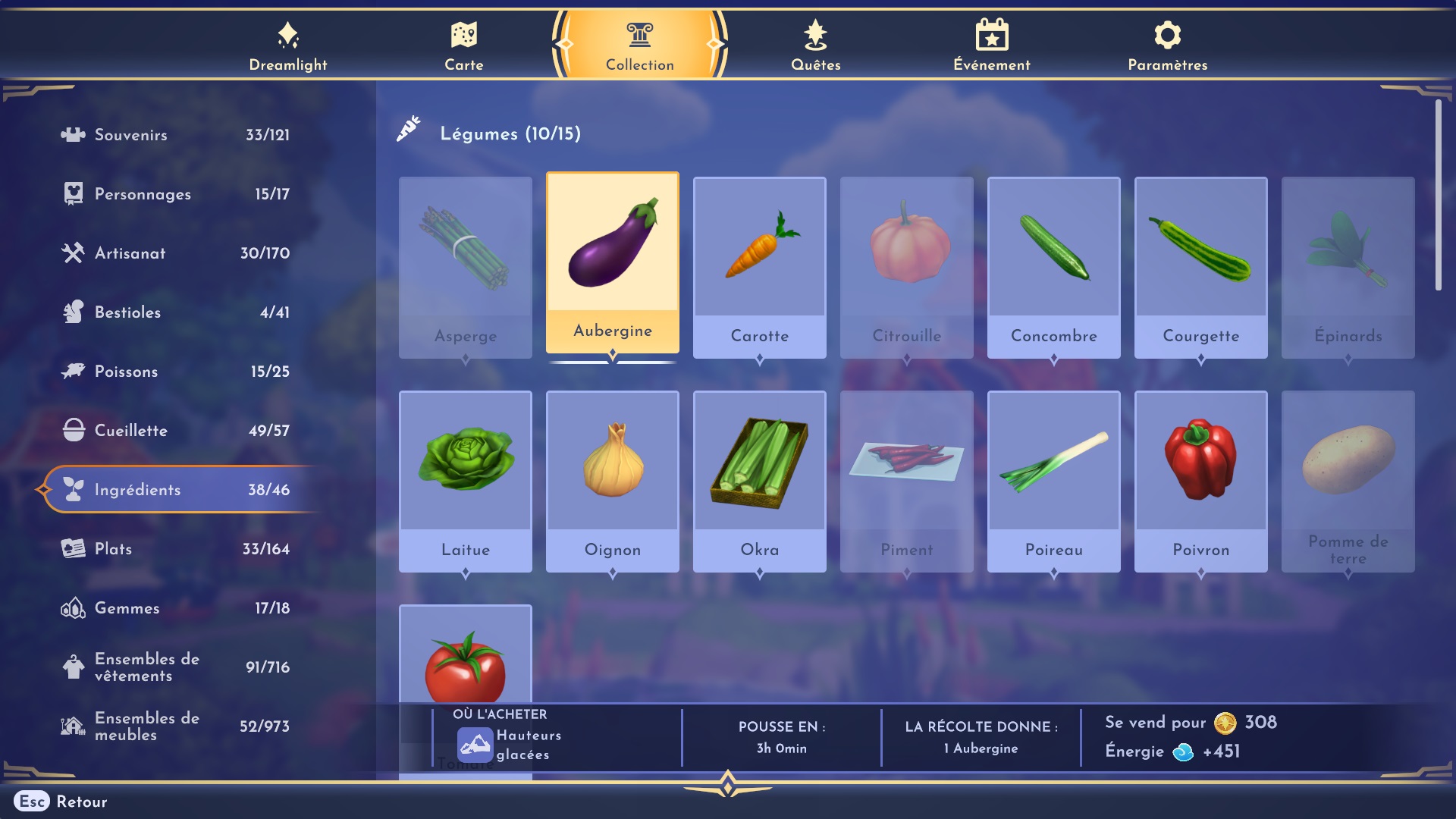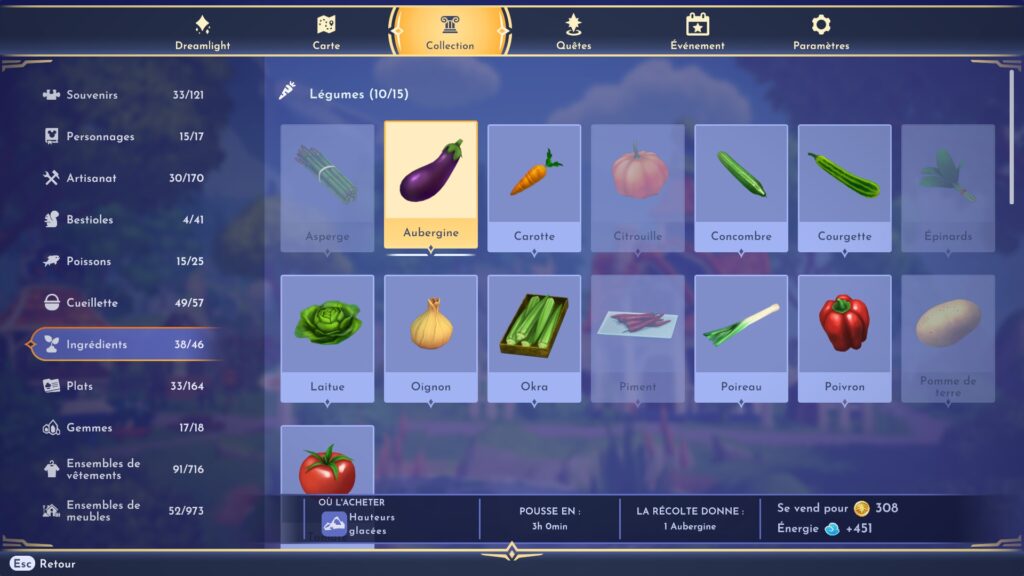 To get the eggplant ingredient, you need to go to the following area: Frosted Heights
Carrot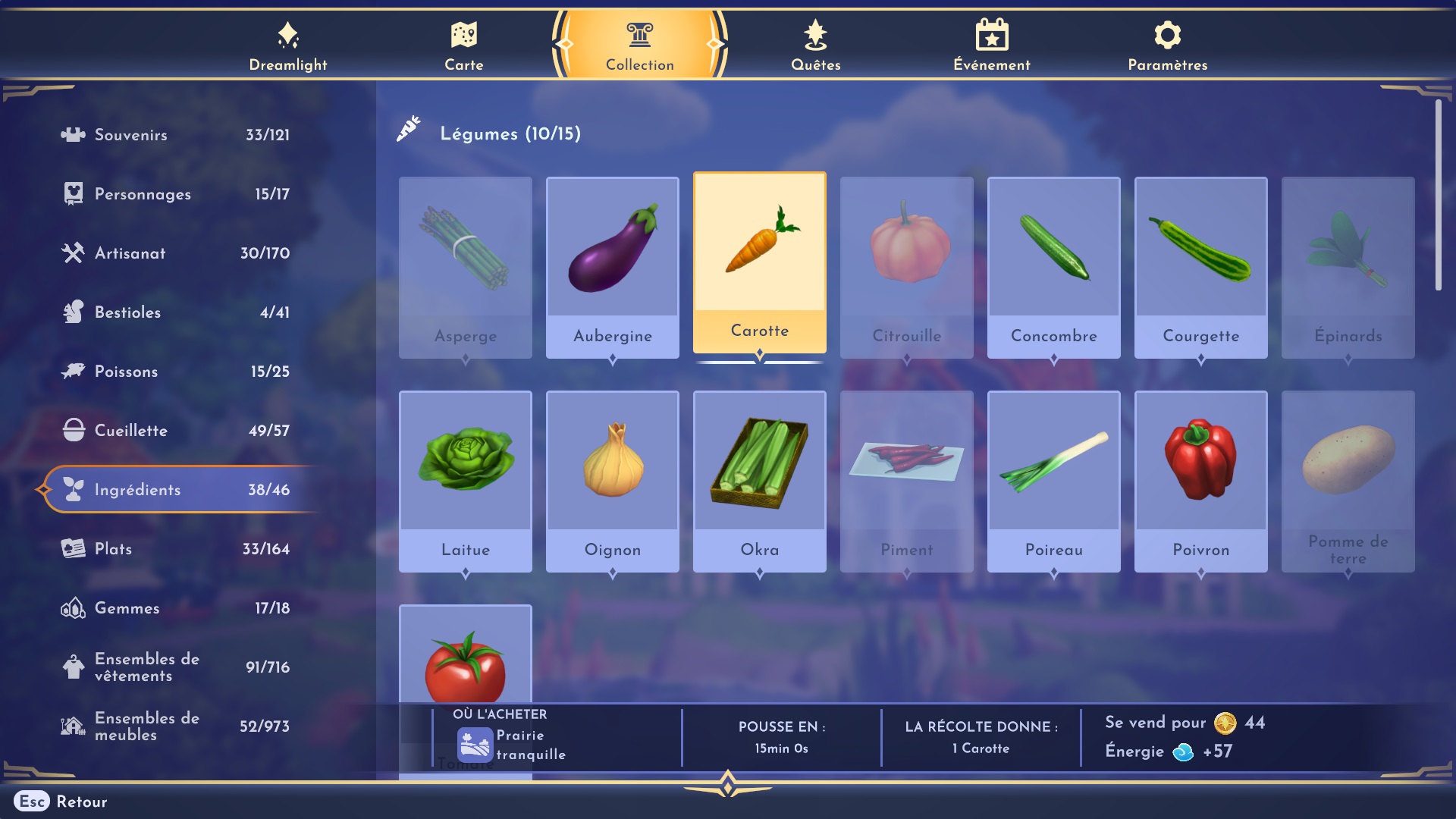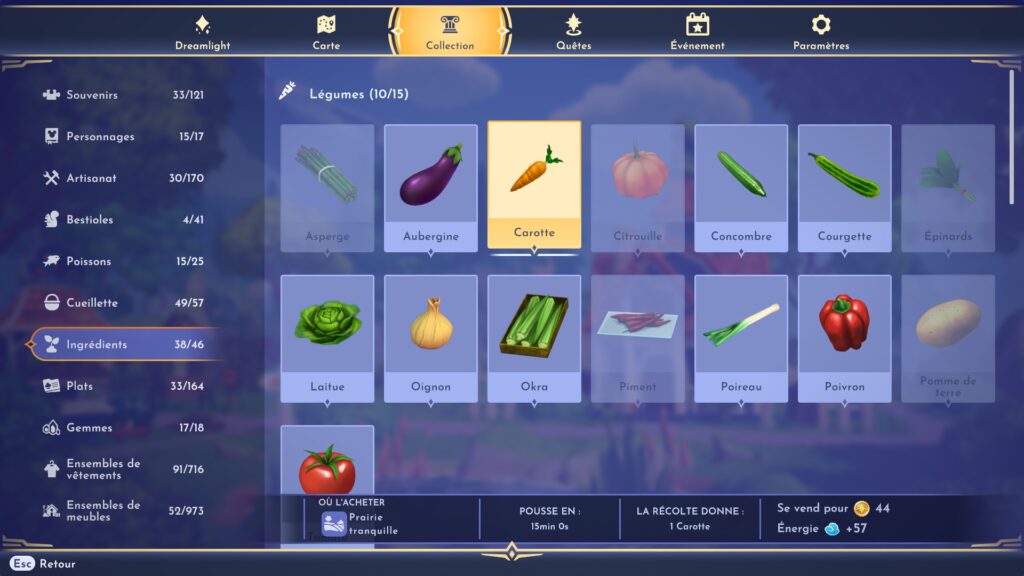 To get the eggplant ingredient, you need to go to the following area: Peacefull Meadow
Pumpkin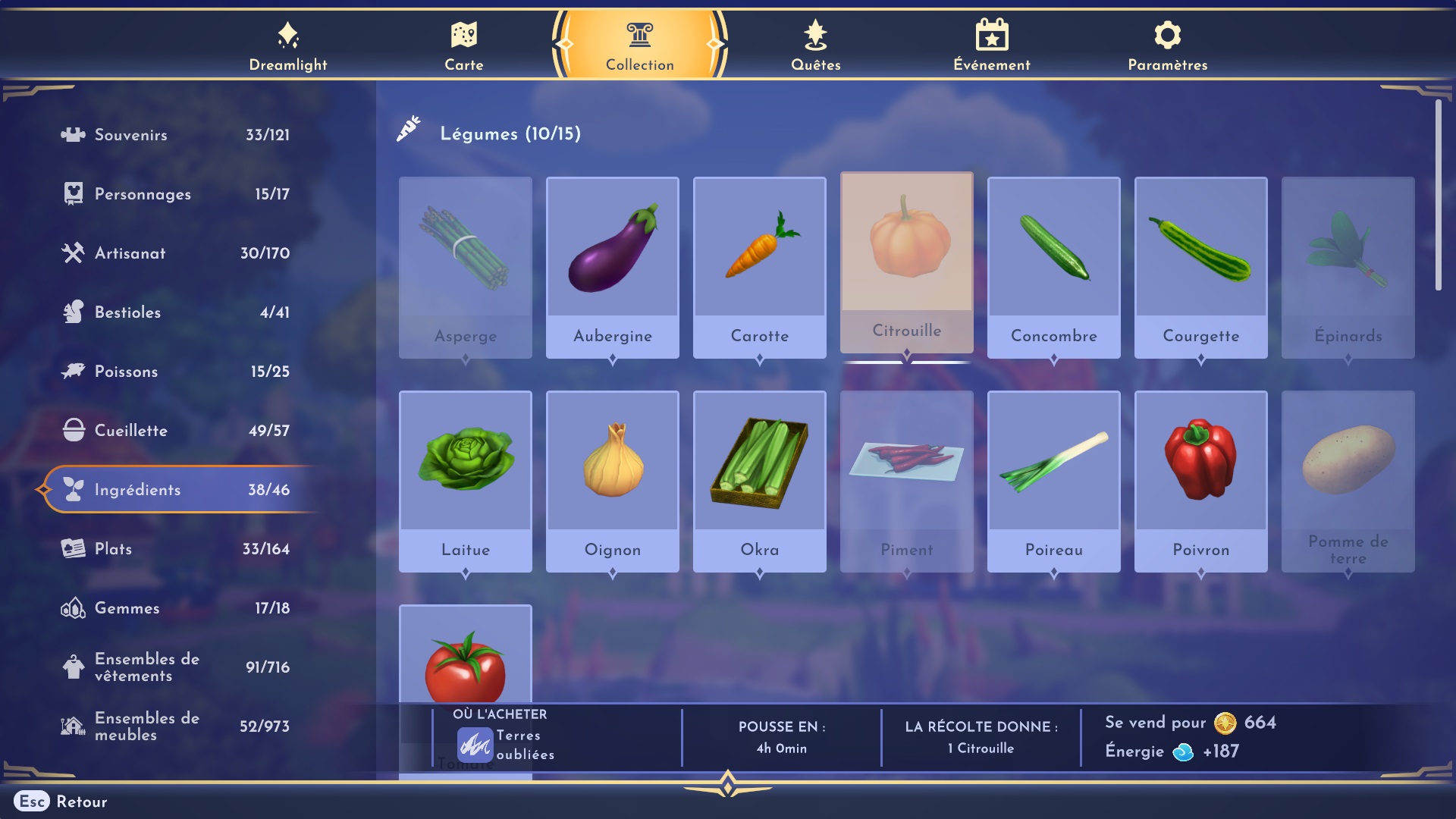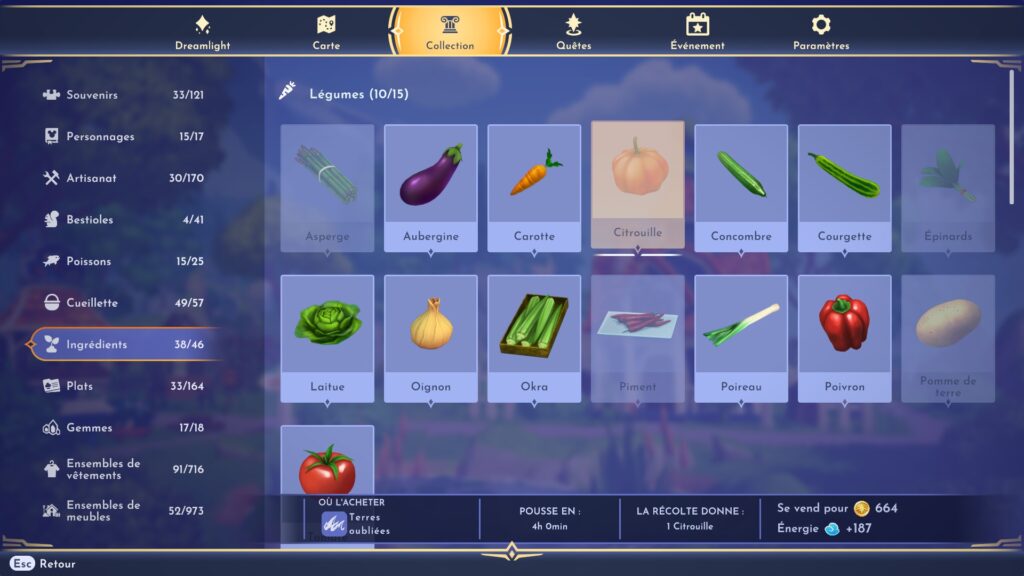 To get the pumpkin ingredient, you need to go to the following area: Forgotten Lands
Cucumber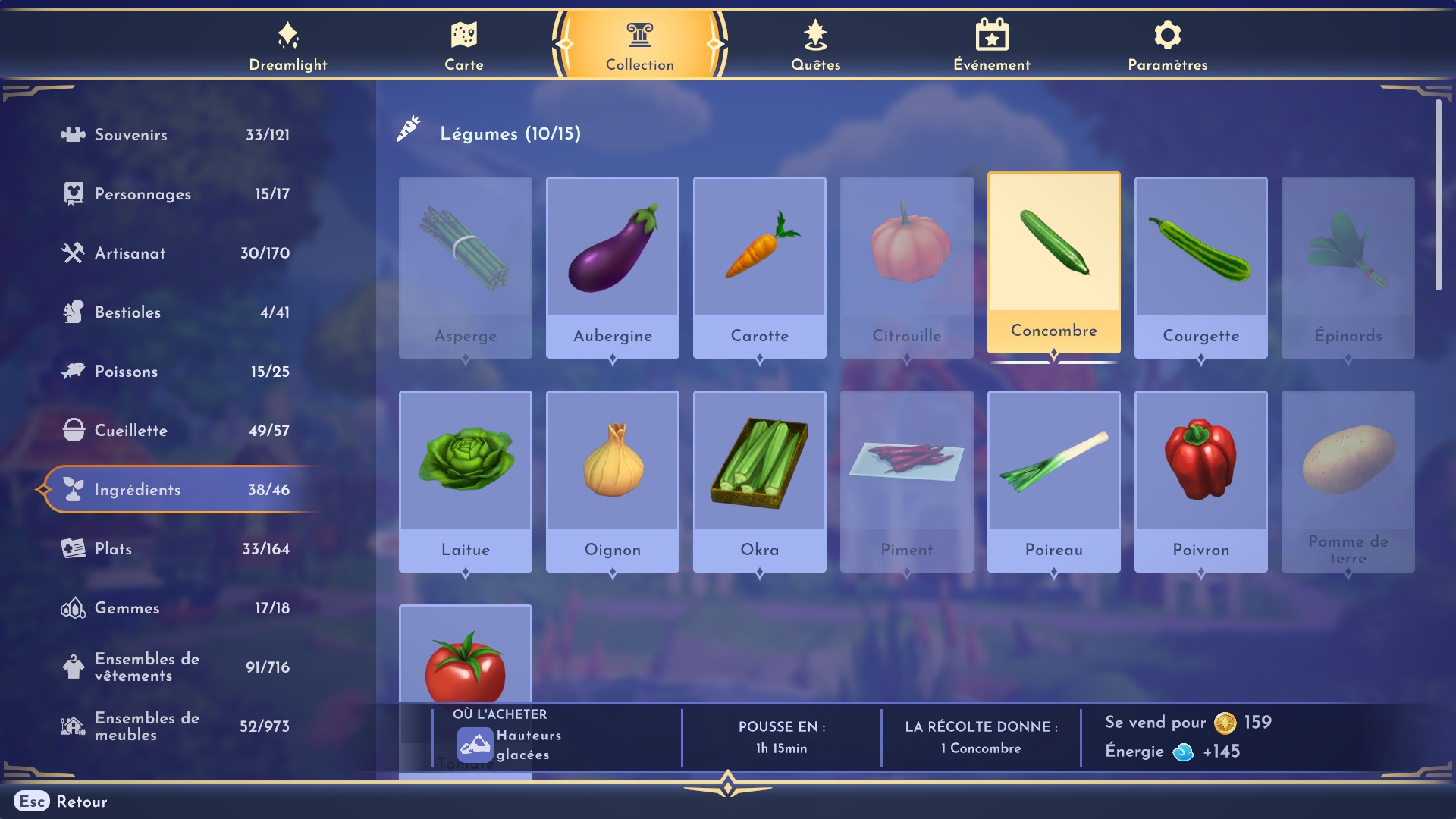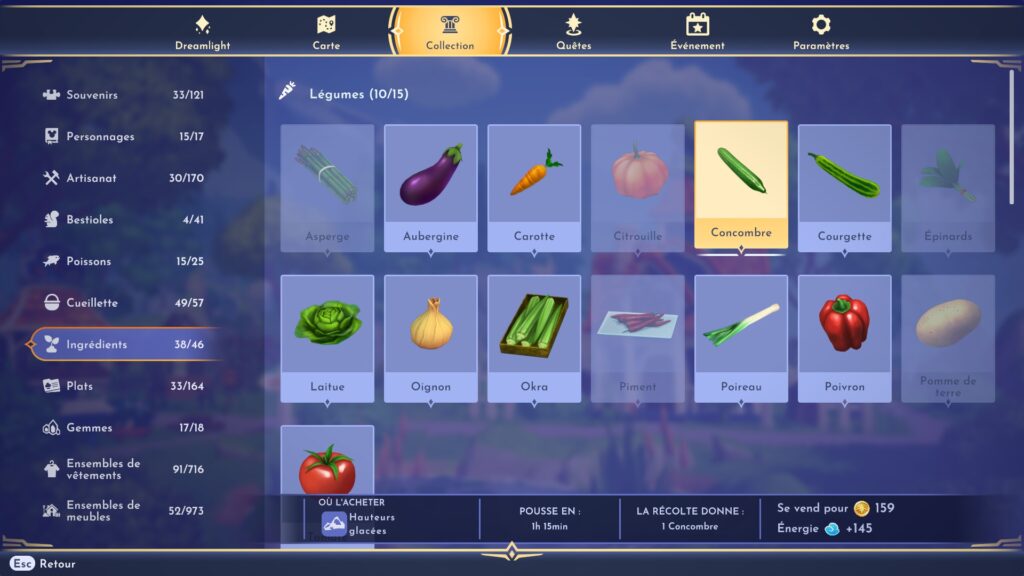 To get the cucumber ingredient, you need to go to the following area: Frosted Heights
Zucchini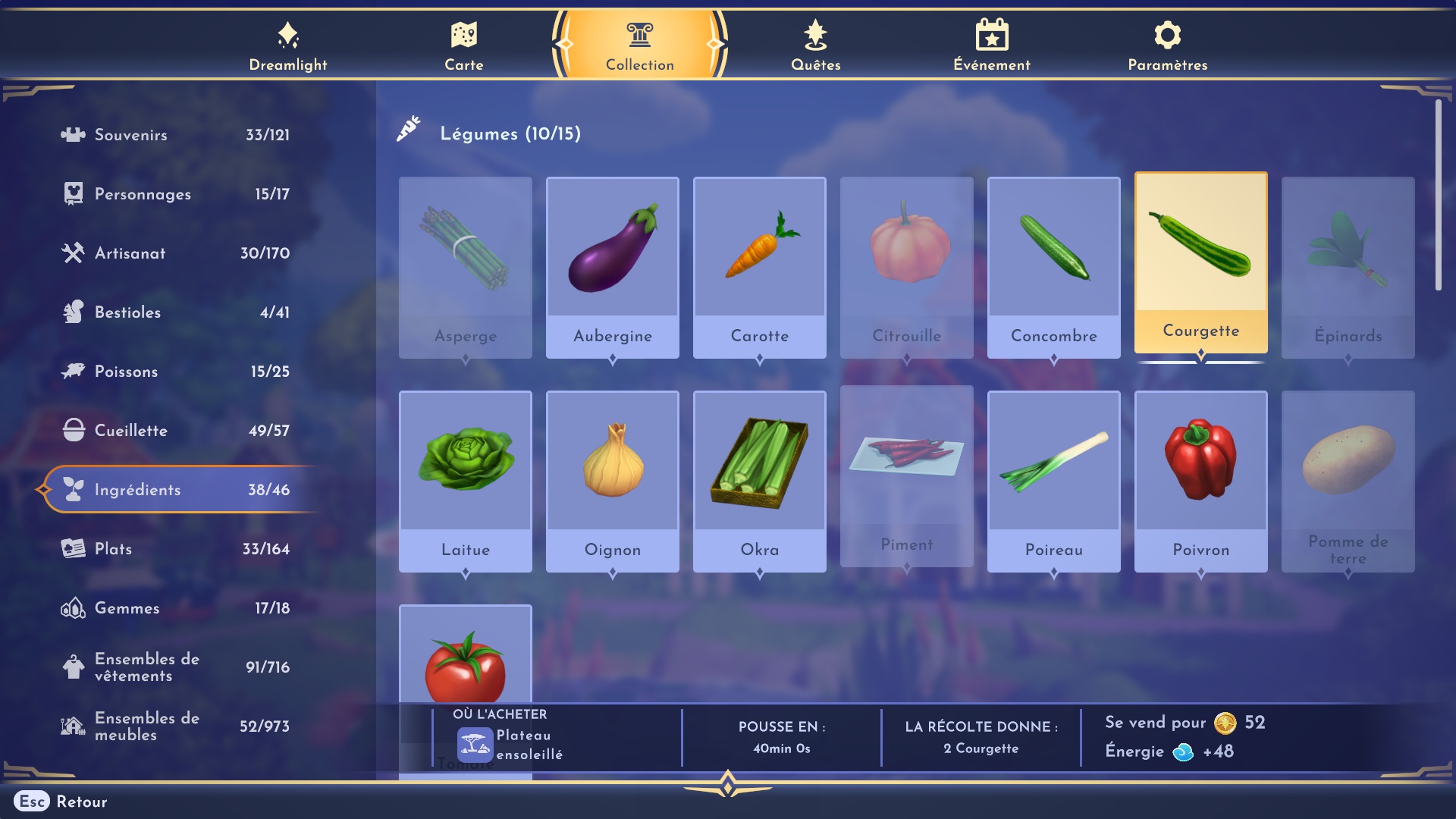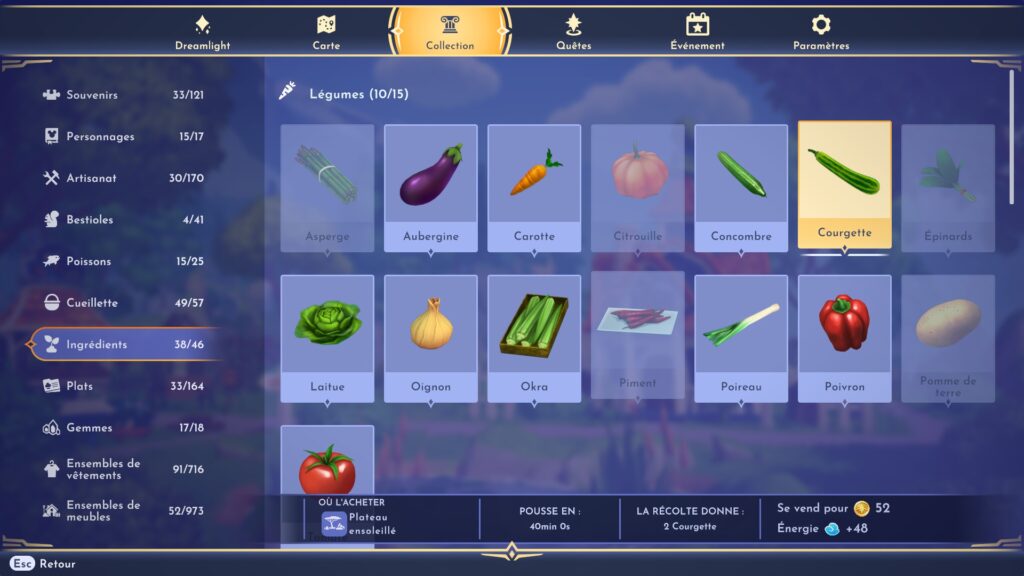 To get the zucchini ingredient, you need to go to the following area: Sunlit Plateau
Spinach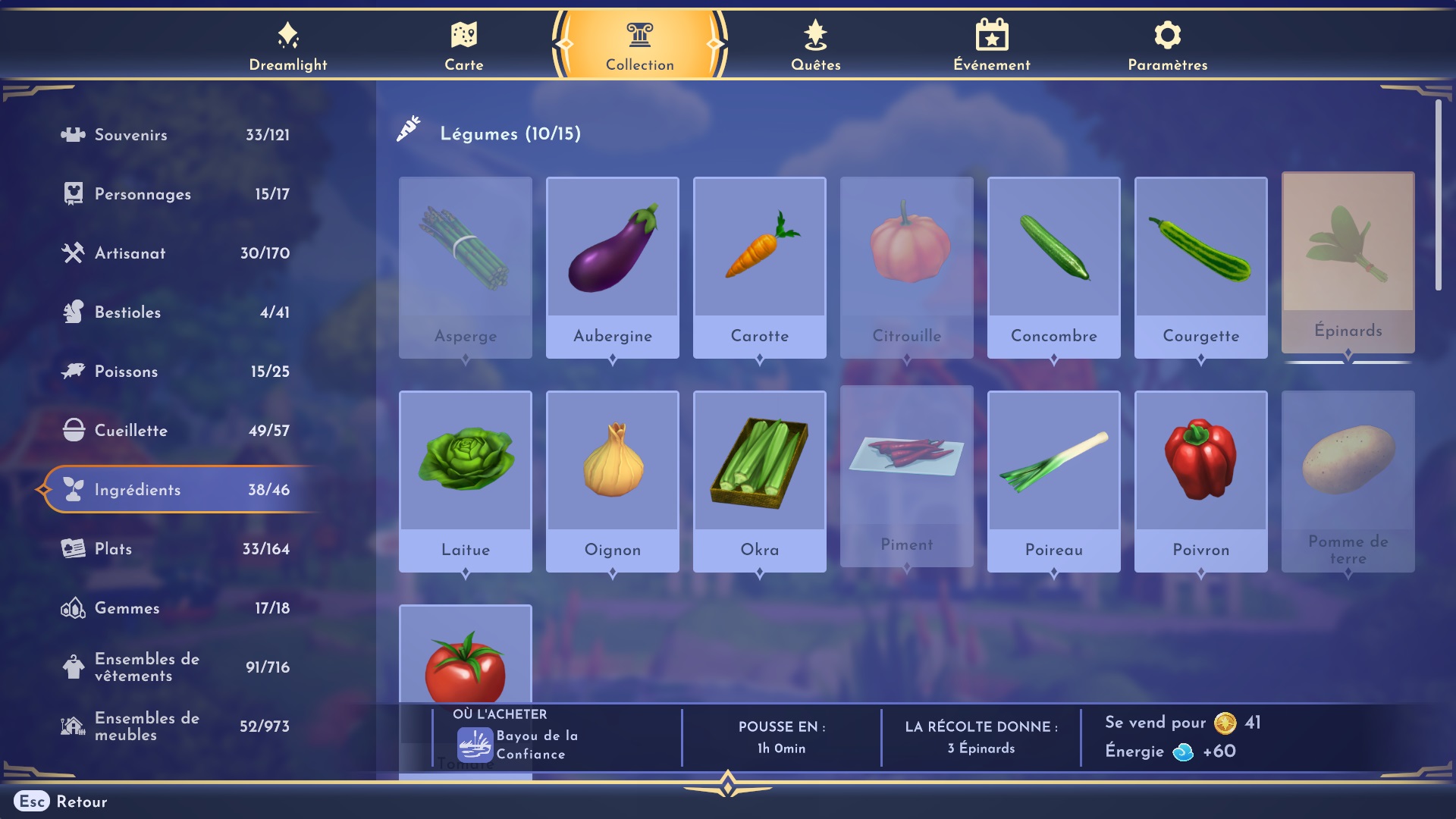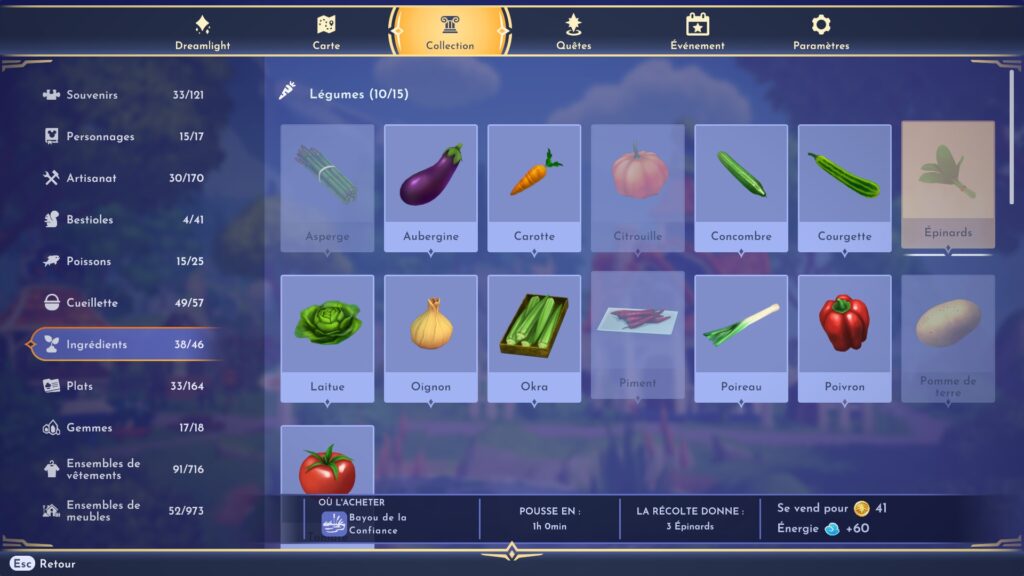 To get the spinach ingredient, you need to go to the following area: Bayou of trust
Lettuce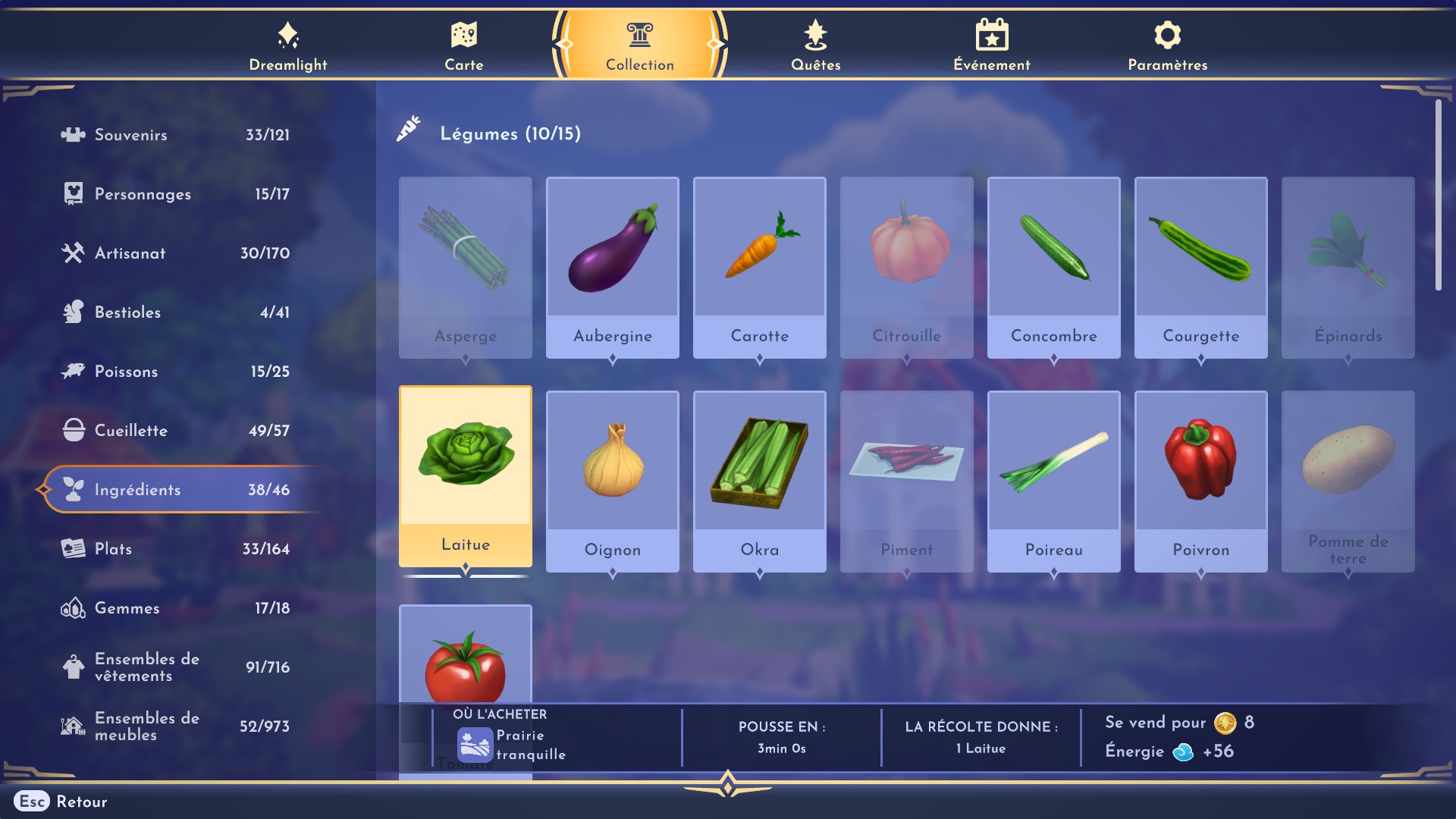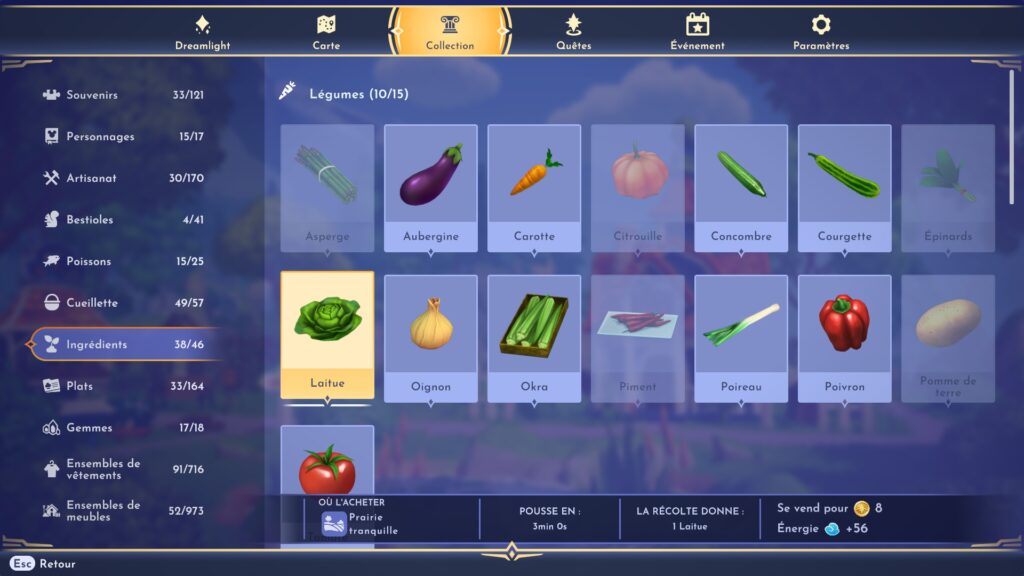 To get the lettuce ingredient, you need to go to the following area: Peacefull Meadow
Onion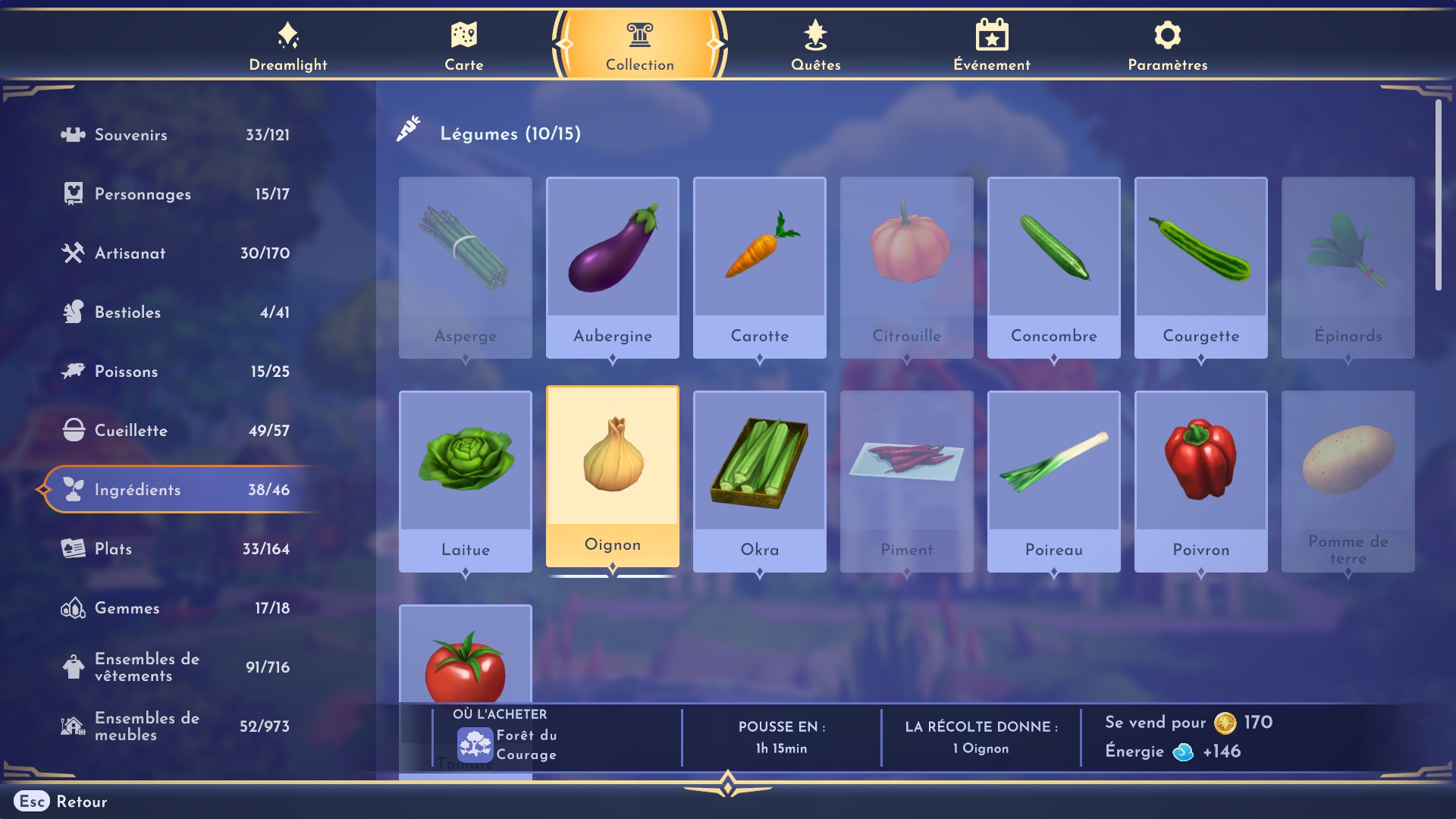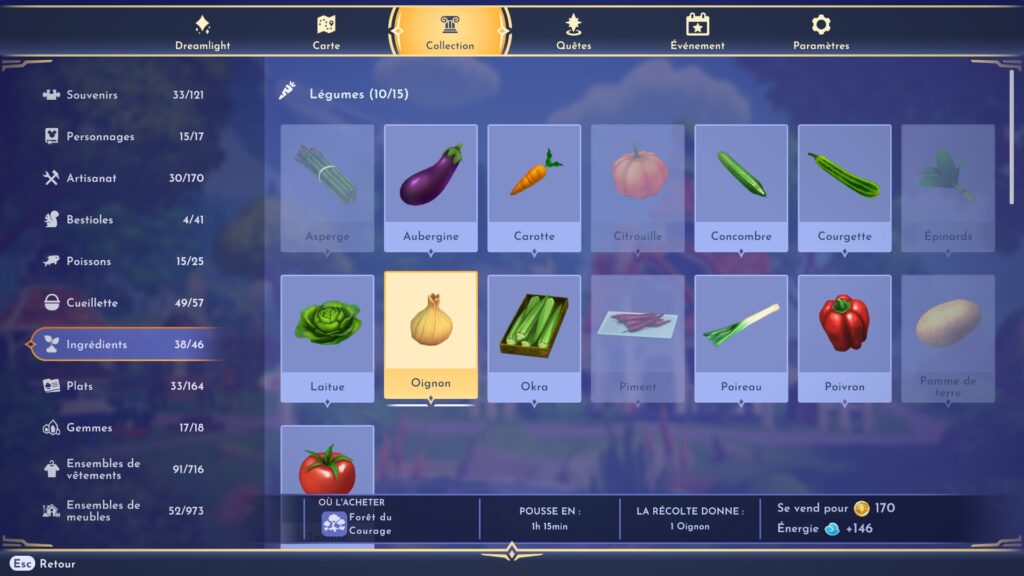 To get the onion ingredient, you need to go to the following area: Forest of Valor
Okra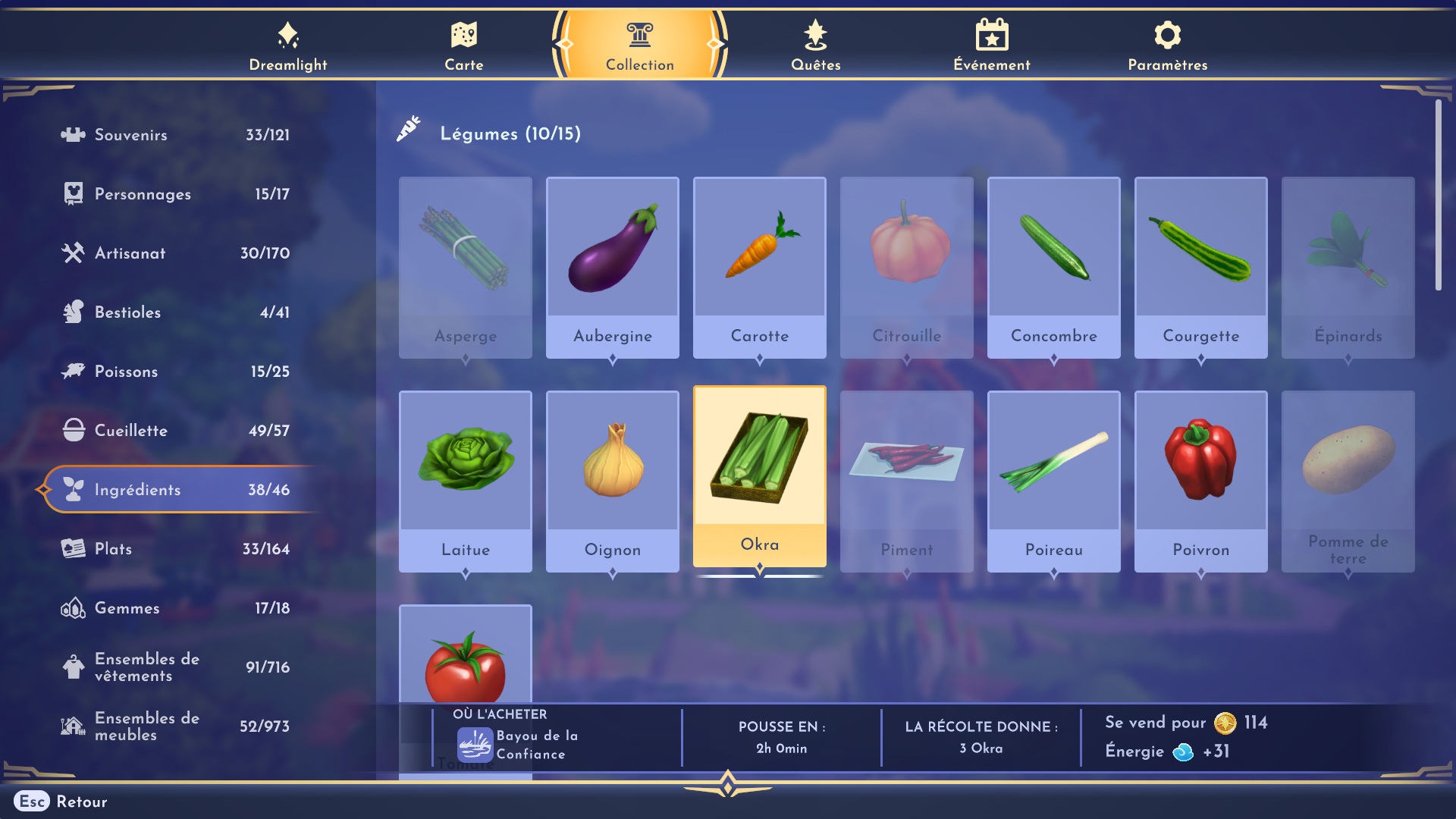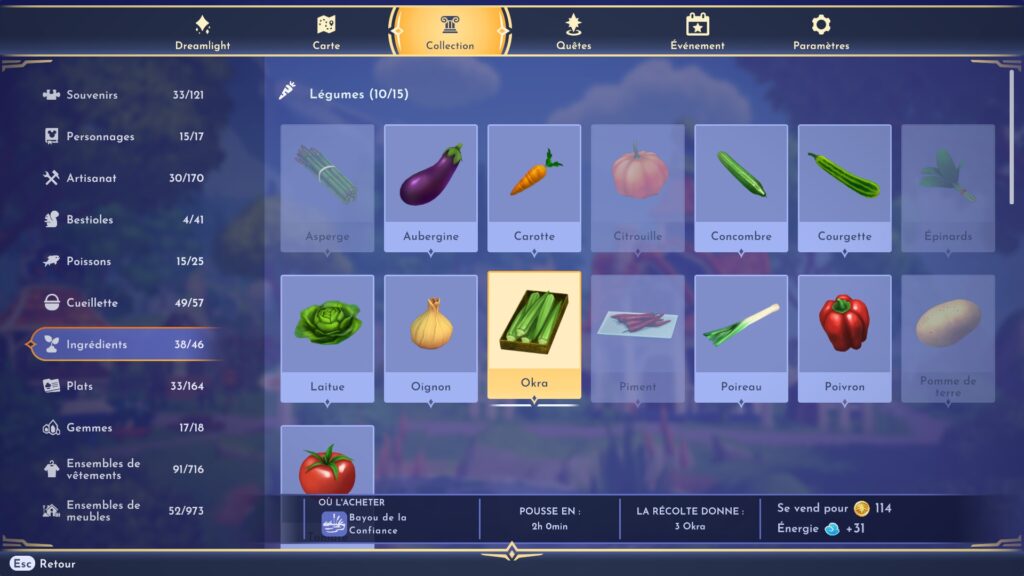 To get the okra ingredient, you need to go to the following area: Bayou of trust
Chilli peppers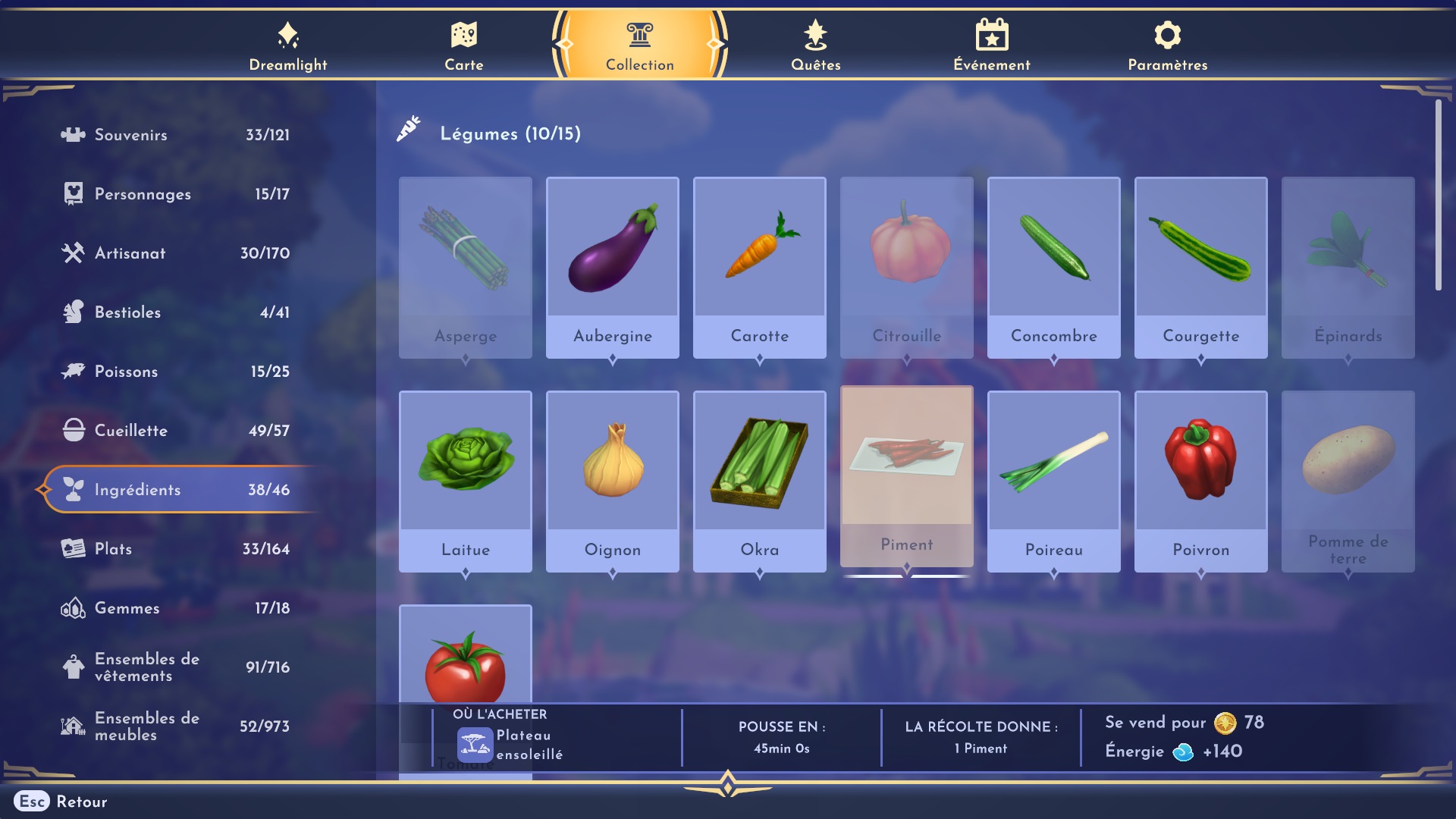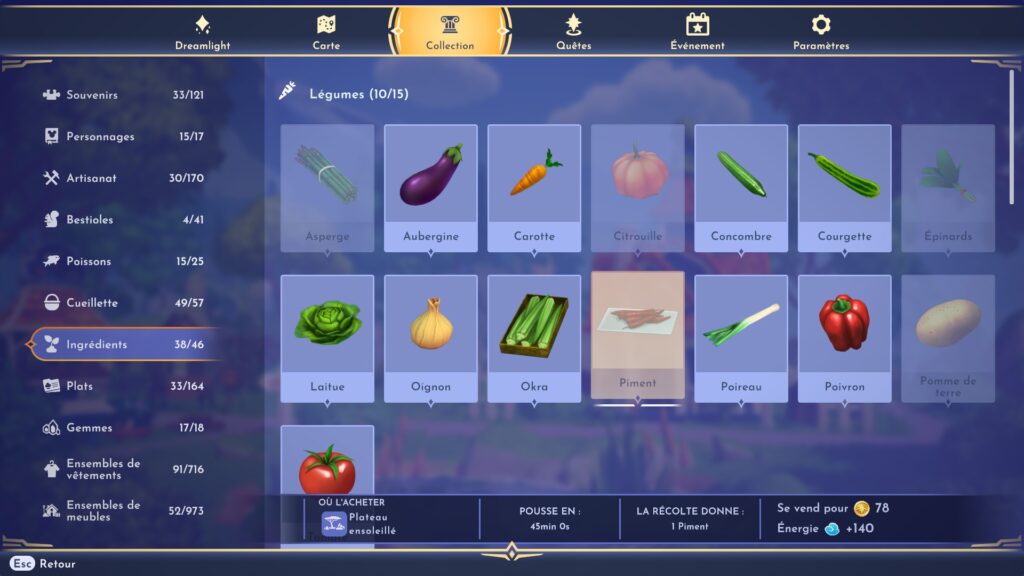 To get the chilli ingredient, you need to go to the following area: Sunlit Plateau
Pepper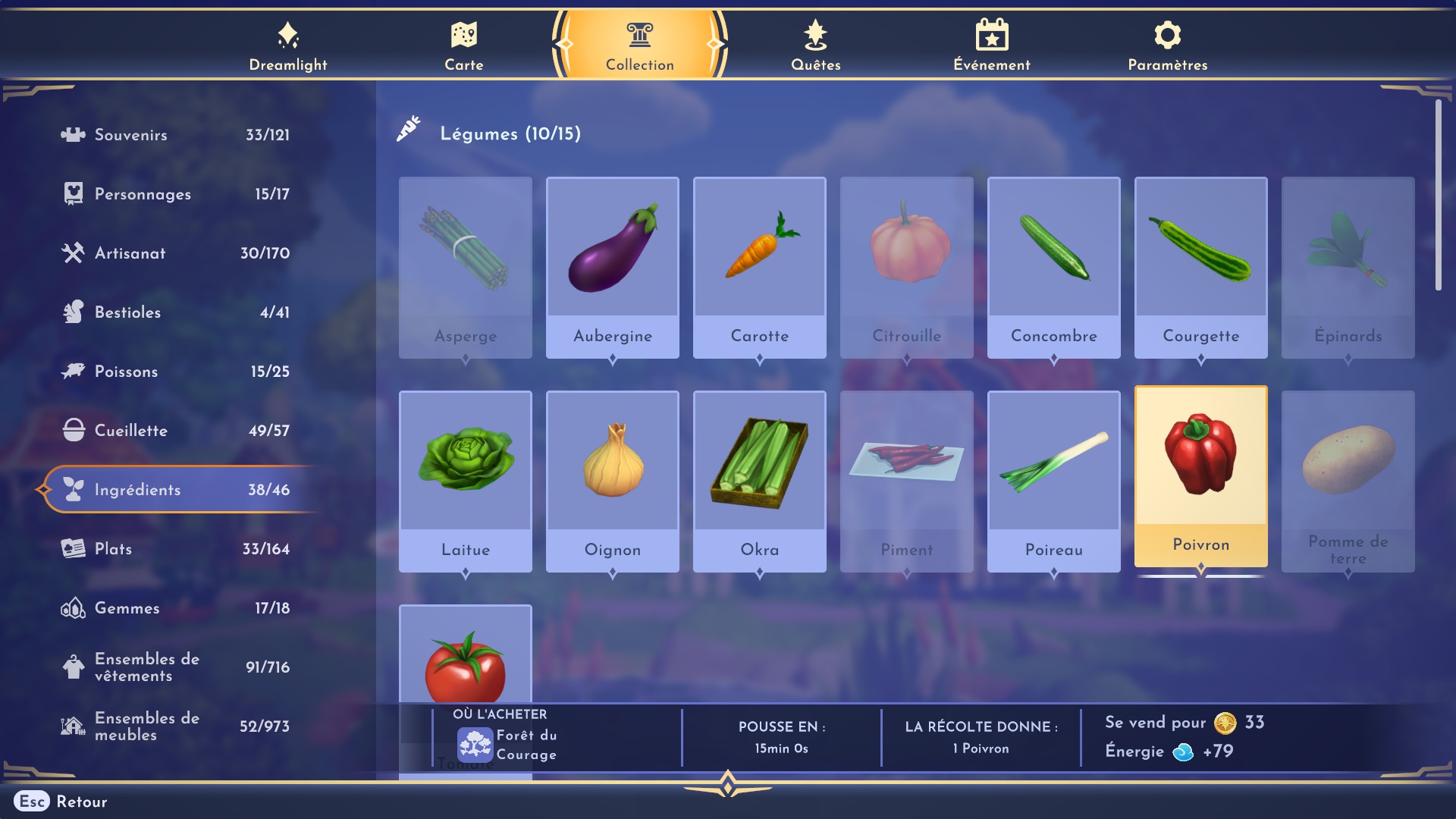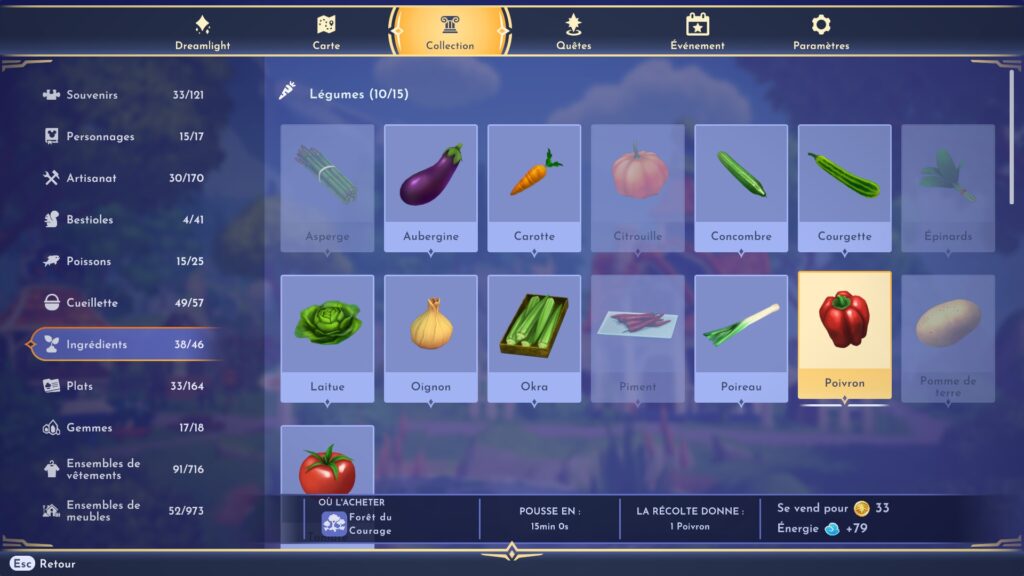 To get the pepper ingredient, you must go to the following area: Forest of Valor
Leek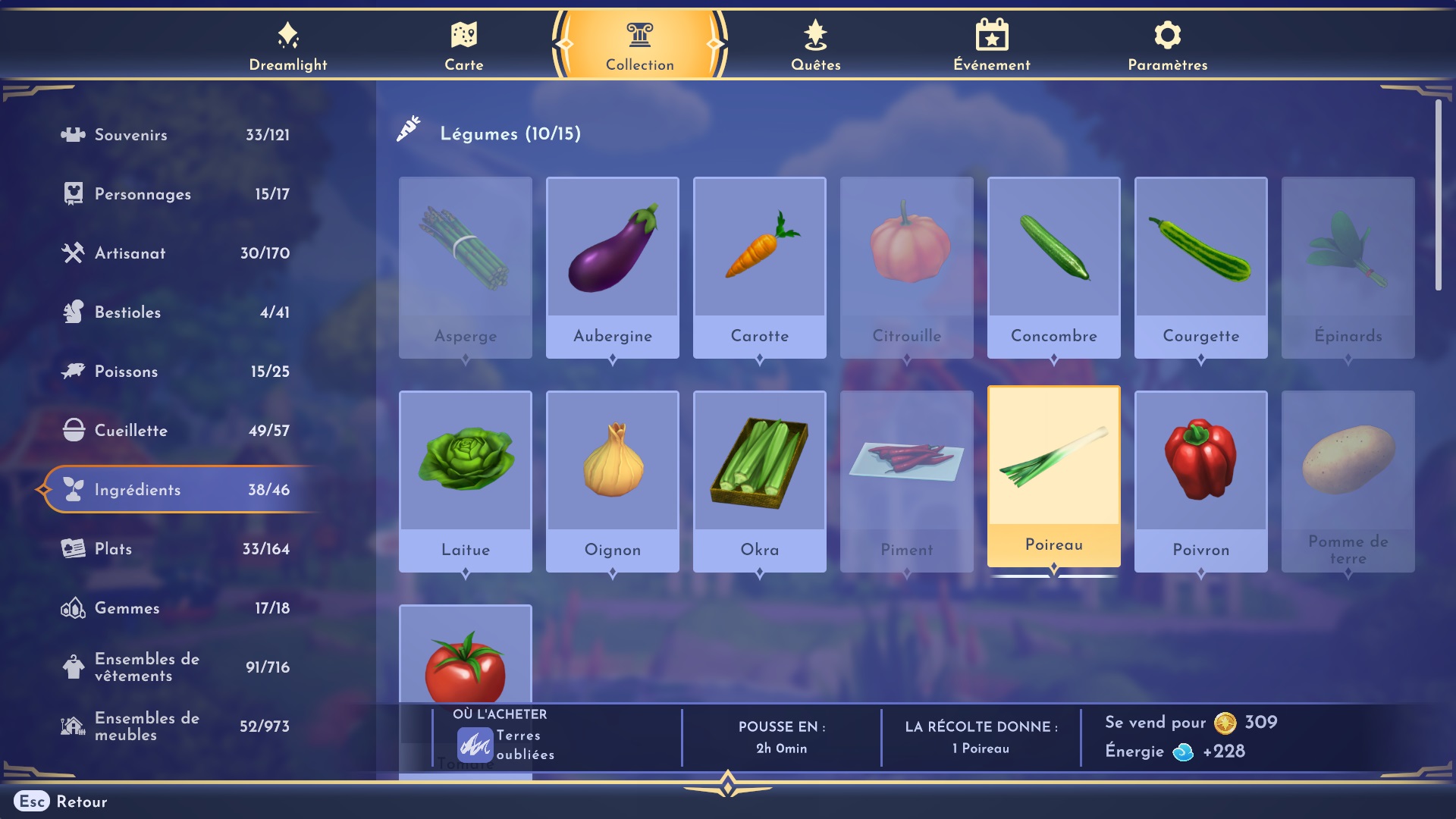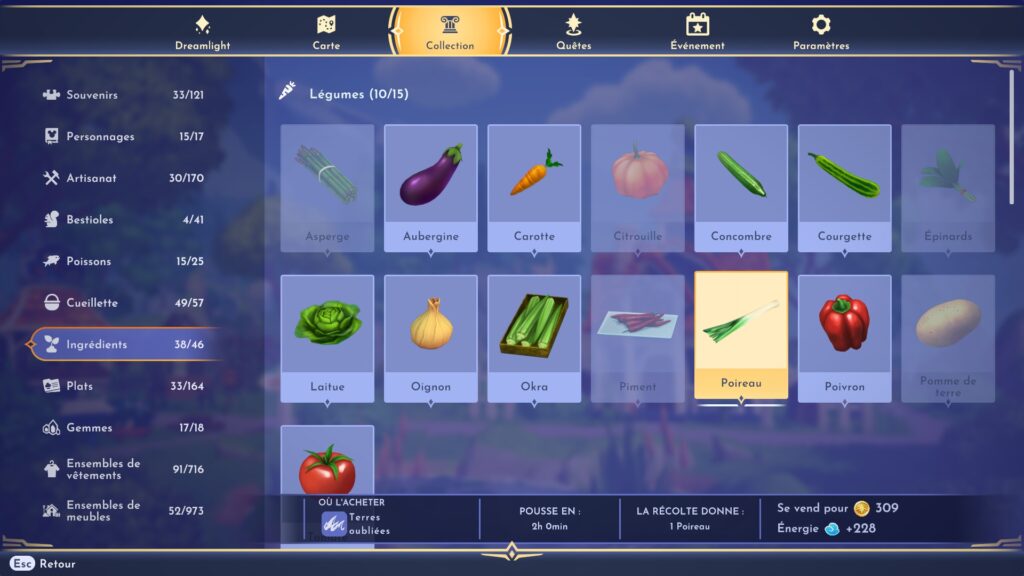 To get the leek ingredient, you must go to the following area: Forgotten Lands
Potato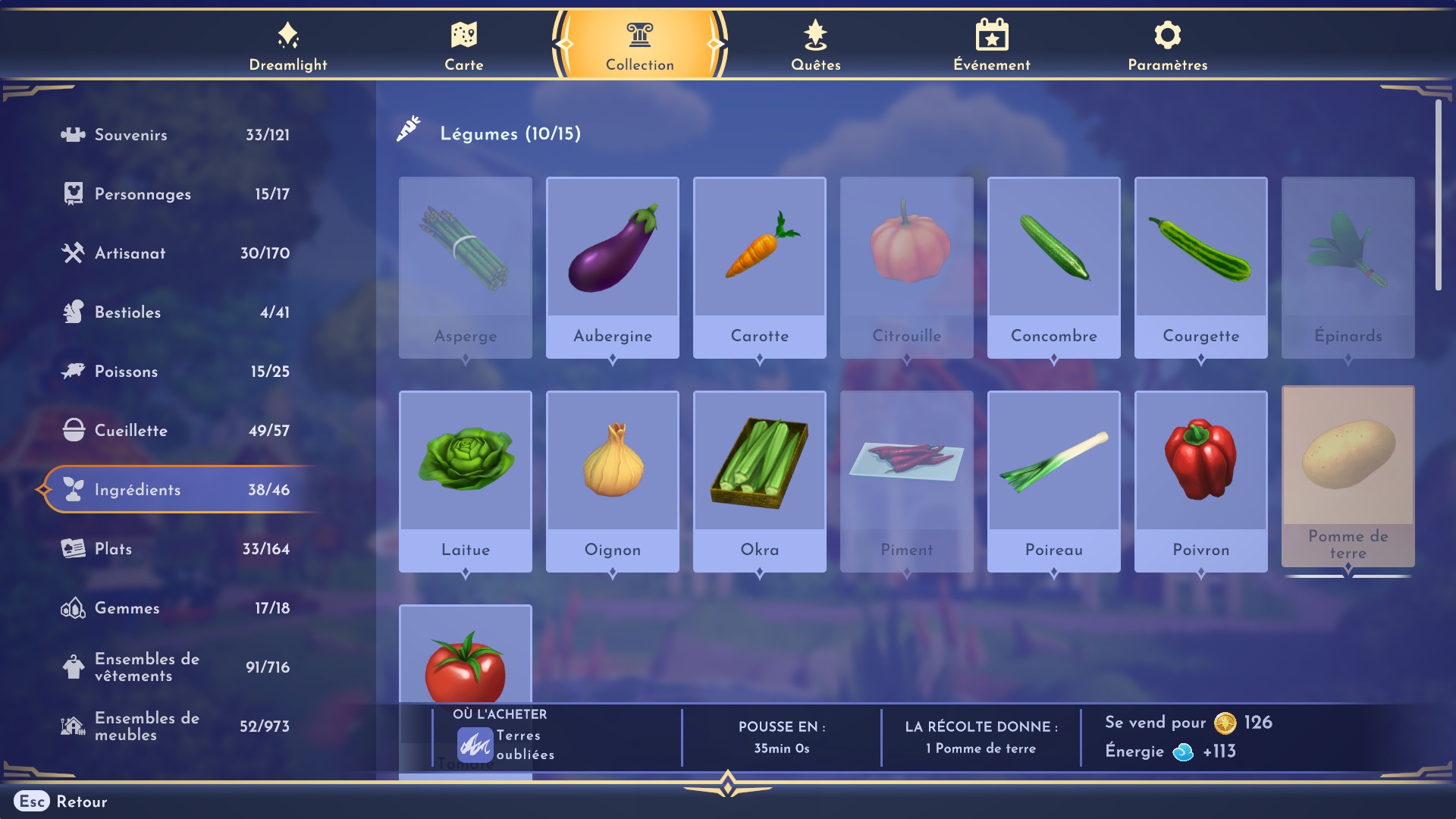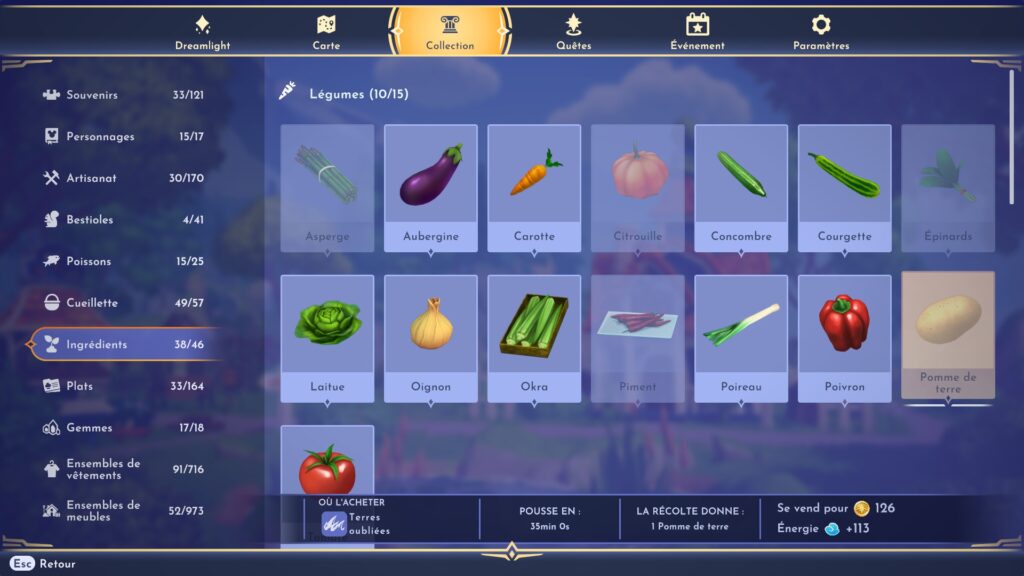 To get the potato ingredient, you must go to the following area: Forgotten Lands
Tomato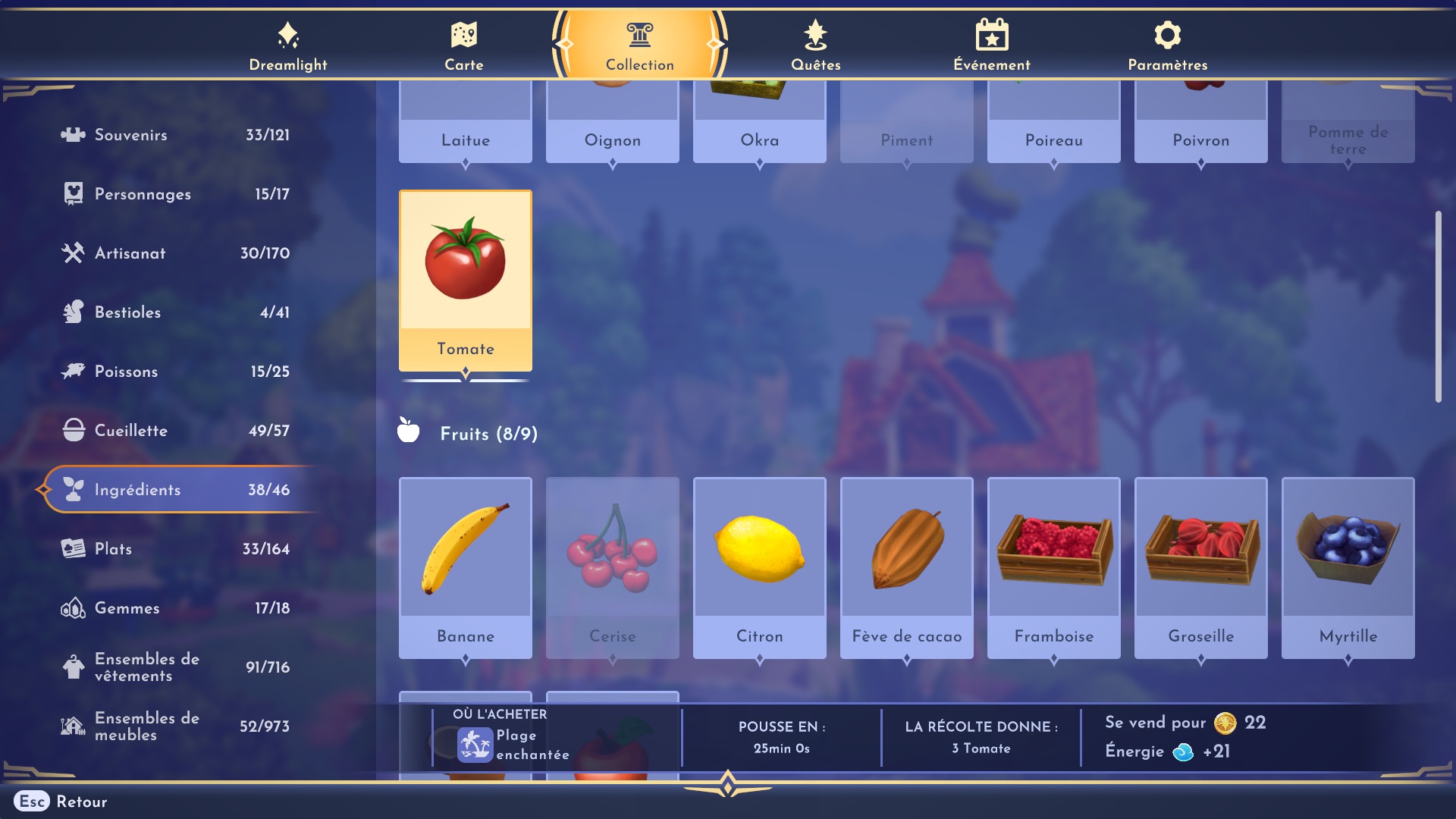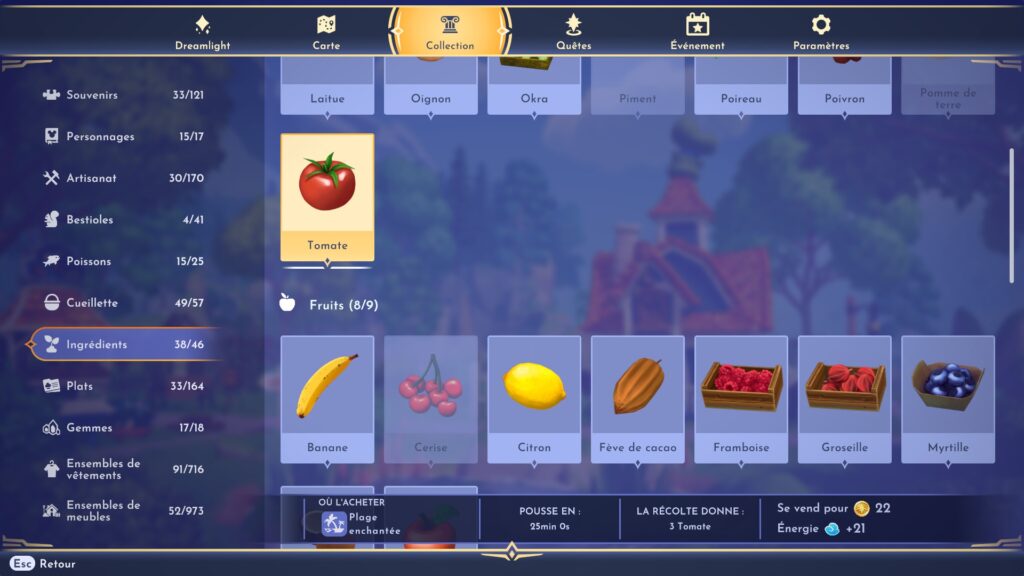 To get the tomato ingredient, you must go to the following area: Daazle Beach
Banana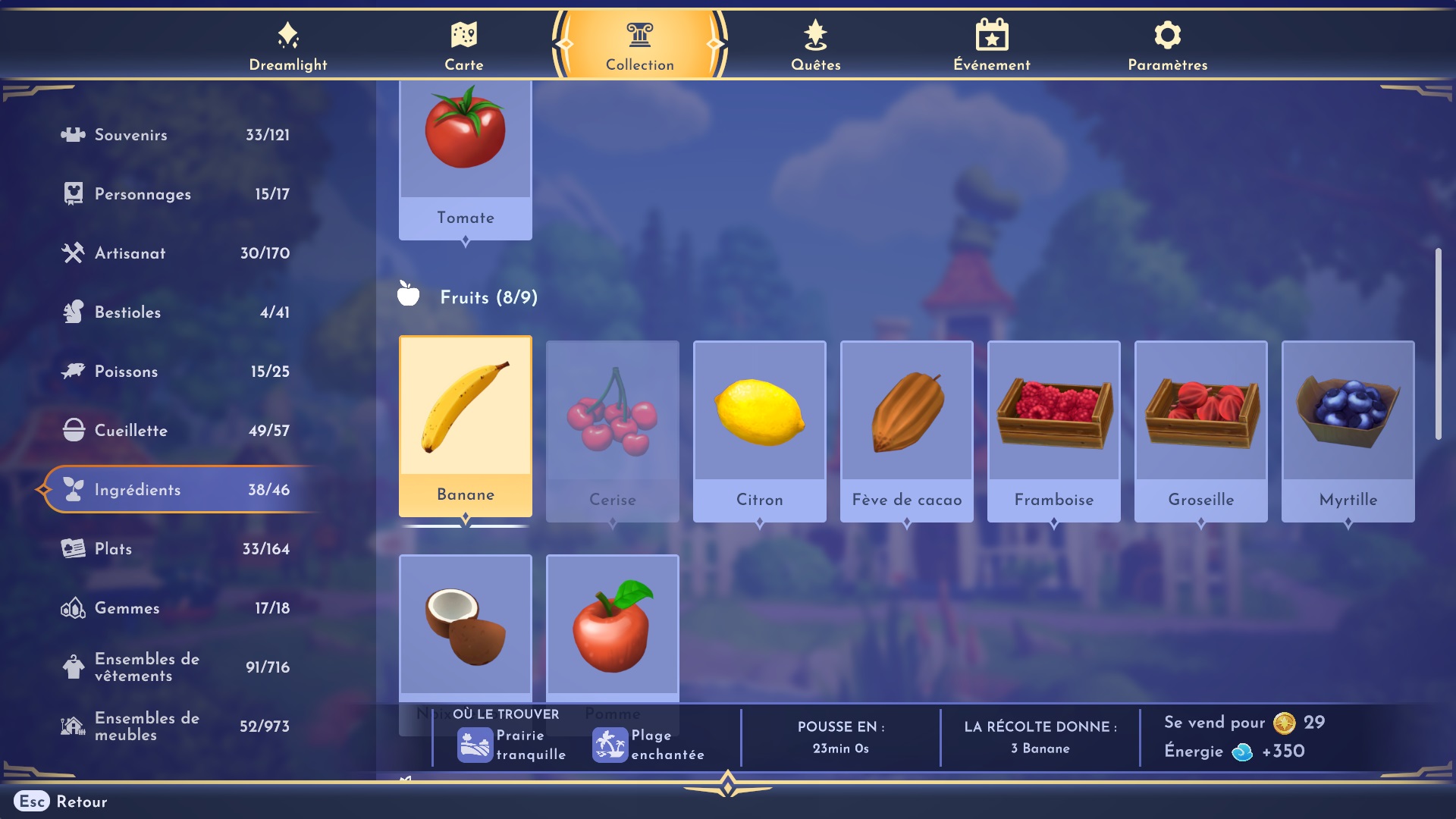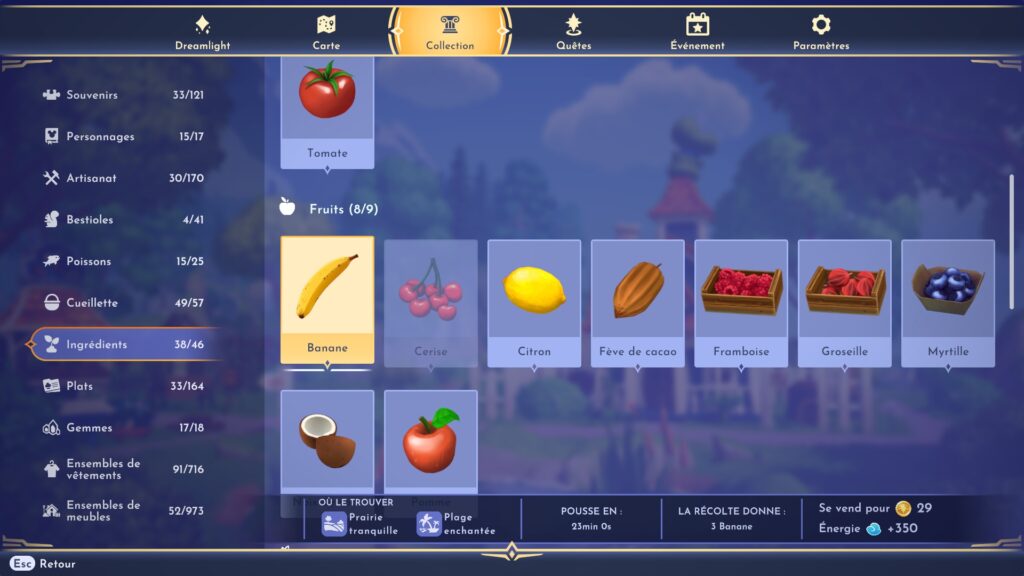 To get the banana ingredient, you need to go to the following areas: Peacefull Meadow and Dazzle Beach
Cherry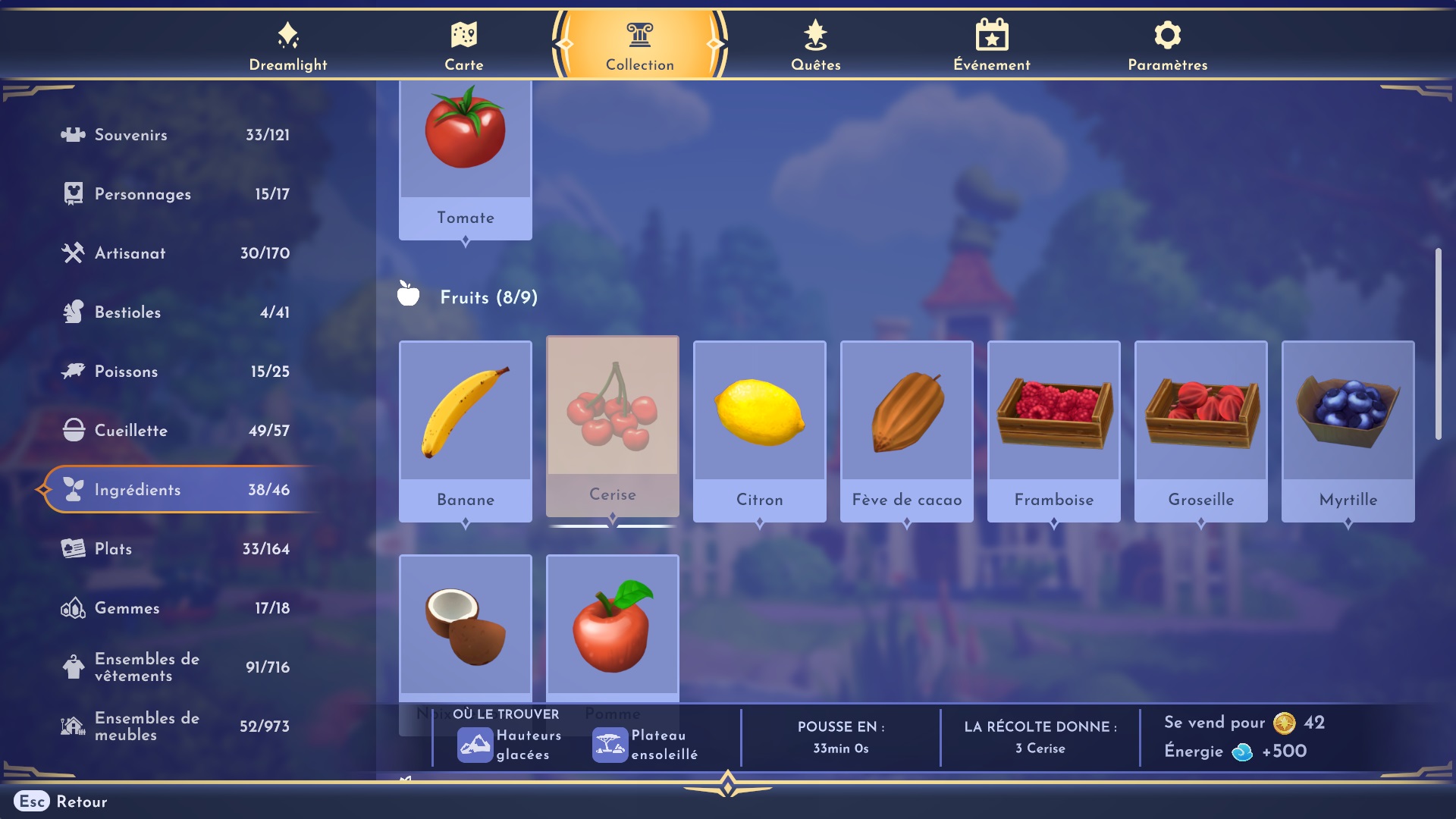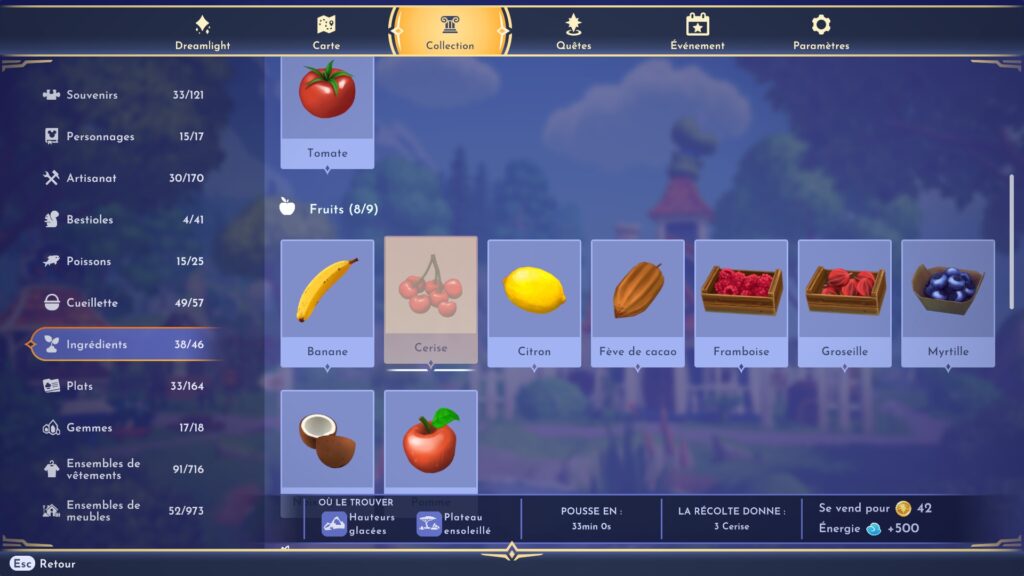 To get the cherry ingredient, you need to go to the following areas: Frosted Heights and Sunlit Plateau
Lemon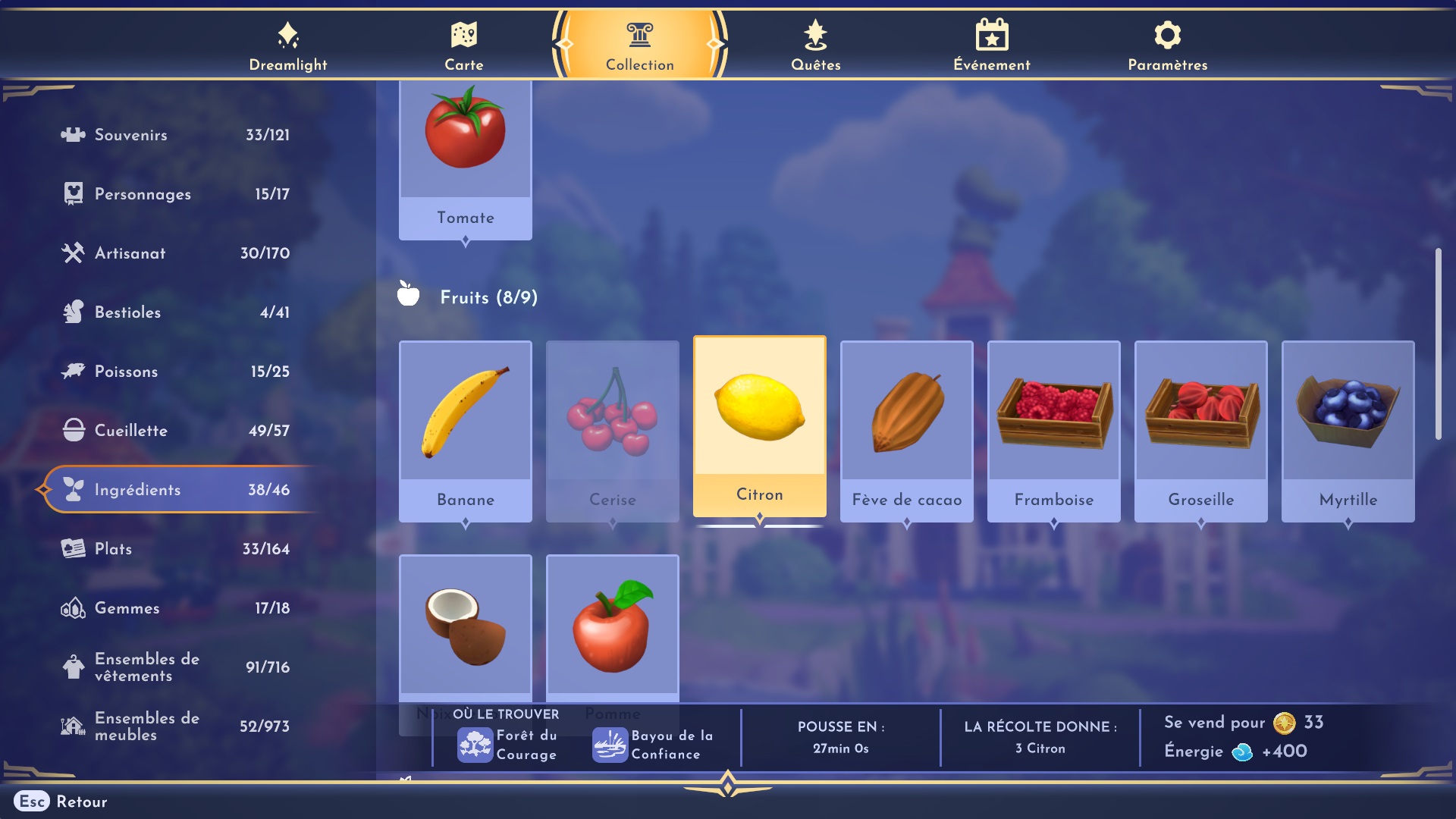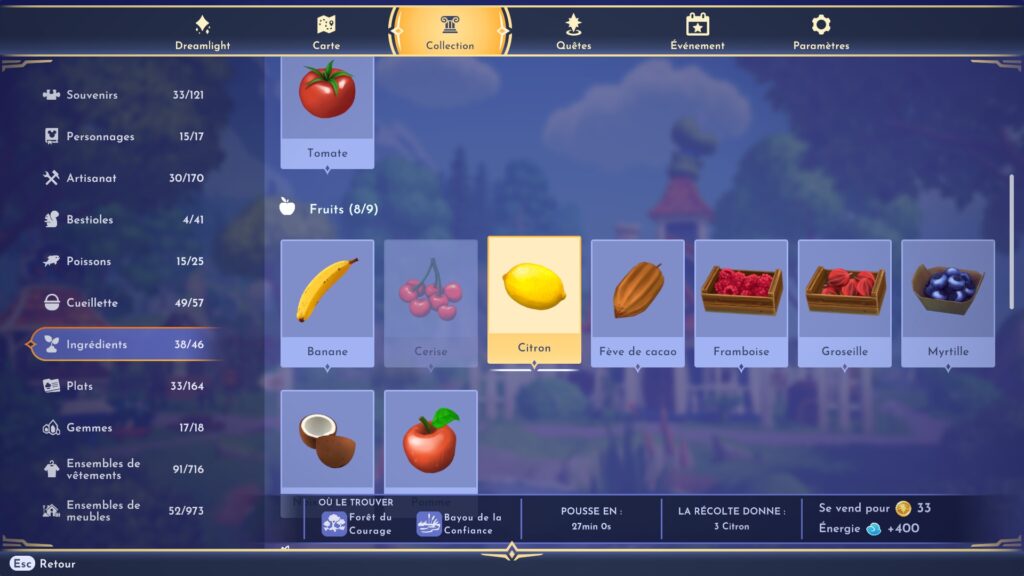 To get the lemon ingredient, you need to go to the following areas: Forest of Valor and Bayou of trust
Cacao bean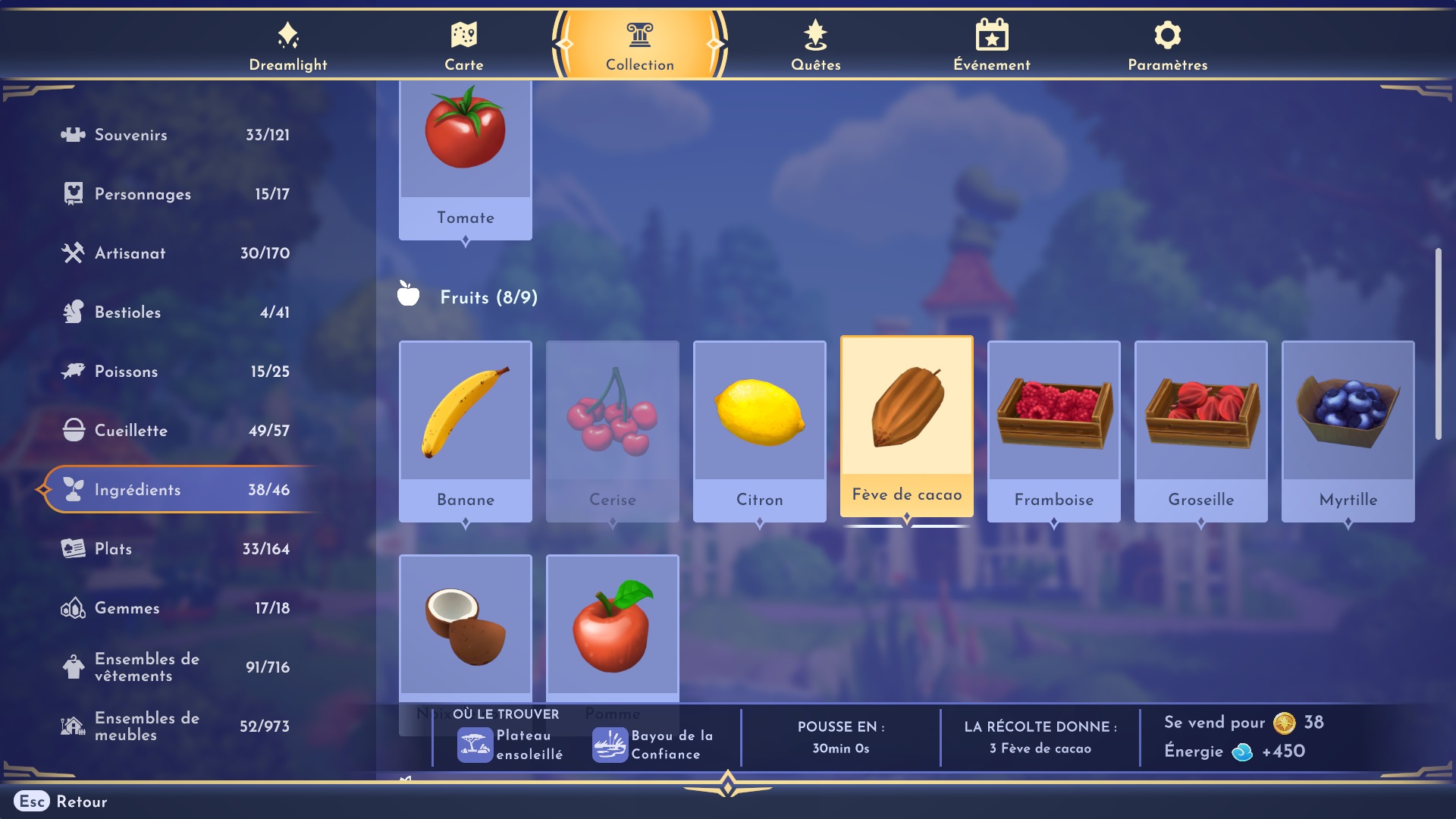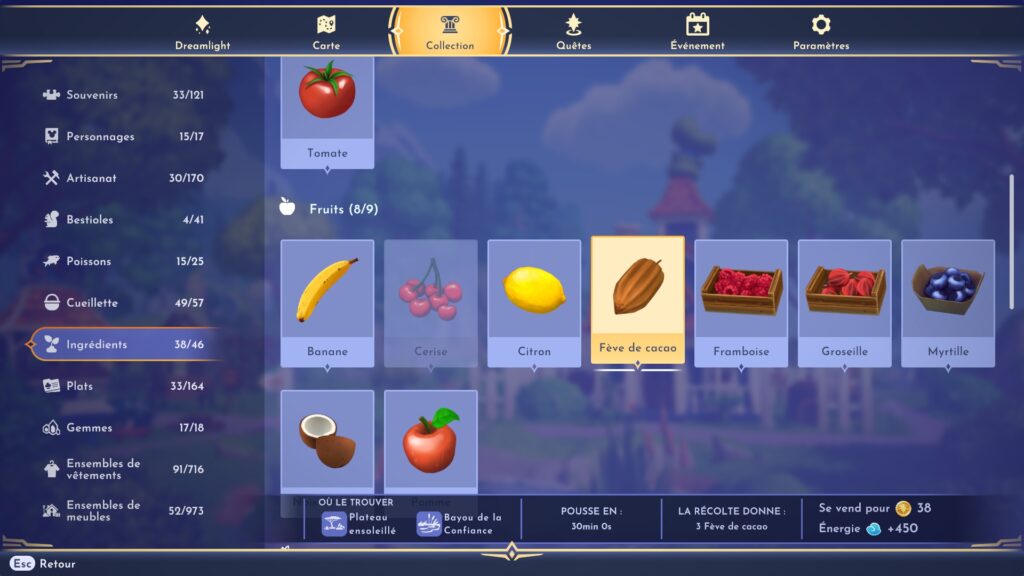 To get the Cocoa Bean ingredient, you need to go to the following areas: Sunlit Plateau and Bayou of trust
Raspberry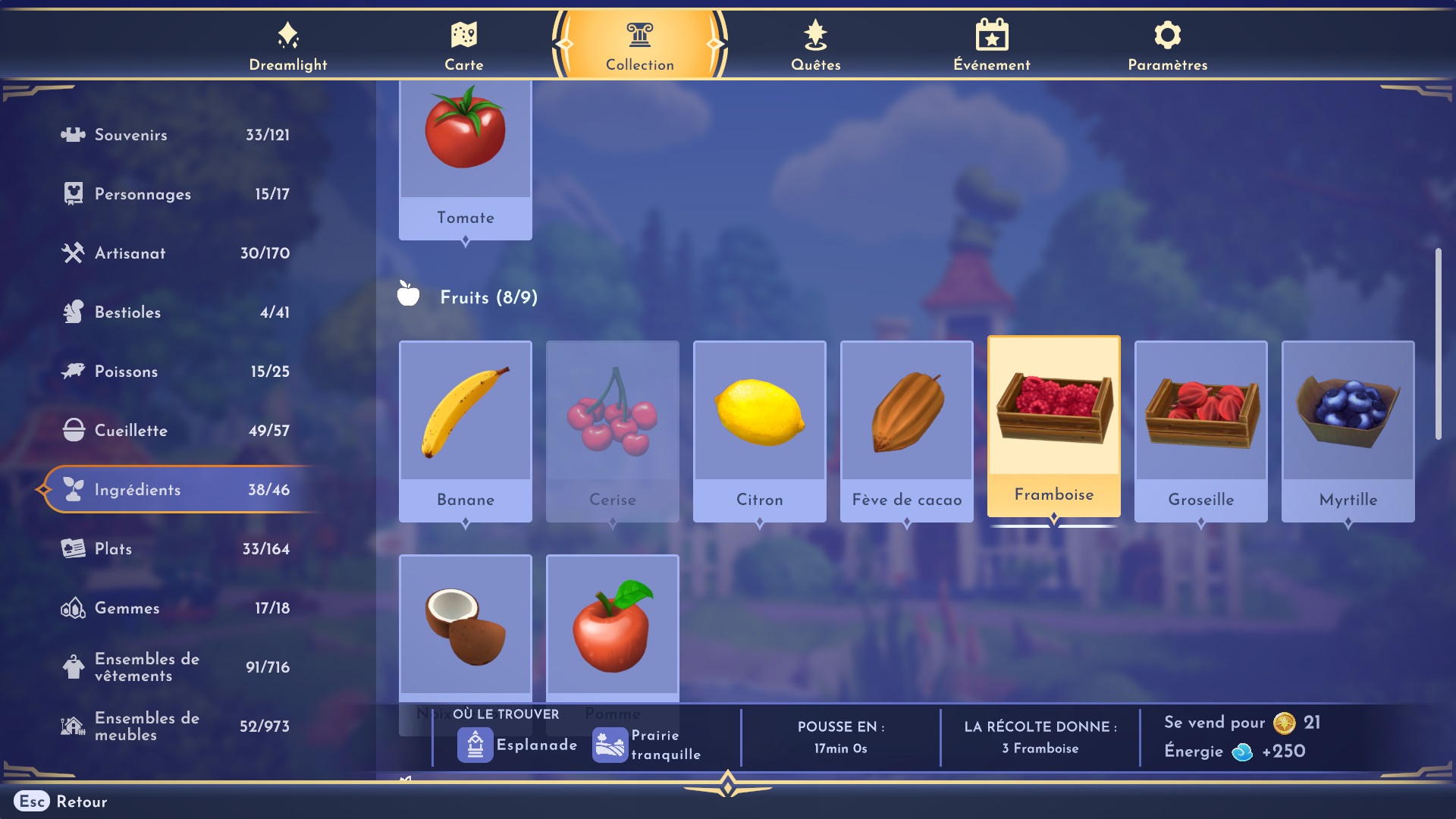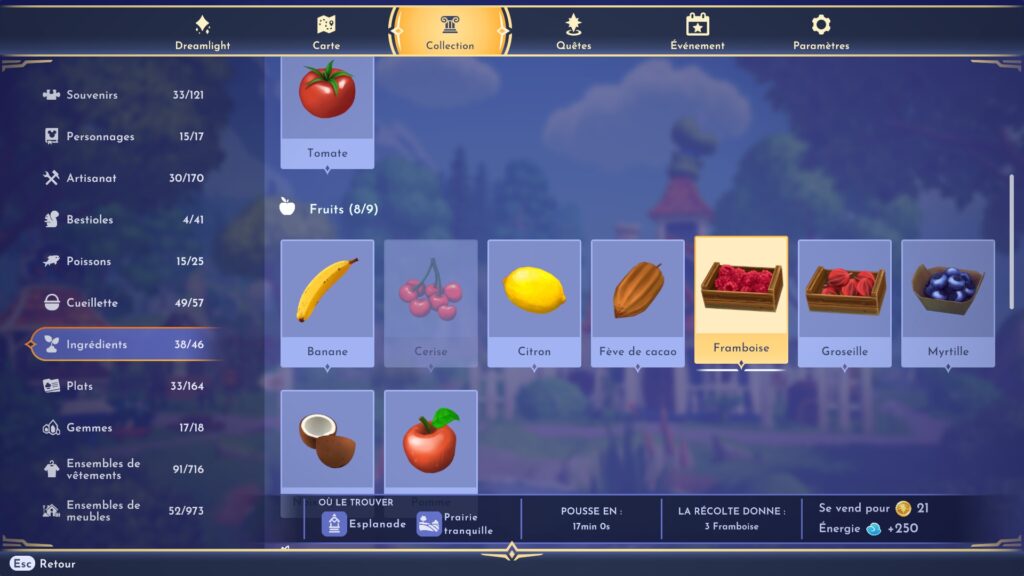 To get the raspberry ingredient, you need to go to the following areas: Esplanade and Peacefull Meadow
Gooseberry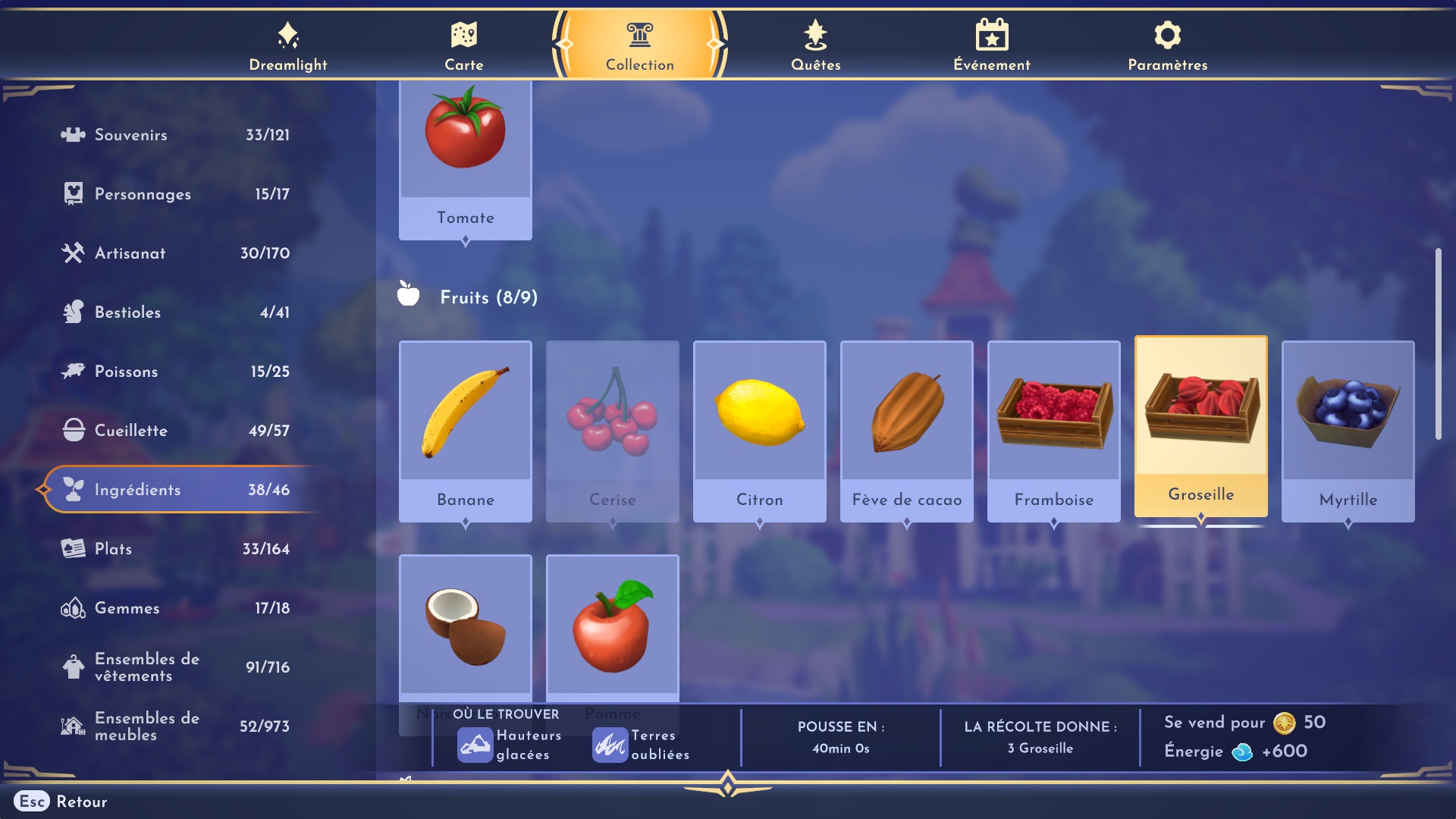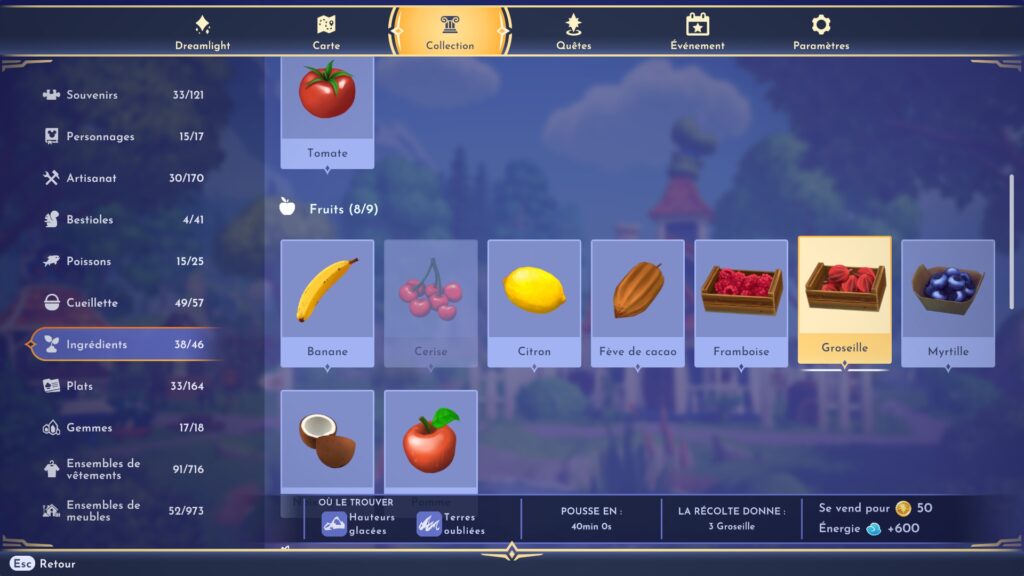 To get the gooseberry ingredient, you need to go to the following areas: Frosted Heights and Forgotten Lands
Blueberry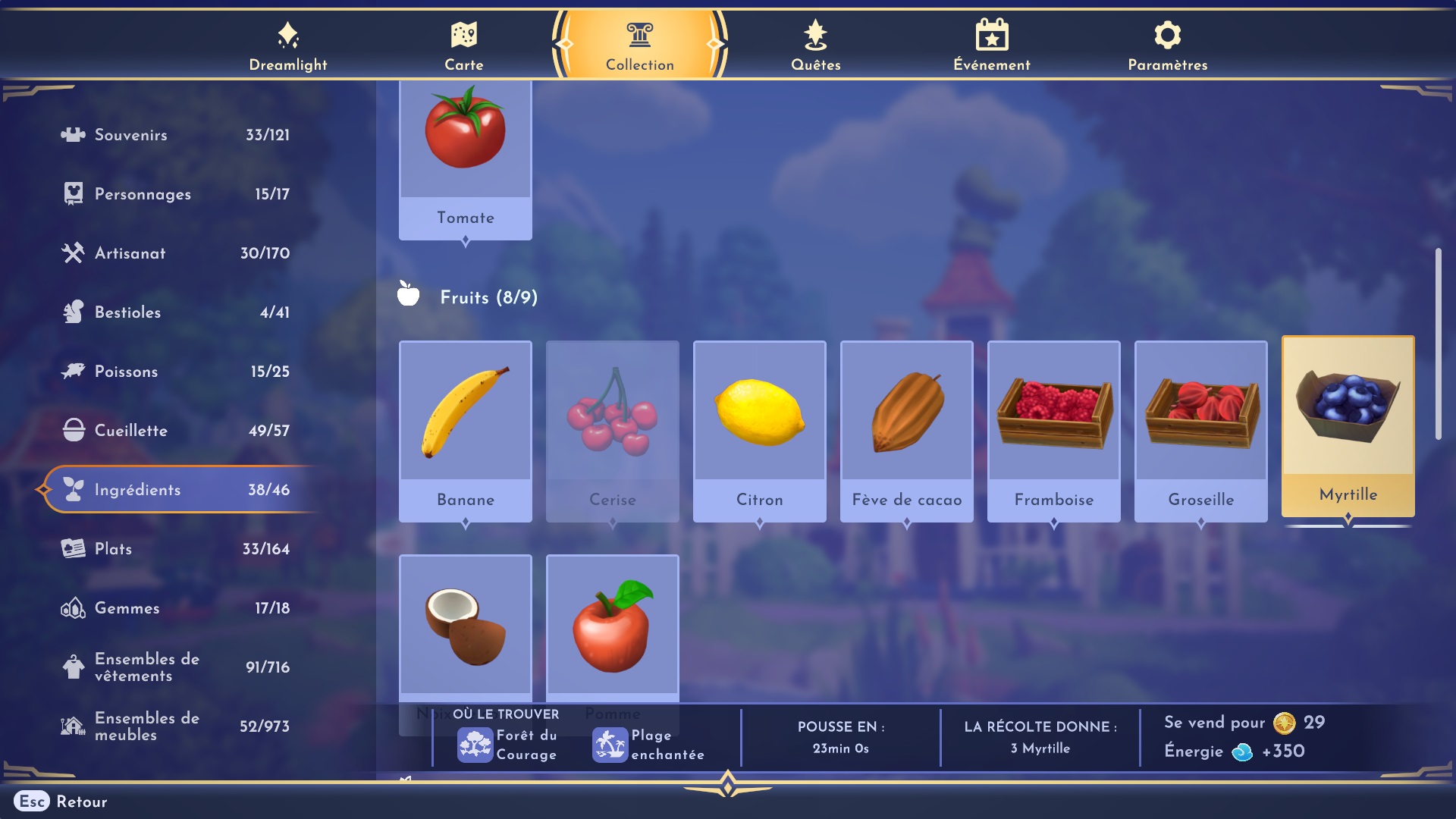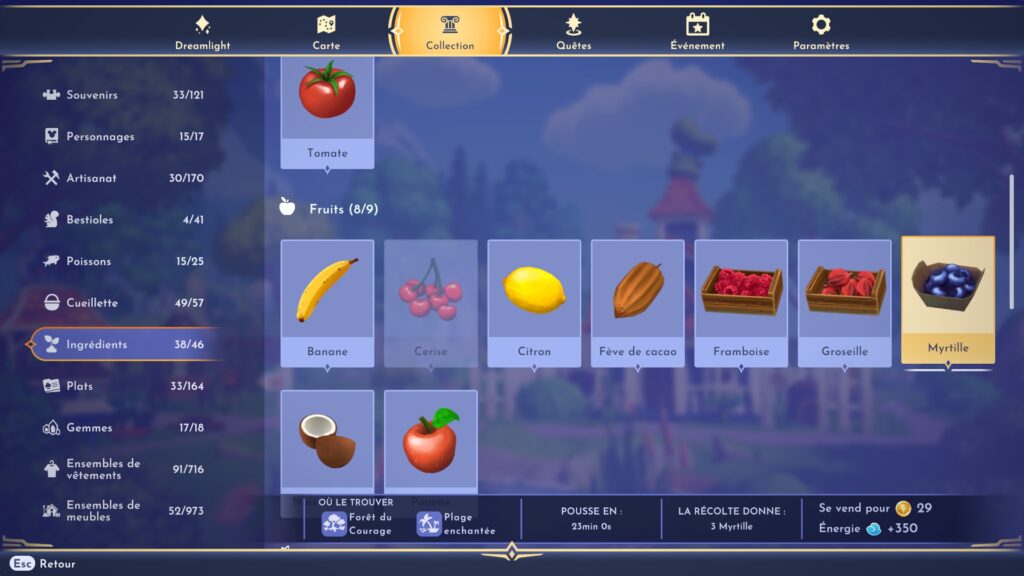 To get the blueberry ingredient, you need to go to the following areas: Forest of Valor and Dazzle Beach
Coconut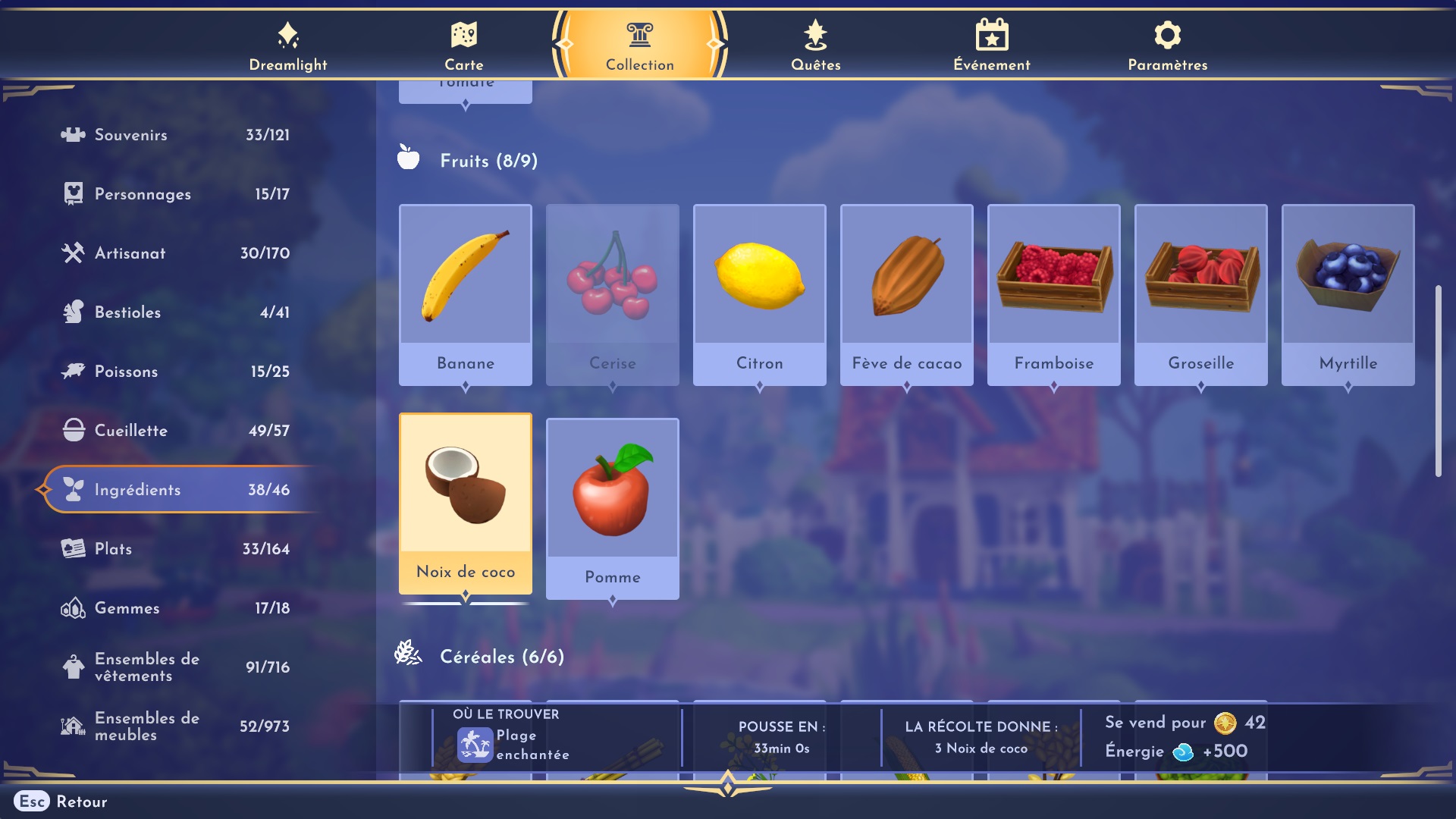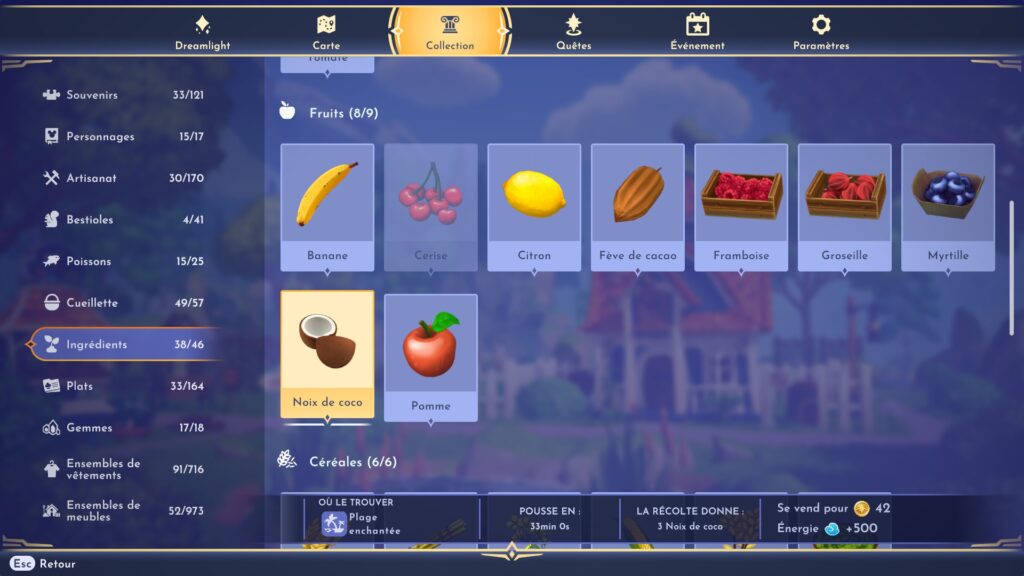 To get the coconut ingredient, you must go to the following area: Dazzle Beach
Apple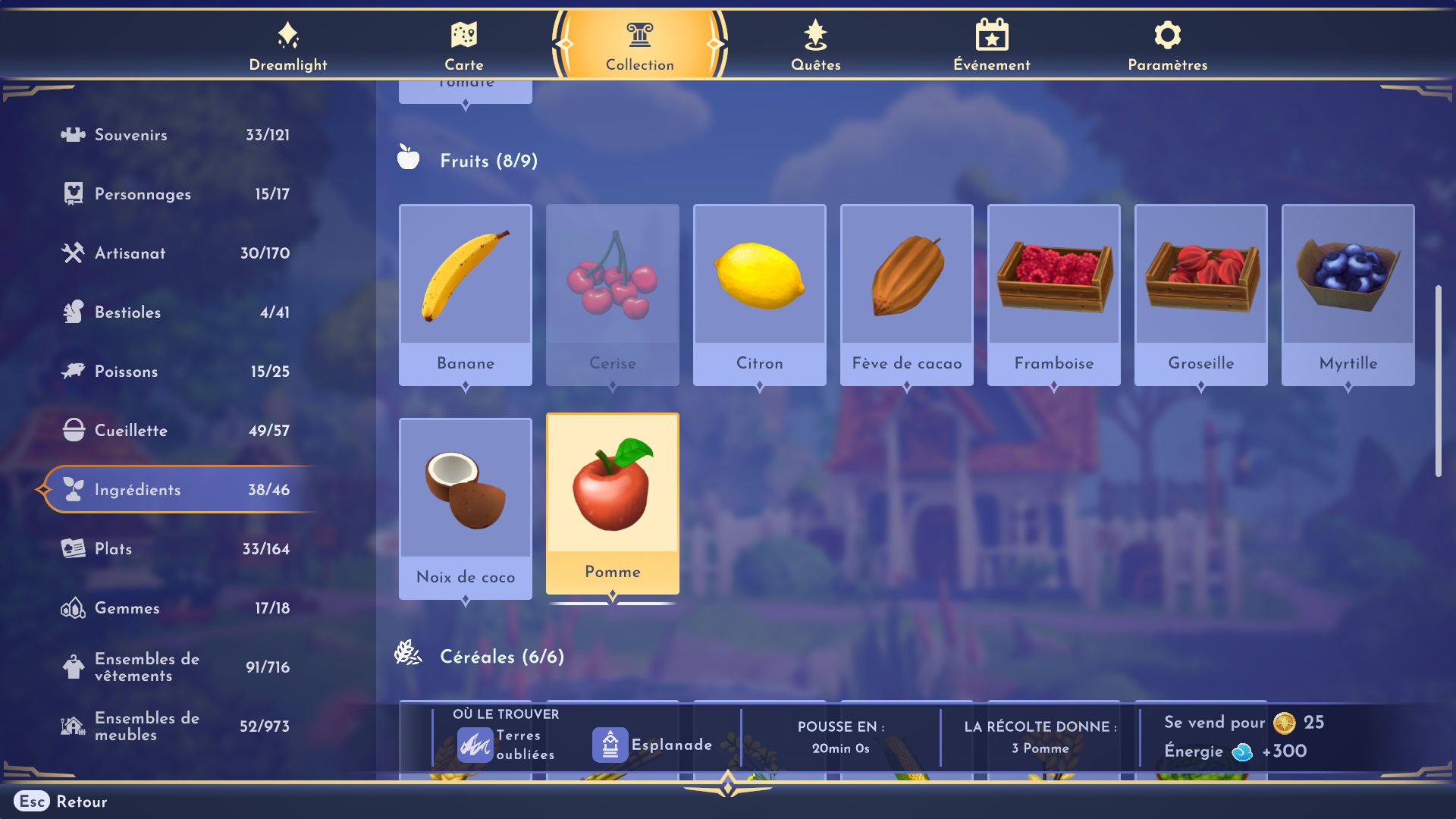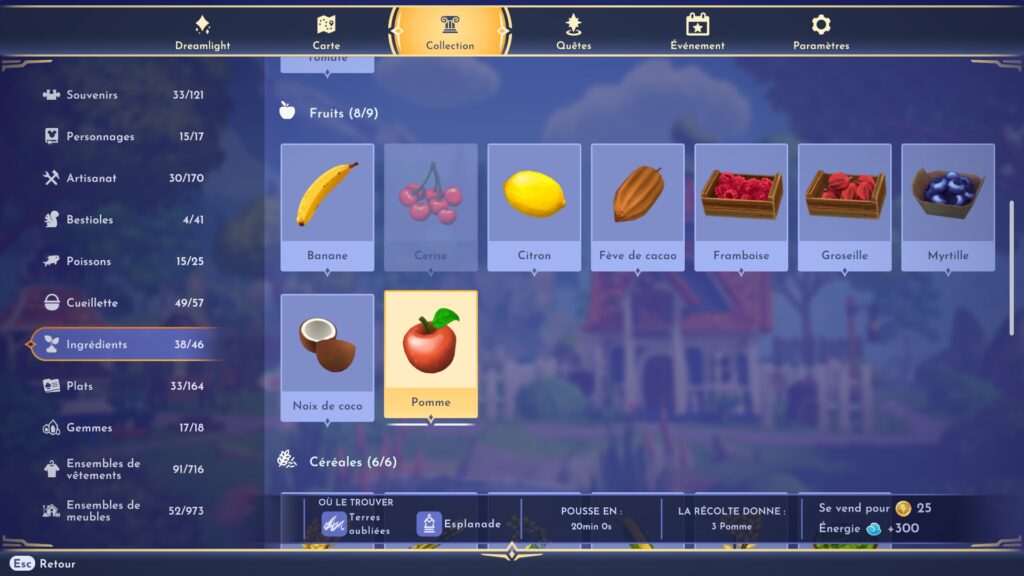 To get the apple ingredient, you need to go to the following areas: Forgotten Lands and Esplanade
Wheat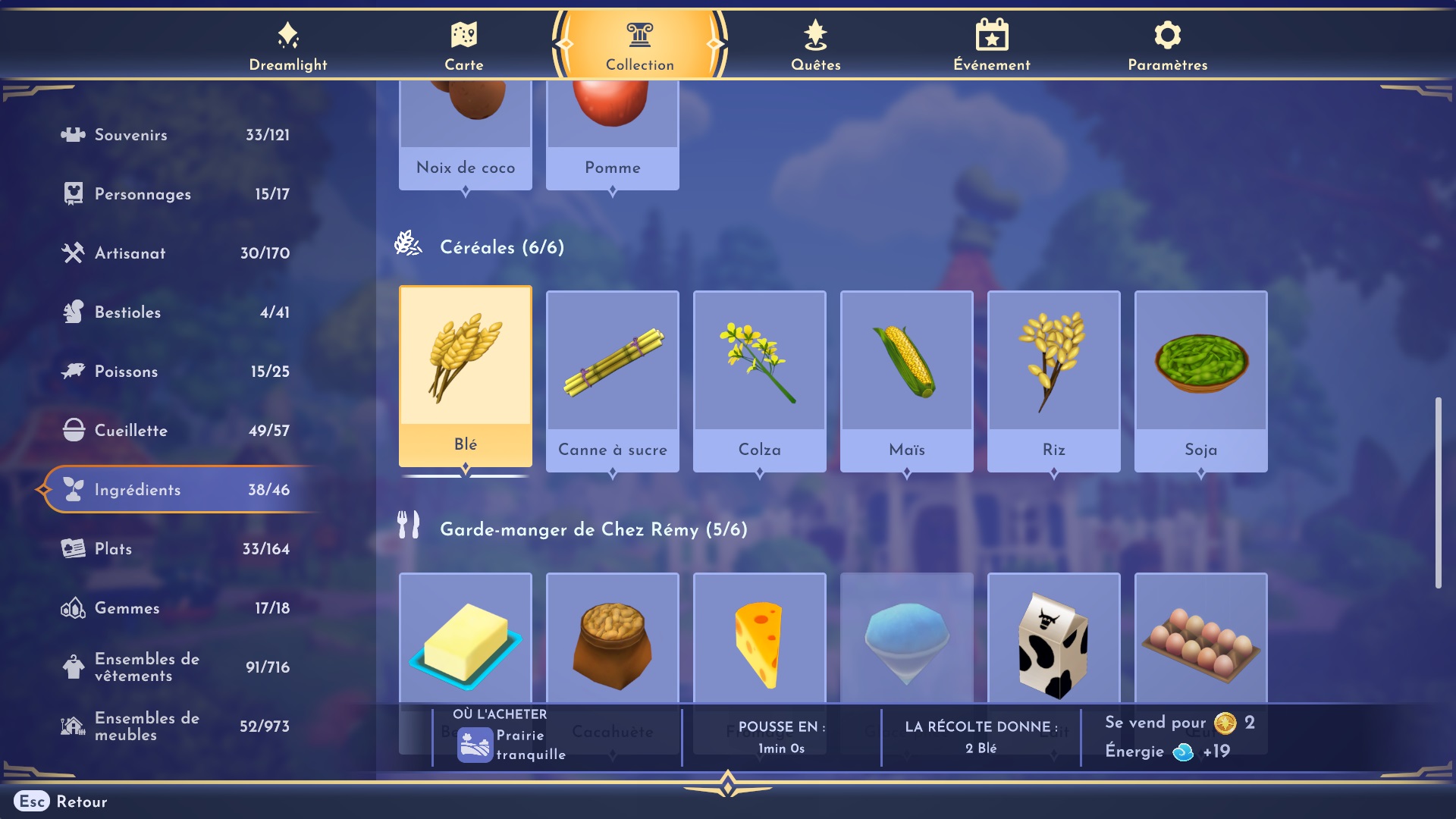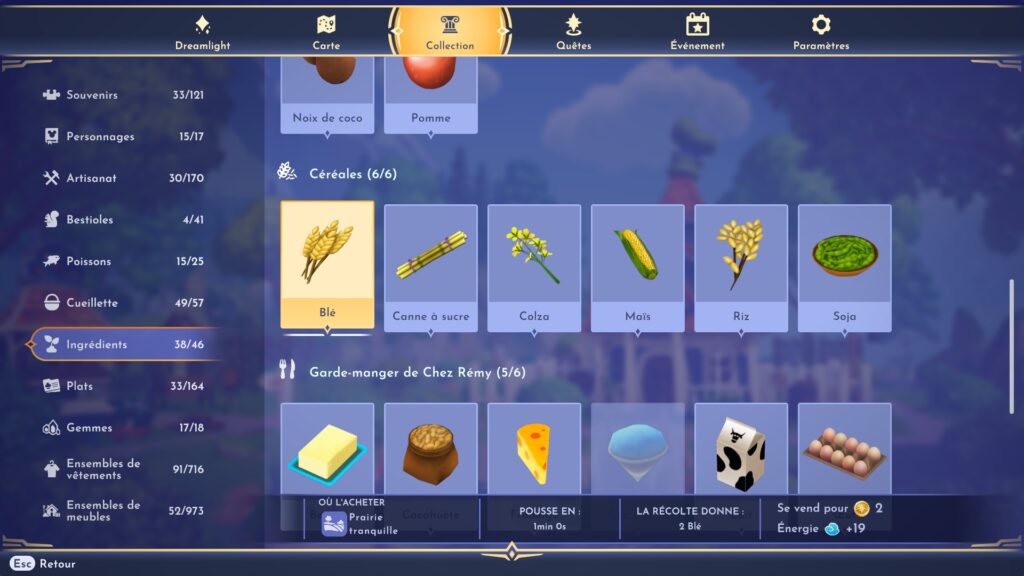 To get the wheat ingredient, you need to go to the following area: Peacefull Meadow
Sugar cane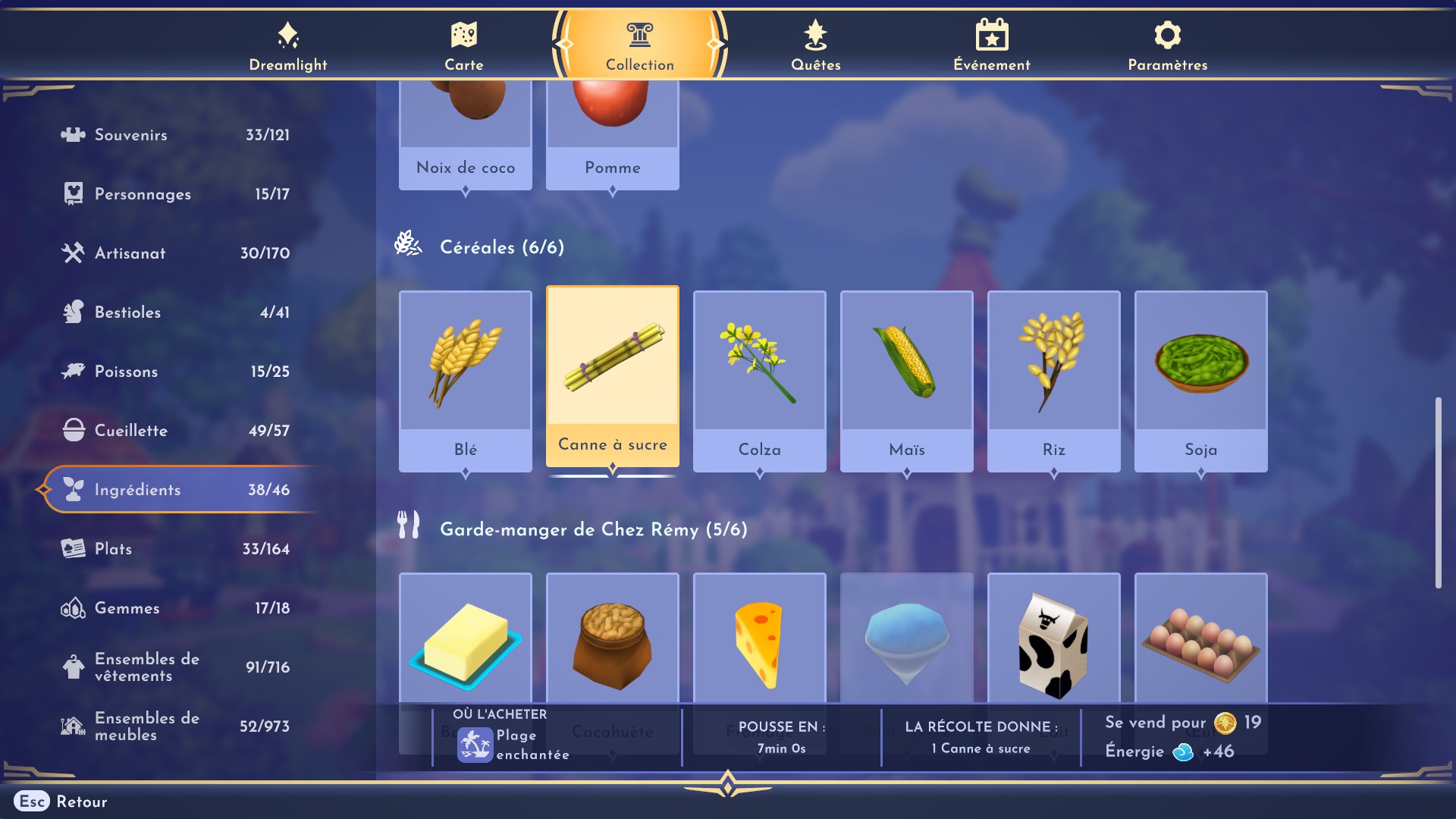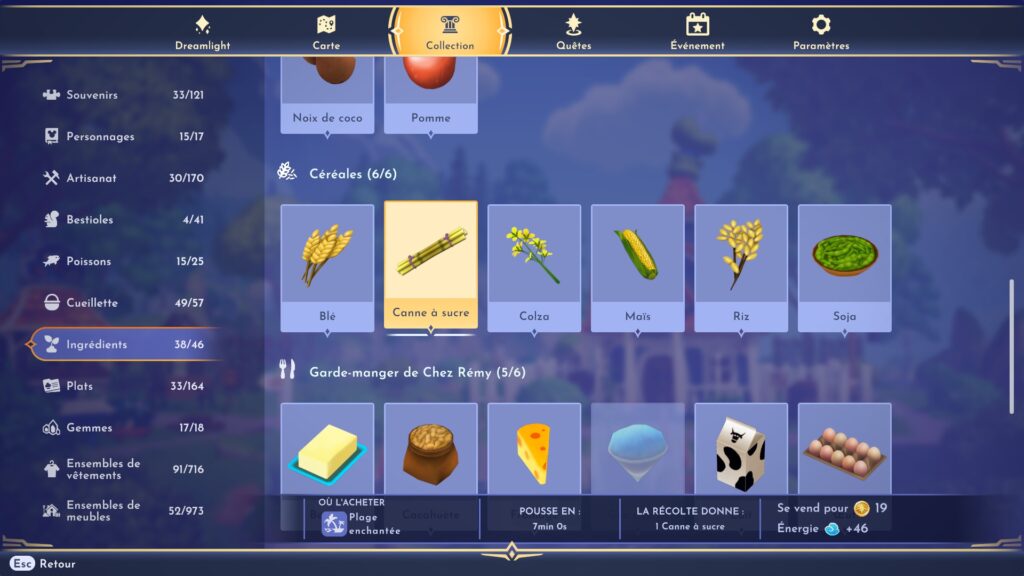 To get the sugarcane ingredient, you must go to the following area: Dazzle Beach
Rapeseed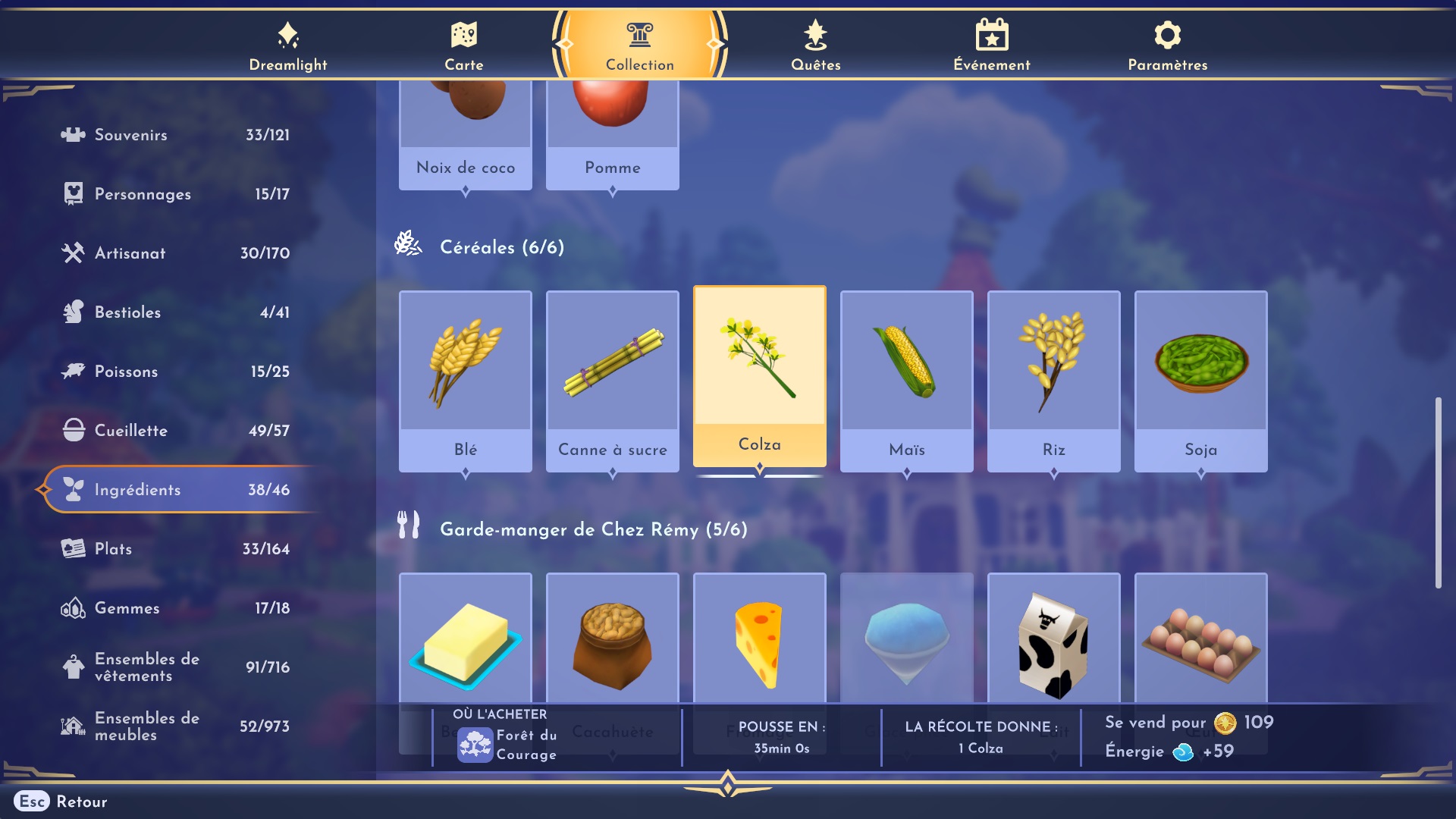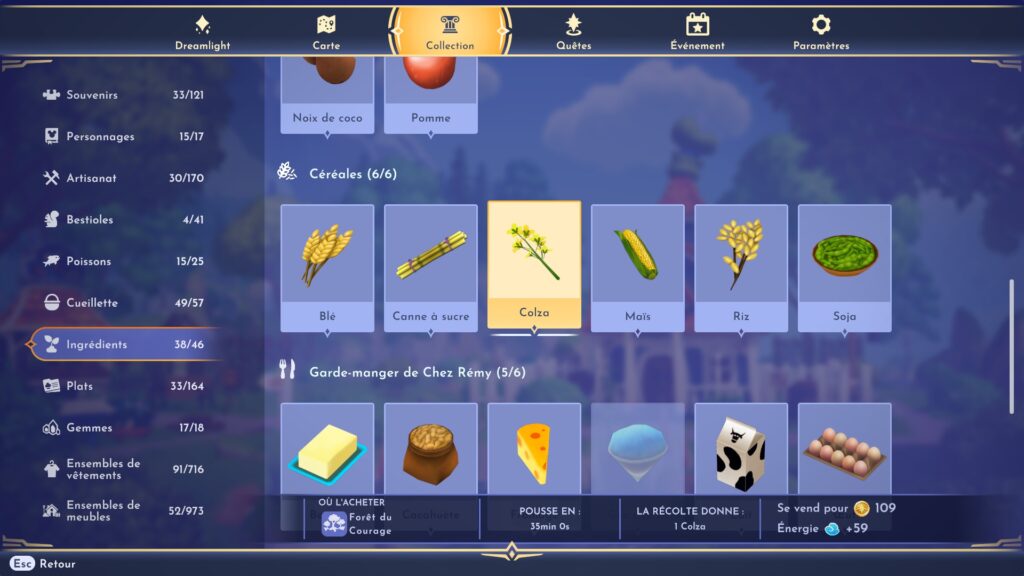 To get the rapeseed ingredient, you must go to the following area: Forest of Valor
Corn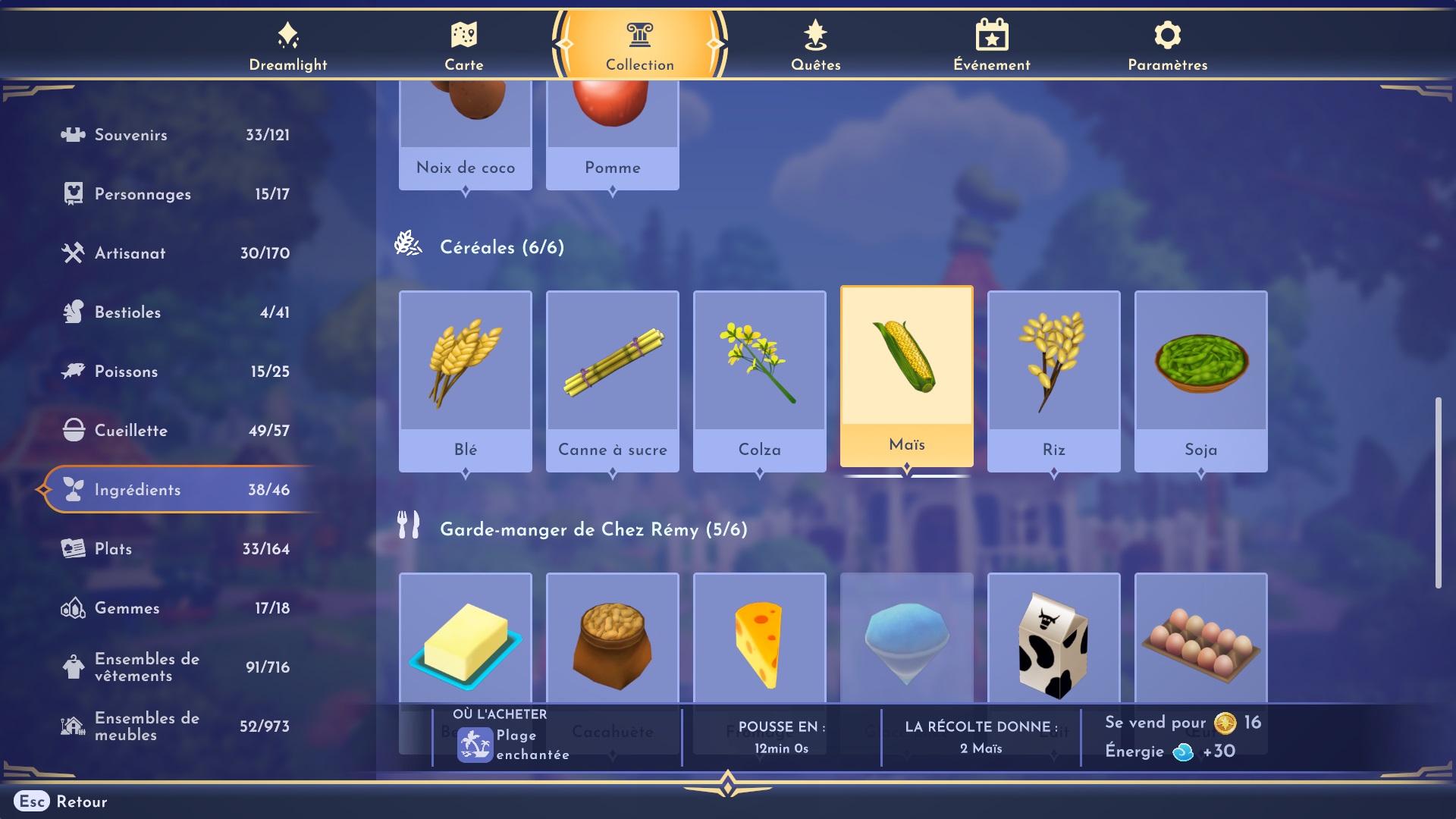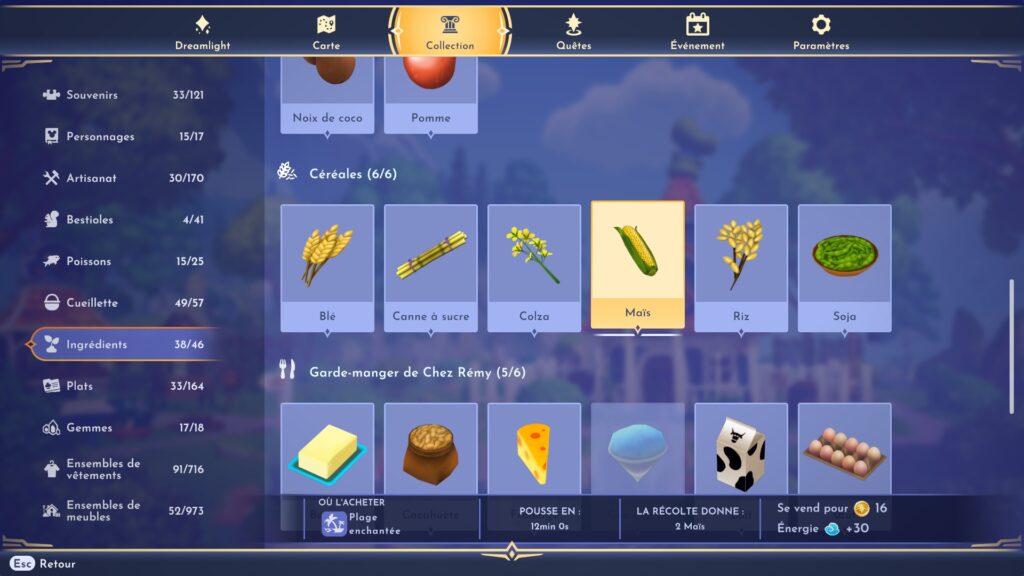 To get the corn ingredient, you need to go to the following area: Dazzle Beach
Rice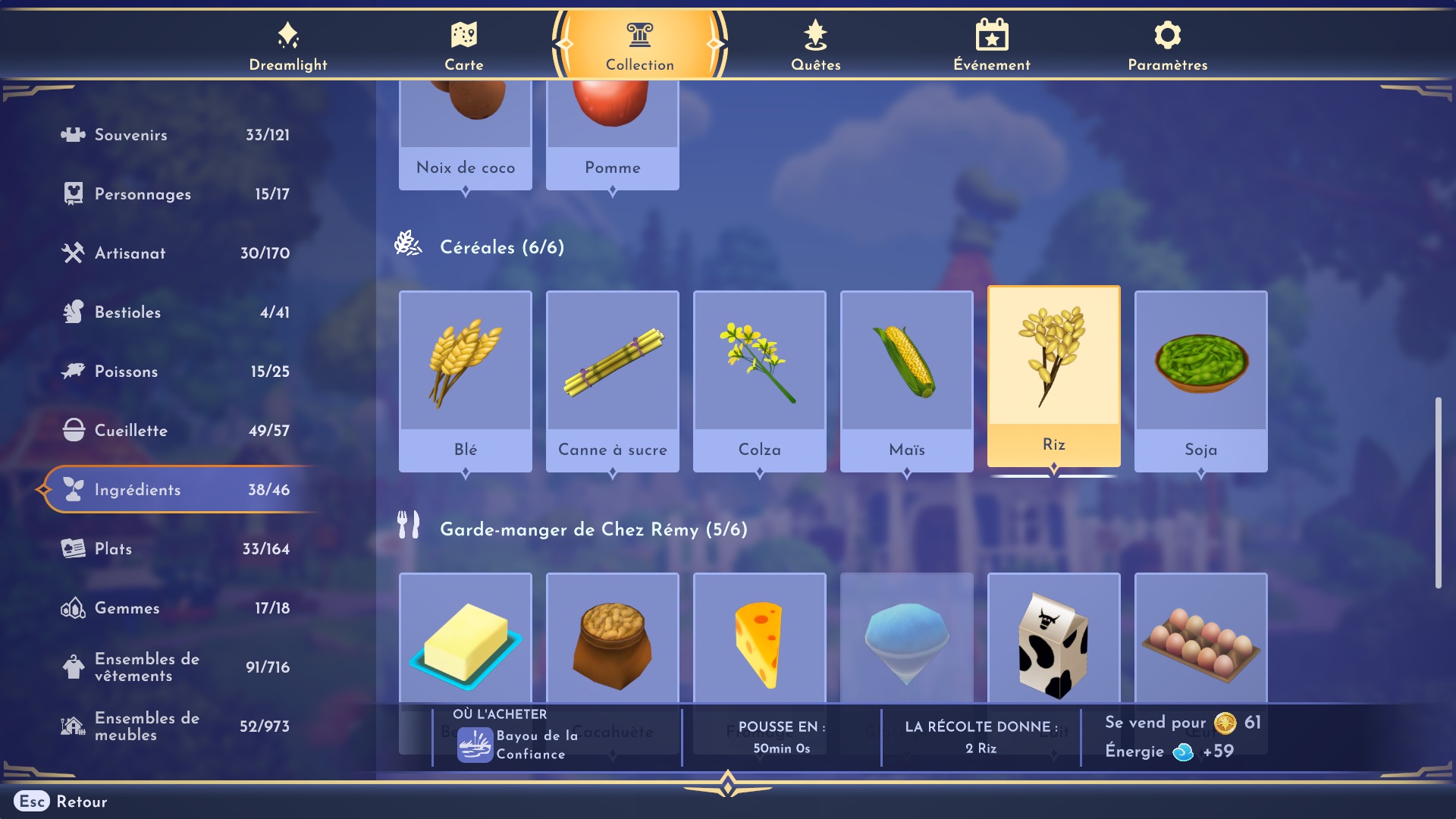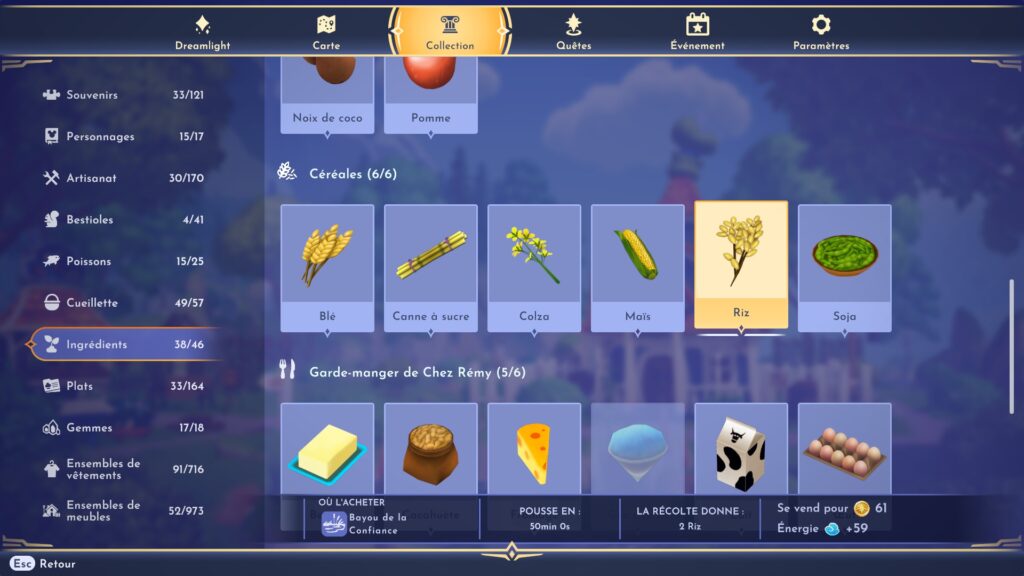 To get the rice ingredient, you need to go to the following area: Bayou of trust
Soy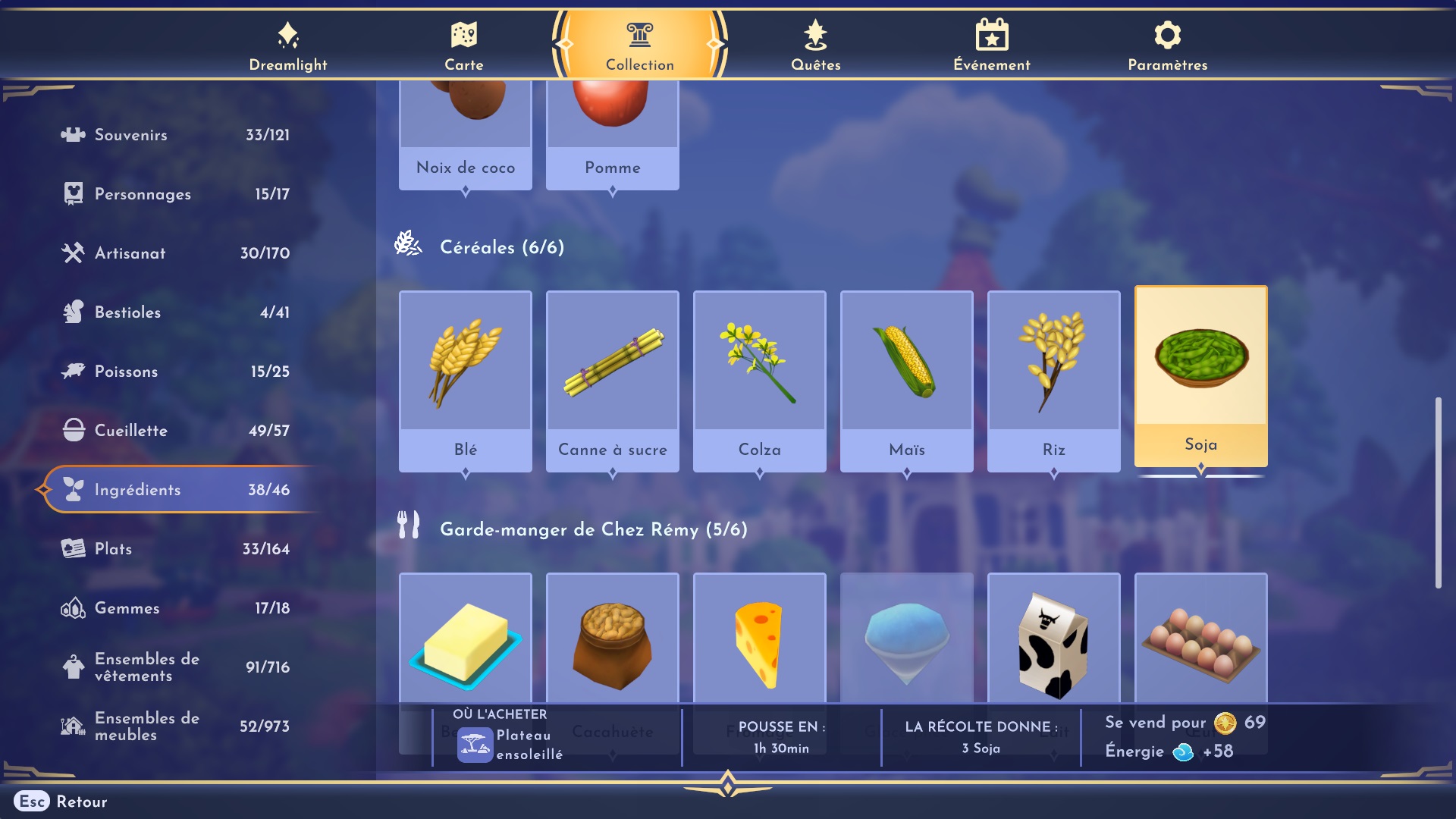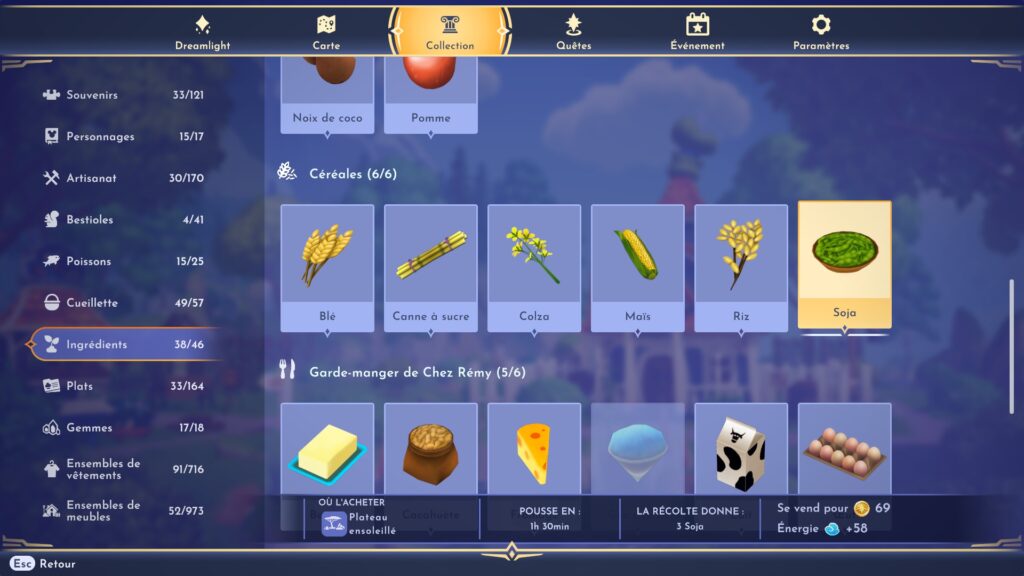 To get the soy ingredient, you need to go to the following area: Sunlit Plateau
Garlic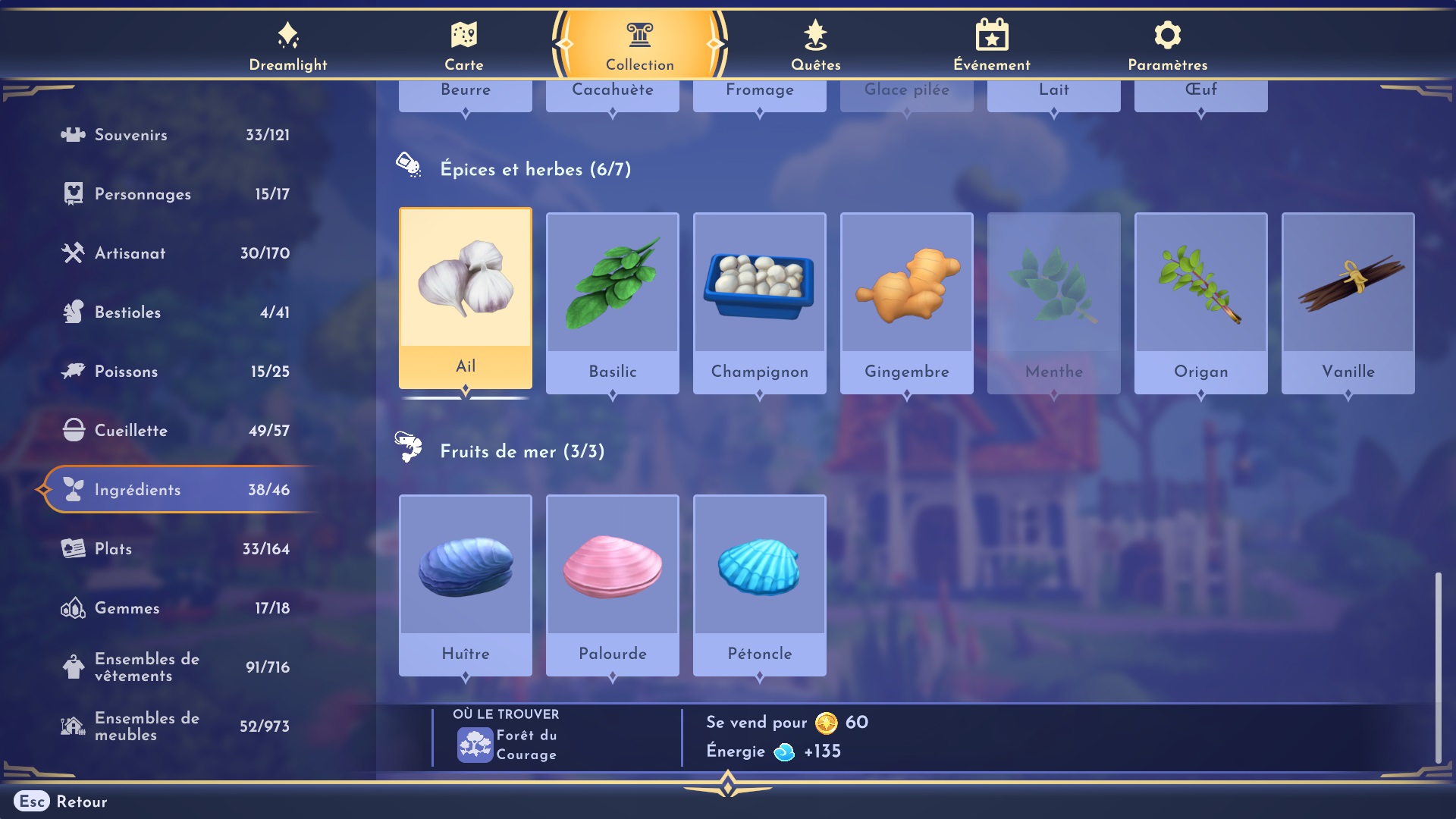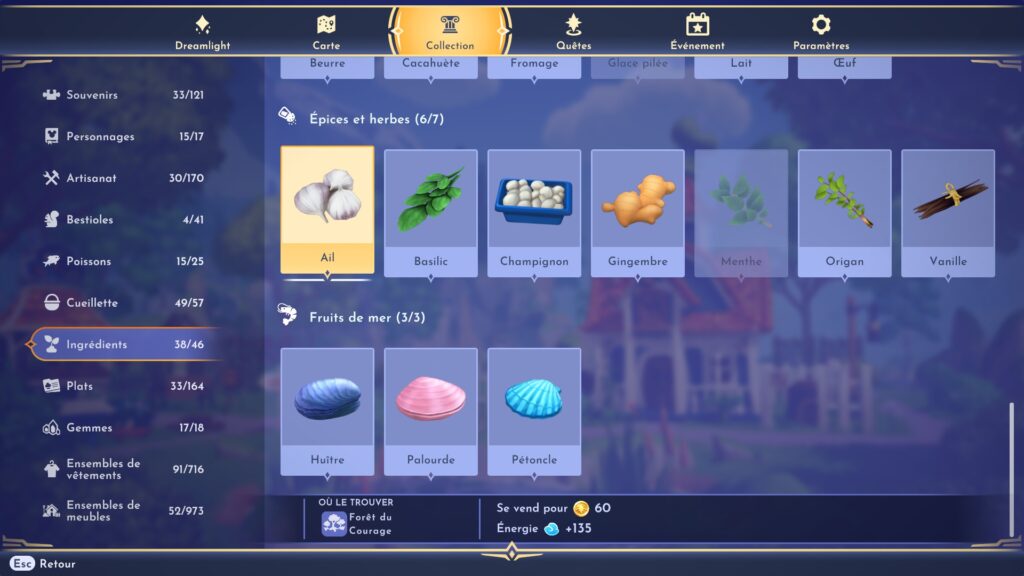 To get the garlic ingredient, you need to go to the following area: Forest of Valor
Basil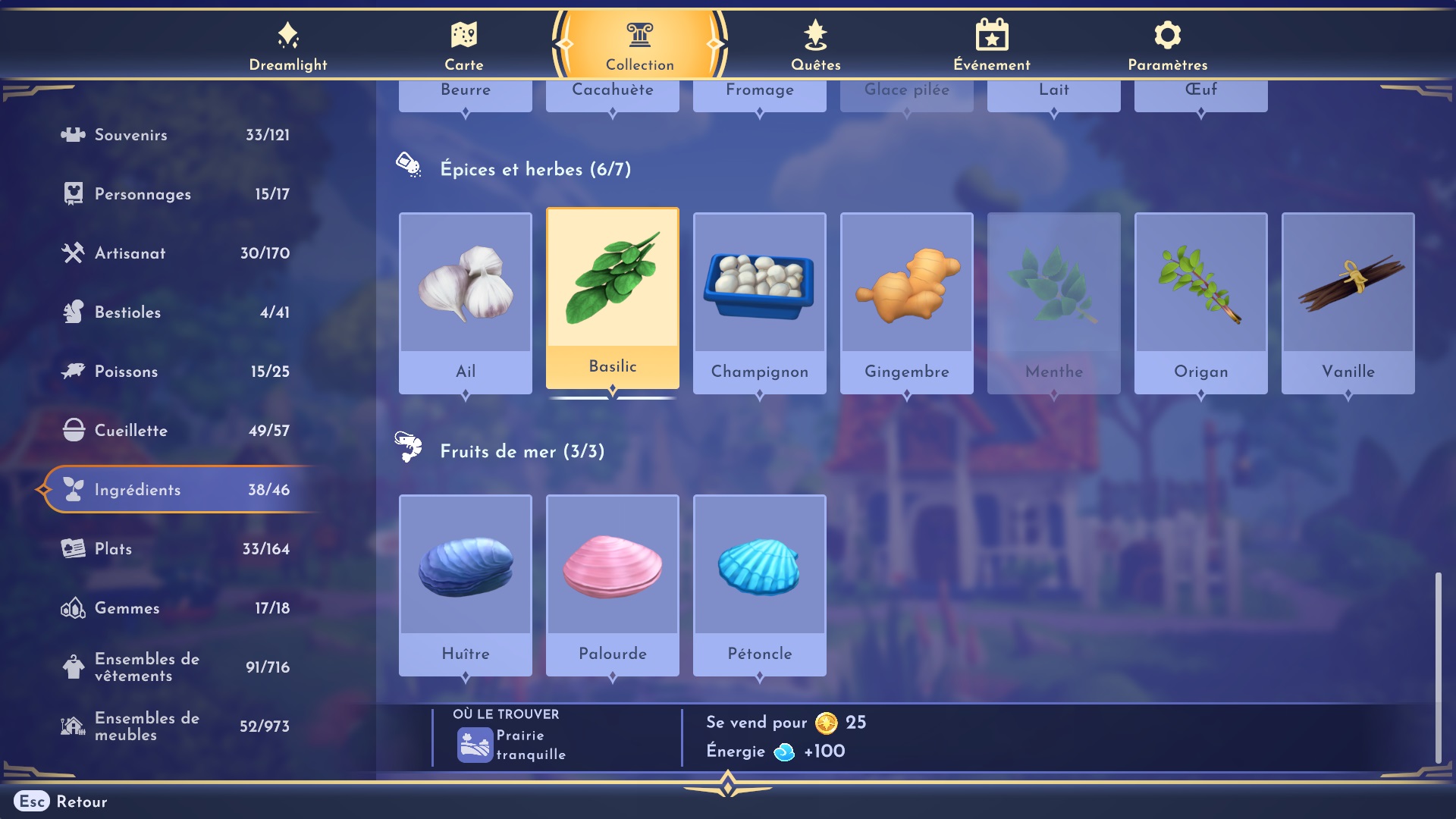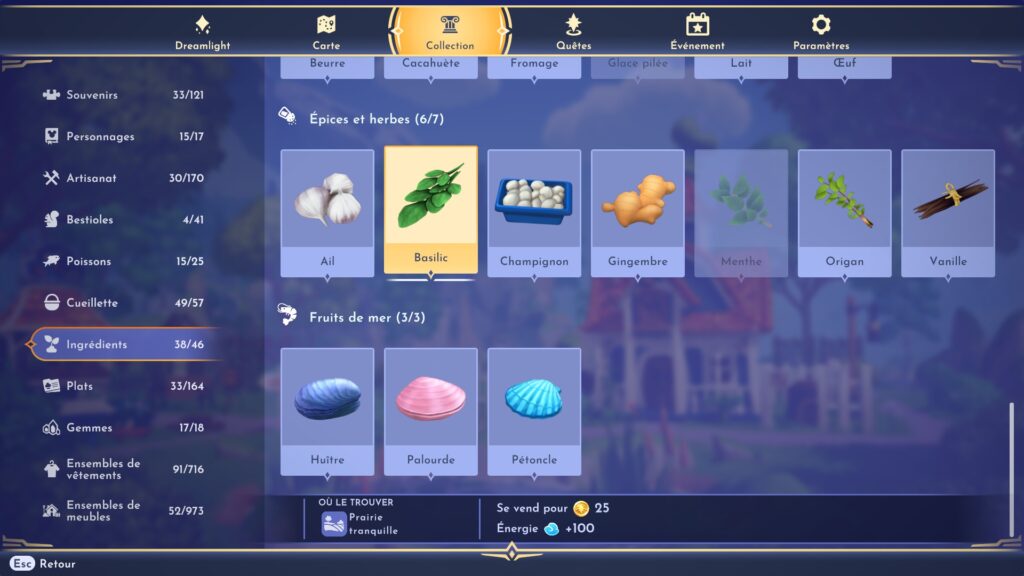 To get the Basil ingredient, you need to go to the following area: Peaceful Meadow
Mushroom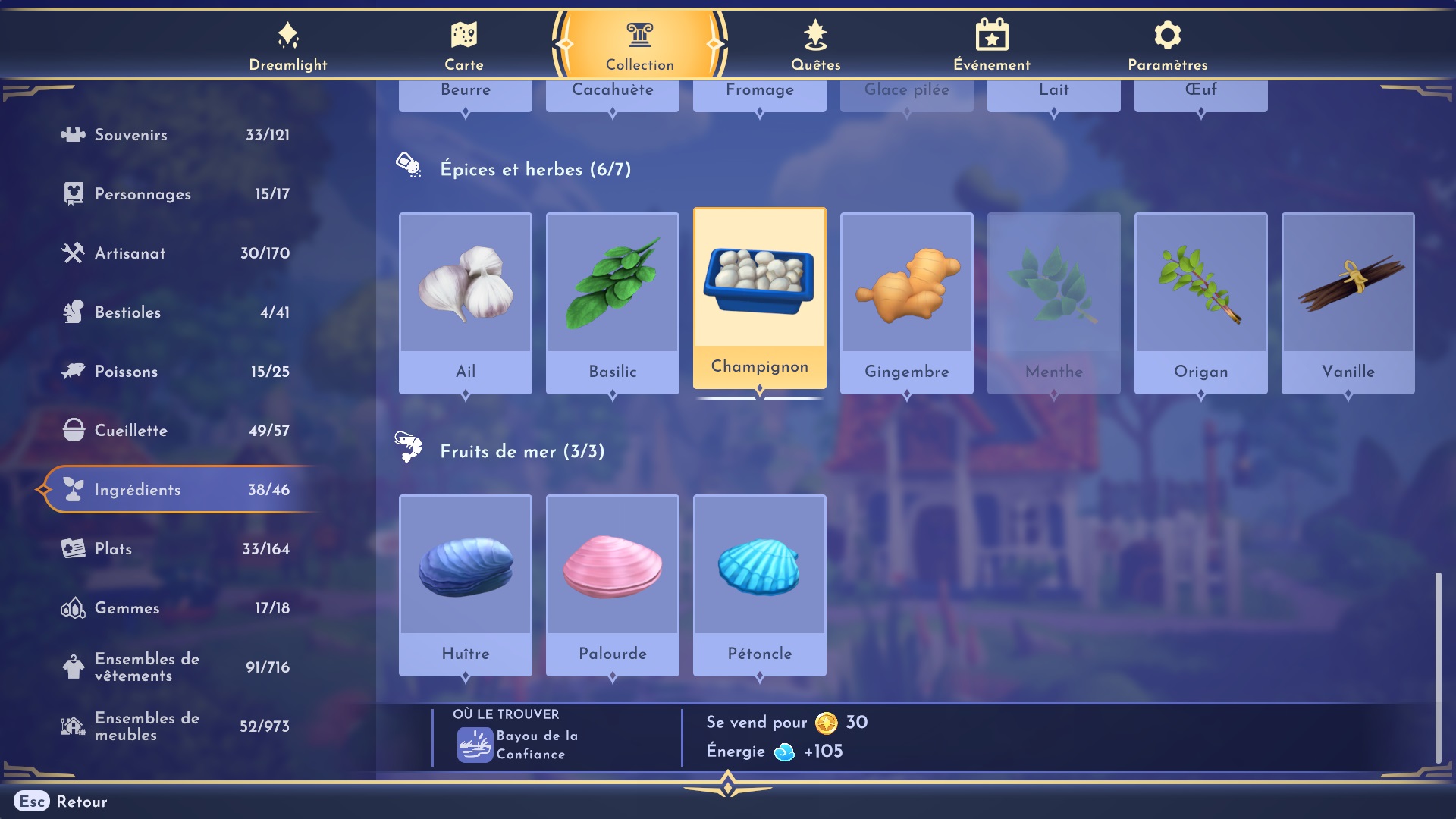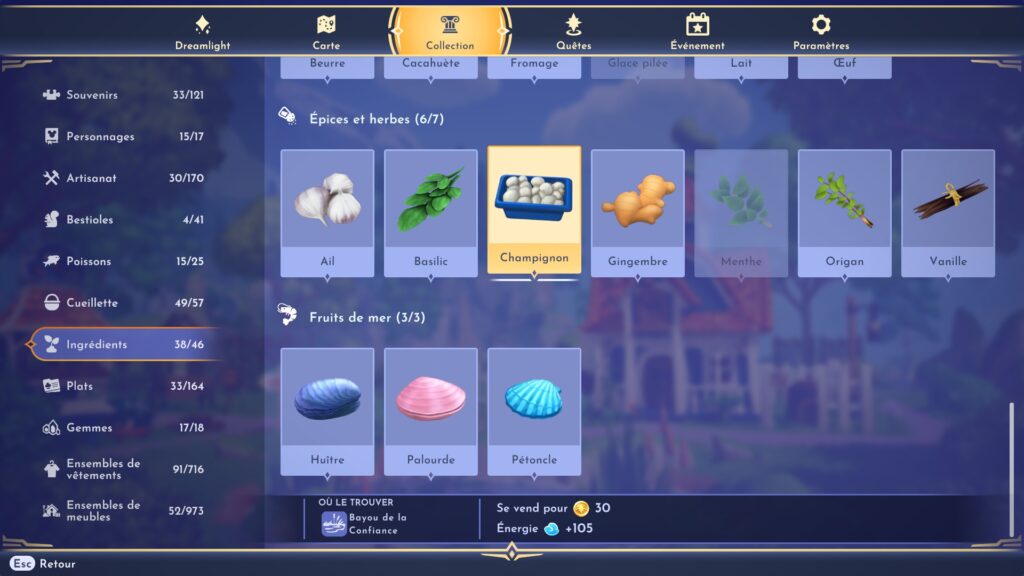 To get the mushroom ingredient, you need to go to the following area: Bayou of trust
Ginger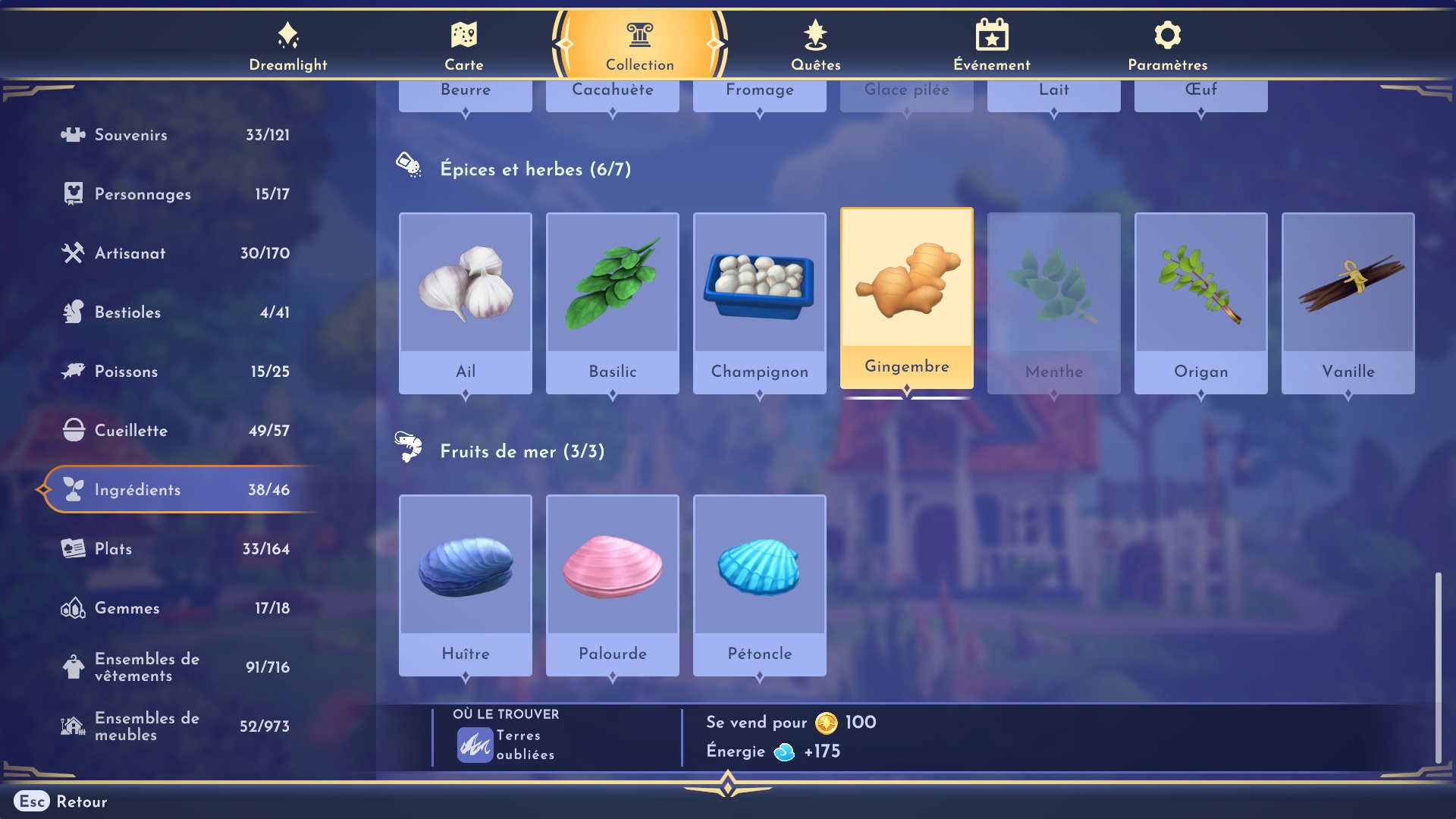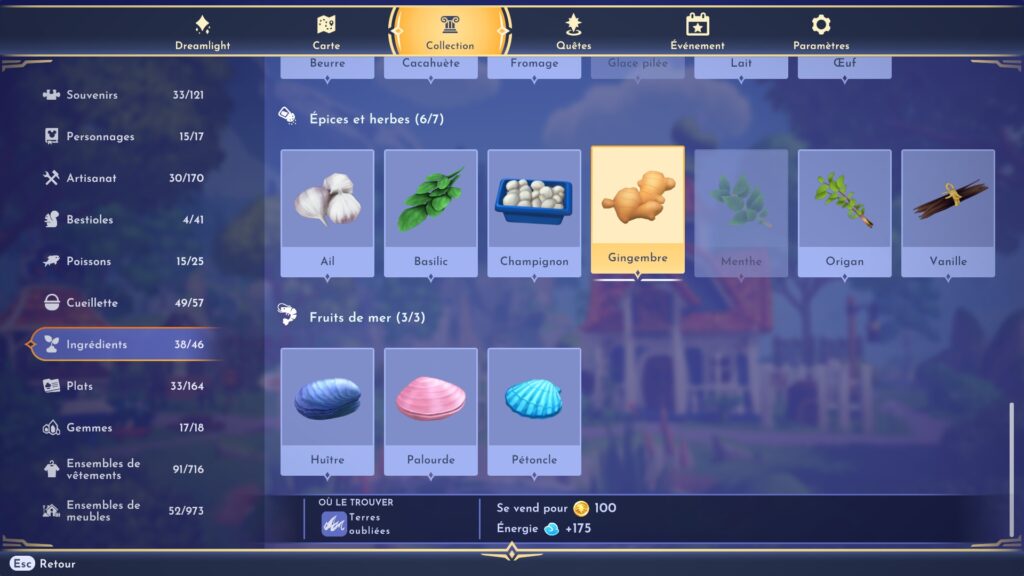 To get the ginger ingredient, you need to go to the following area: Forgotten Lands
Mint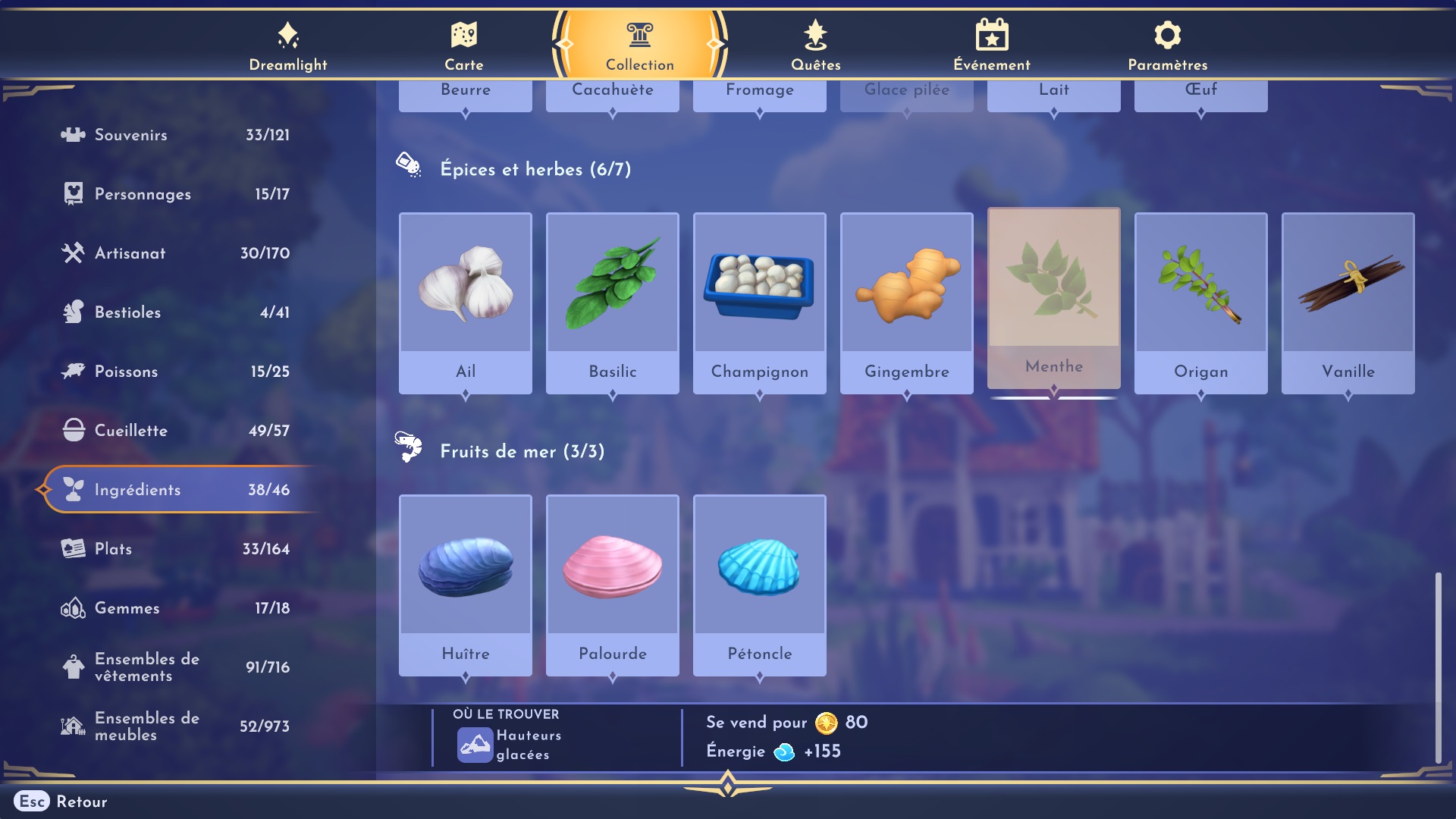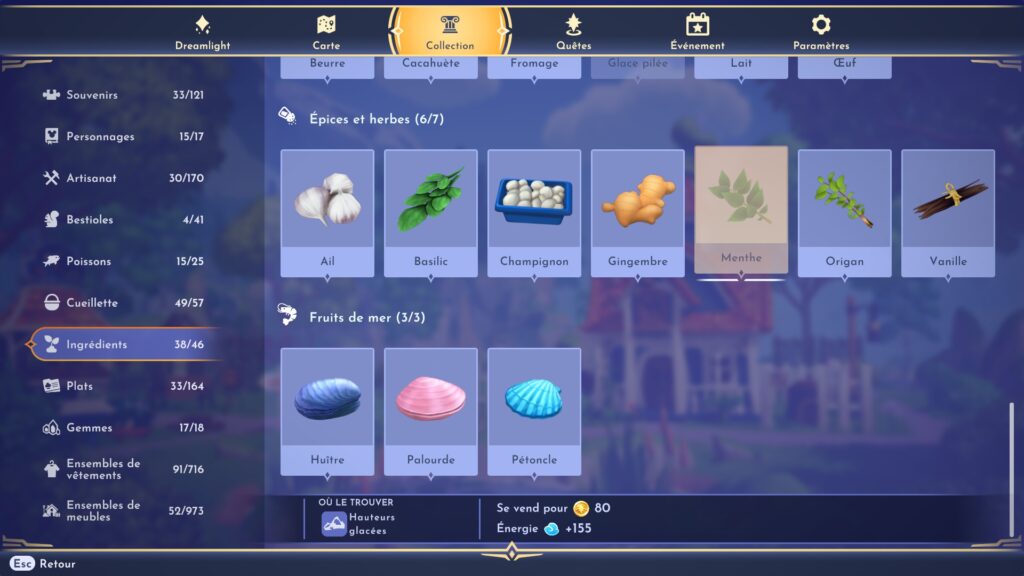 To get the mint ingredient, you need to go to the following area: Frosted Heights
Oregano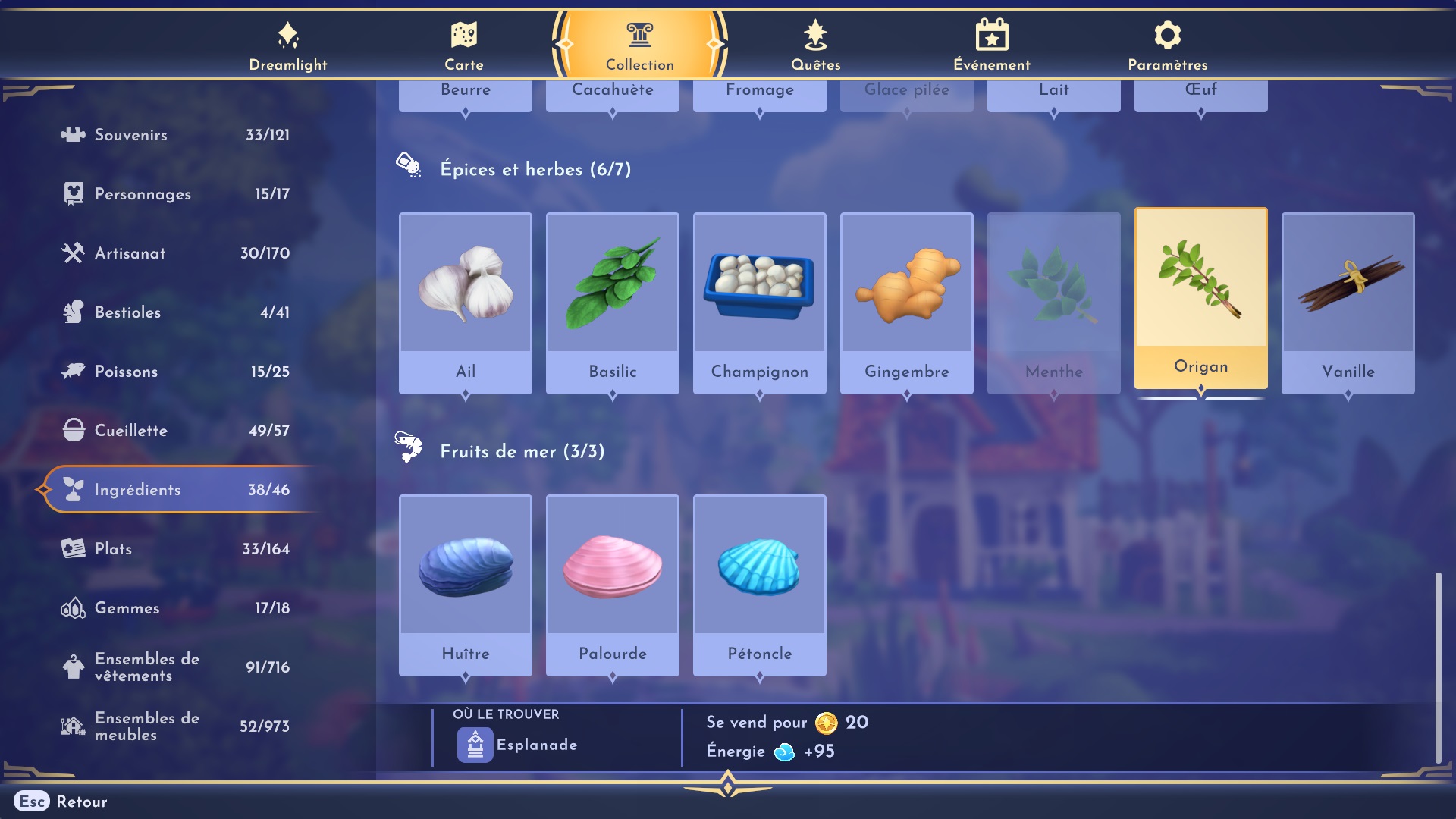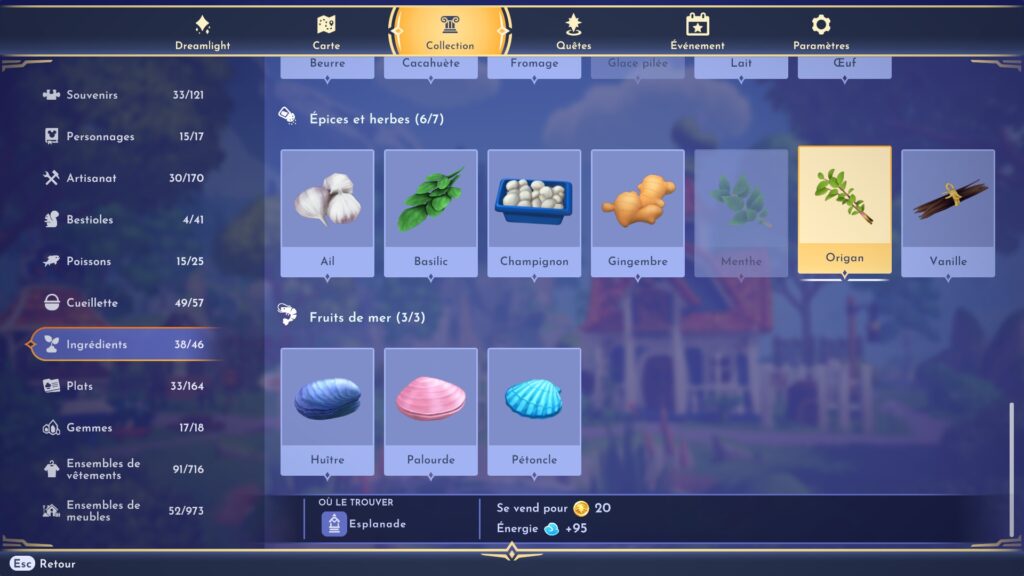 Pour obtenir l'ingrédient origan, vous devez aller dans les zones suivantes : Esplanade et prairie tranquille
Vanilla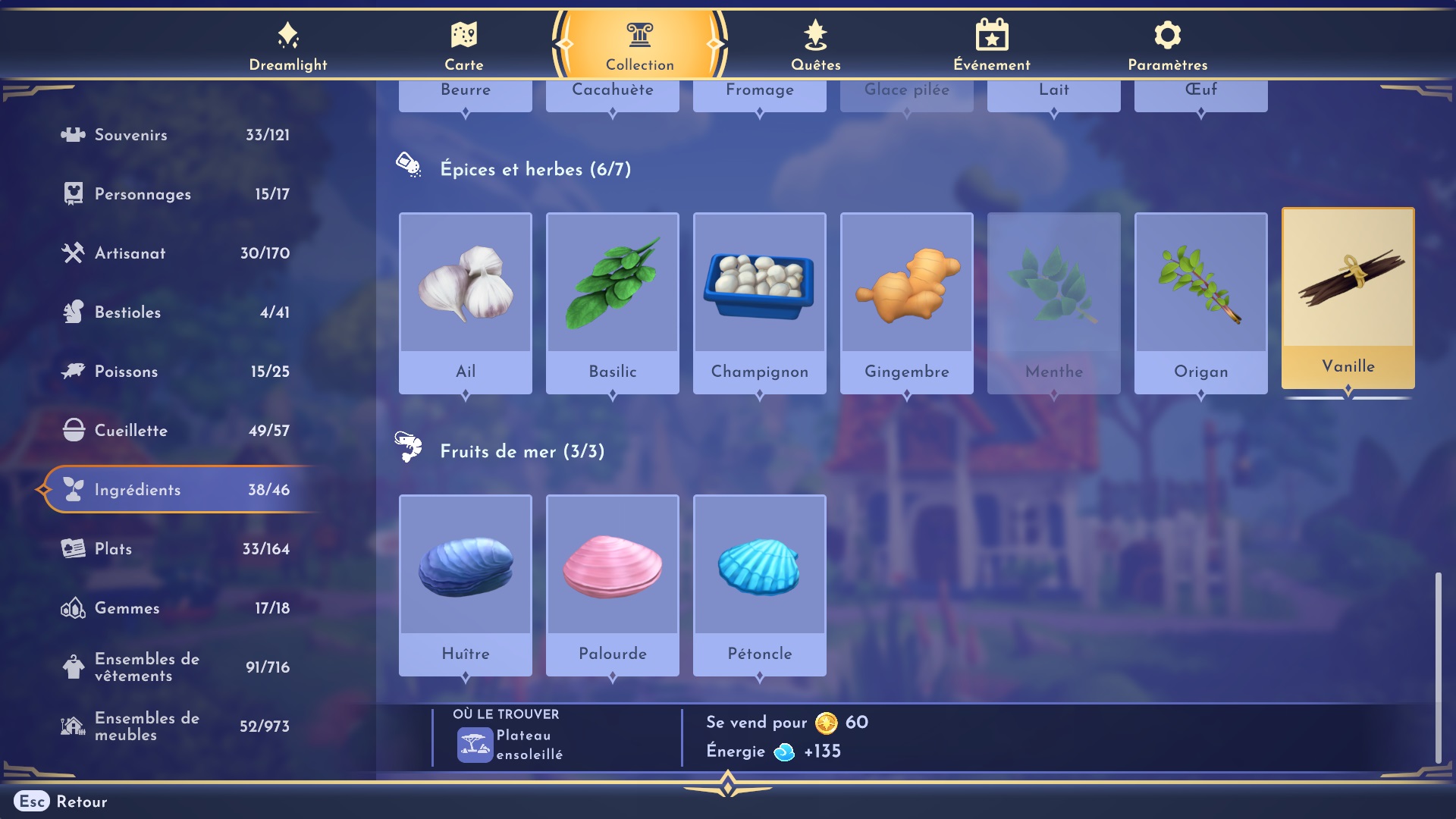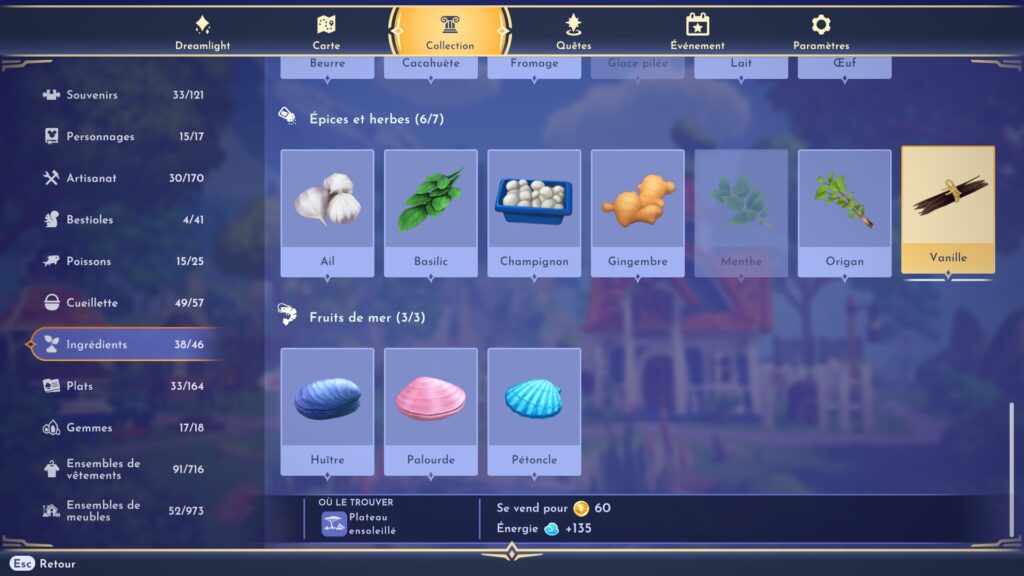 To get the vanilla ingredient, you need to go to the following area: Sunlit Plateau
Oyster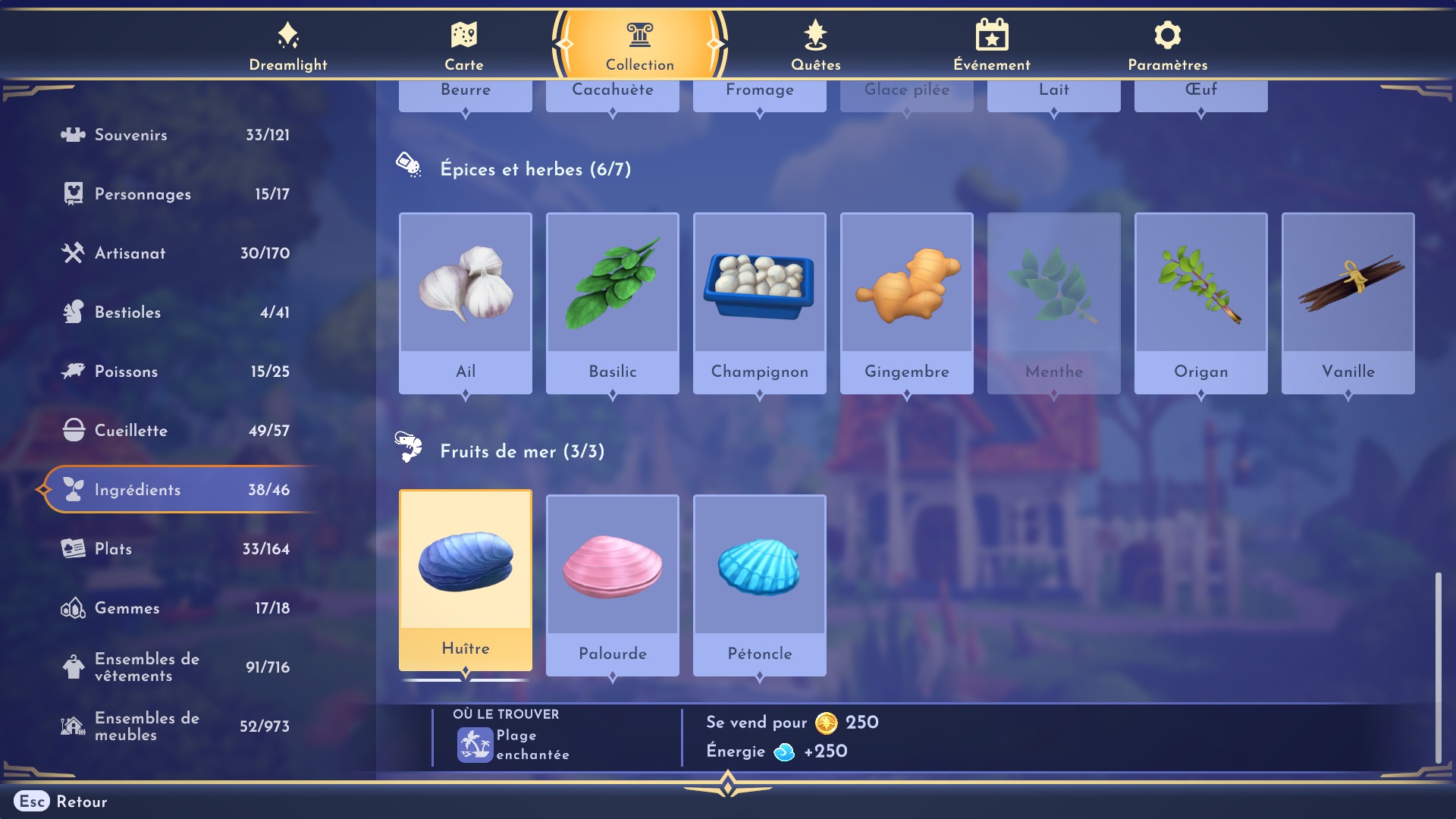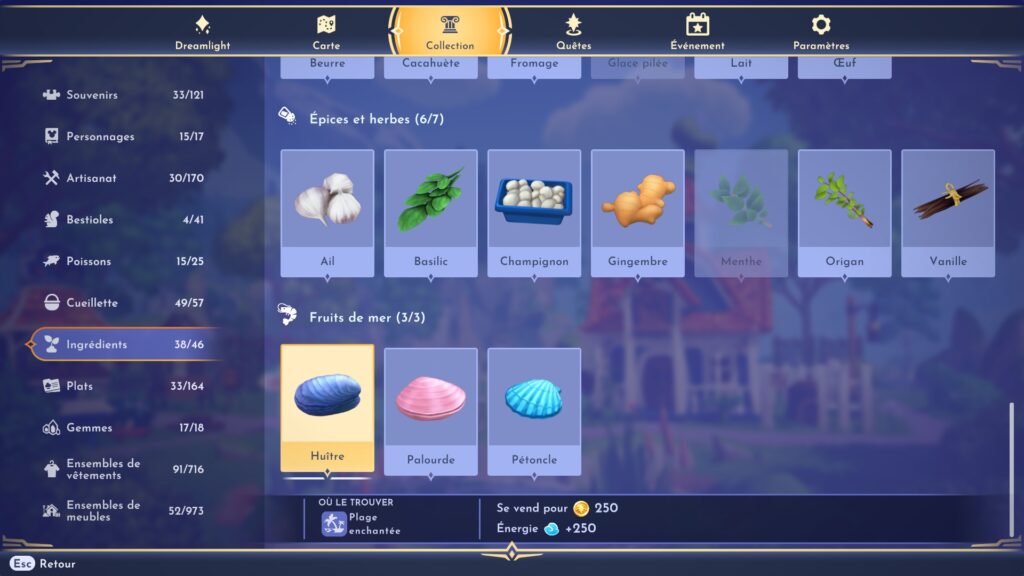 To get the oyster ingredient, you must go to the following area: Dazzle Beach
Clams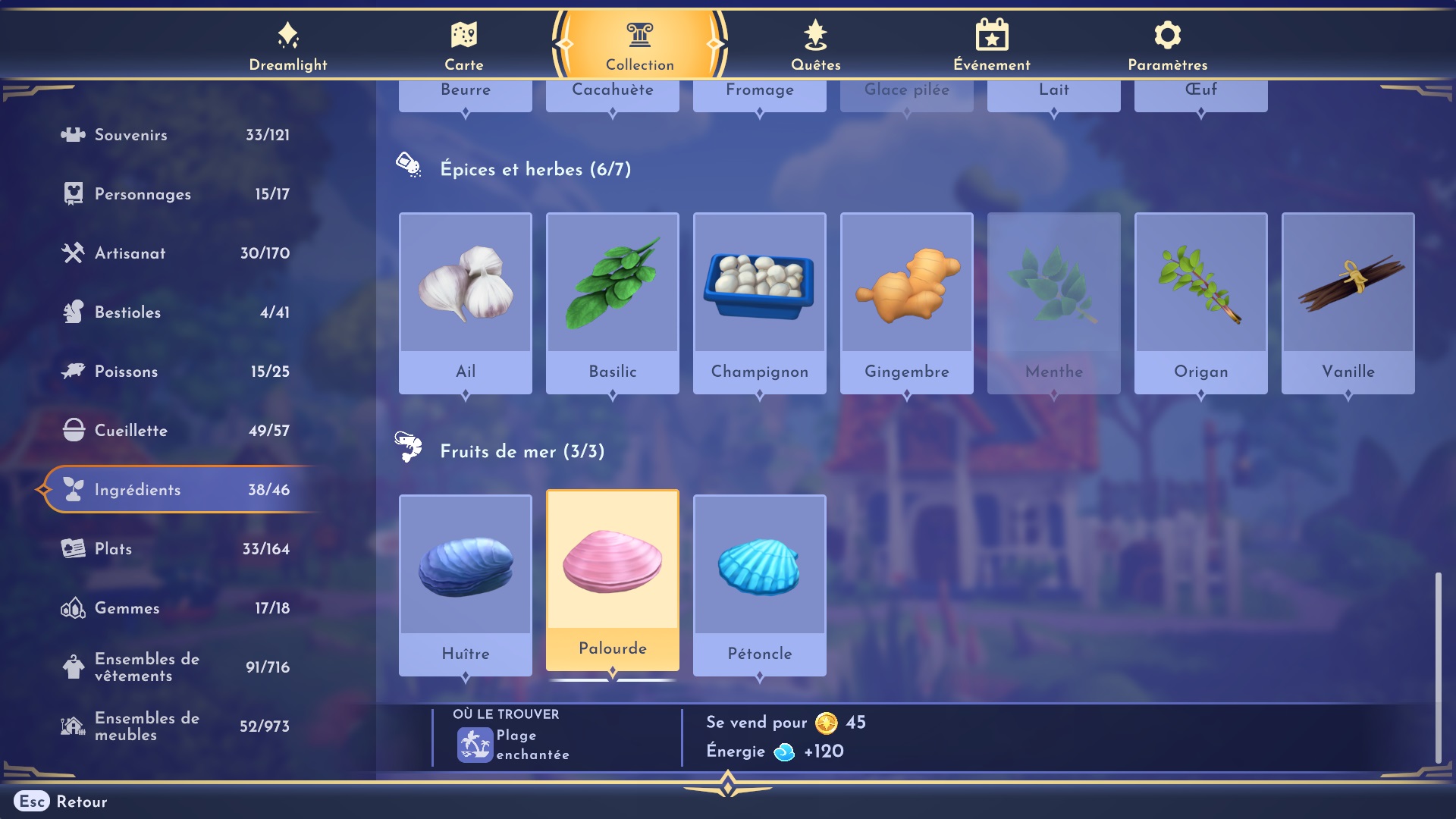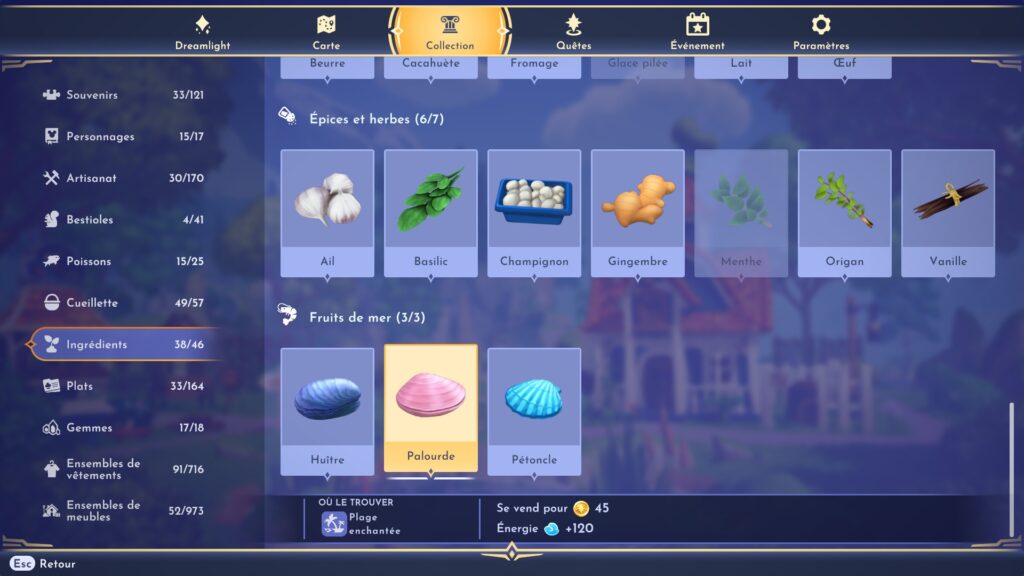 To get the clam ingredient, you need to go to the following area: Dazzle Beach
Scallop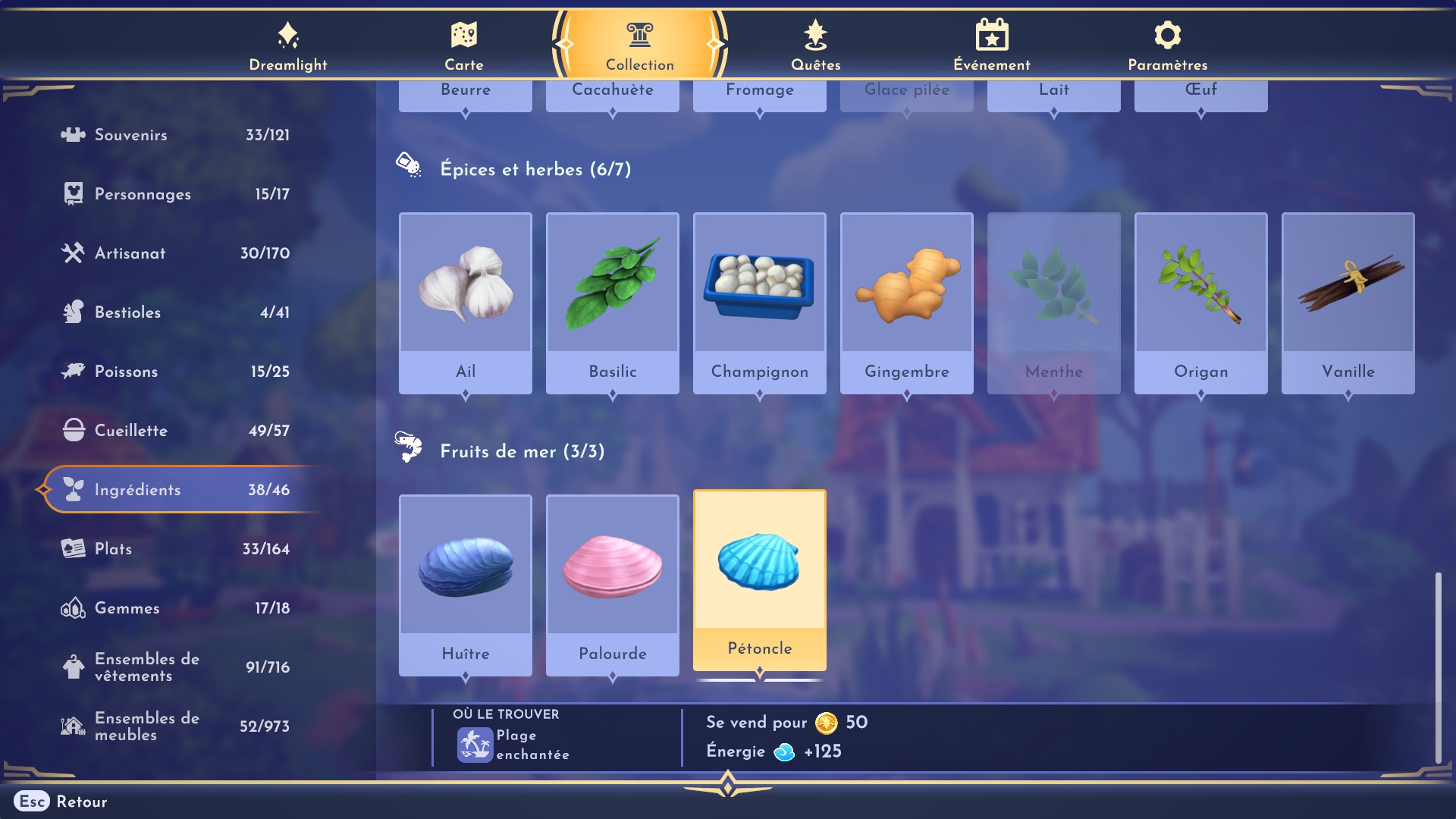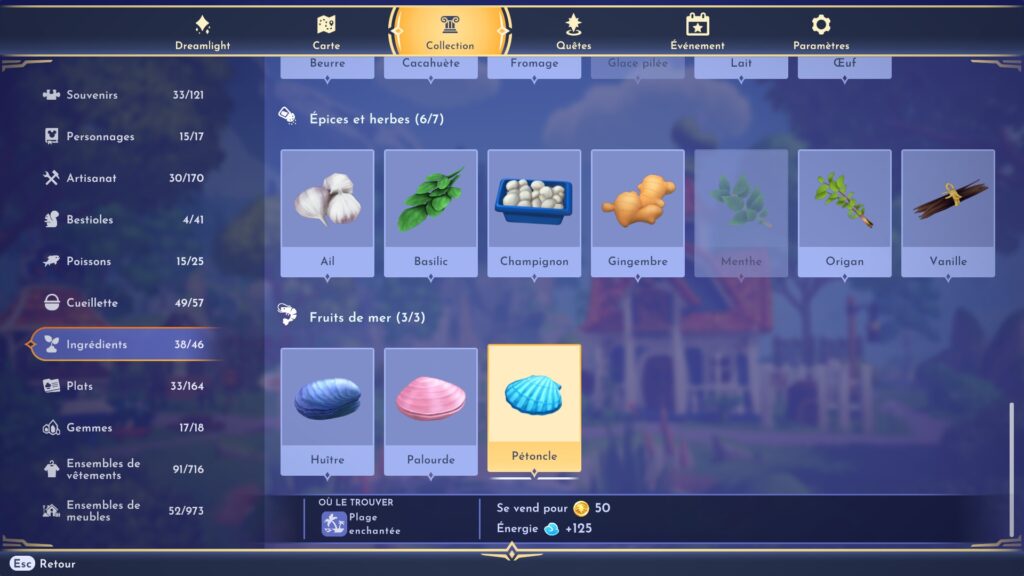 To get the scallop ingredient, you must go to the following area: Dazzle Beach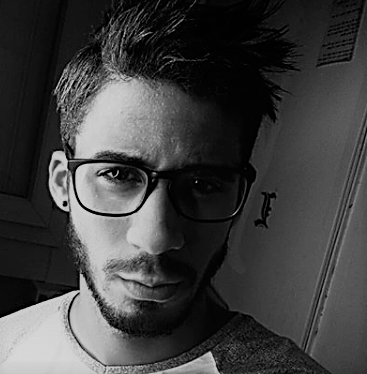 Journaliste gameactuality.com