Megadrive Mini | Arrive pour septembre !
Oui, nous sommes toujours un peu nostalgique sur nos anciennes petites consoles. En effet, après le succès de la Nes Classic Mini, cela a permis de faire réfléchir certains fabricants. Ainsi, l'équipe AtGames proposera une Megadrive Mini, avec 85 jeux et une sortie HD en septembre prochain.
En effet, les consoles rétros reviennent petit à petit il semblerait et la Megadrive Mini n'est vendue uniquement sur le site : Reference Gaming. Ainsi, sur ce site la console est proposée à 79.99€ en précommande, sans oublier les frais de port de 10€ qui s'ajoute, soit 89.99€. Cependant, lors de sa sortie le 15 septembre, celle-ci aura pour tarif 89.99€.
À savoir, la console n'a pas encore de référencement sur le site du constructeur lui-même. Toutefois, AtGames est habitué à ce type de création, mais nous savons que ces derniers ont des connectiques datées comme des problèmes techniques récurrents.
Effectivement, la tentation est palpable pour la précommande, mais il serait peut-être plus judicieux d'attendre les retours.
Ensuite, côté caractéristiques la machine reste fidèle à l'originale et sera celle-ci dotée d'une connectique récente, normal quoi. Outre, une compatibilité avec les anciennes cartouches serait également envisageable, il n'y a plus qu'à espéré à une bonne machine.
Alors, c'est tout ? Non !
En effet, celle-ci sera accompagnée de 85 jeux et deux manettes, si c'est pas beau ça. Noté, qu'elle sera sous port HDMI, avec Ecran HD 720P, tout ça en respectant le design original.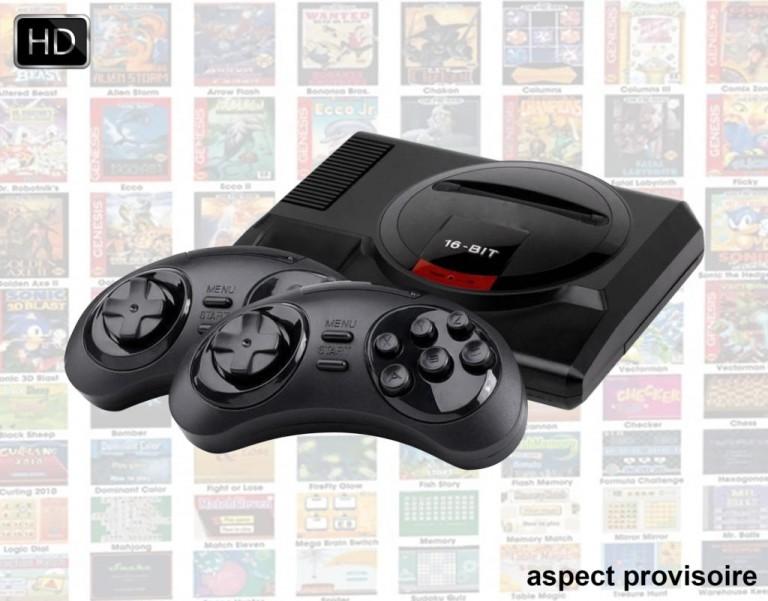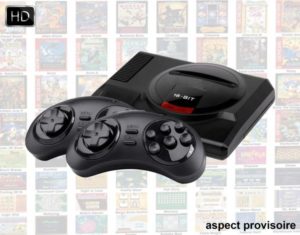 Enfin, c'est fini, oh attendez, vous voulez les noms des jeux qui vous occupera pendant un long moment ?
Mortal Kombat I, II, III
Virtua Fighter 2
Altered Beast
Phantasy Star series
Sonic Series
Golden Axe
Mortal Kombat
Phantasy Star IV
Shadow Dancer: The Secret of Shinobi
Sonic & Knuckles
Alex Kidd in the Enchanted Castle
Alien Storm
Altered Beast
Arrow Flash
Bonanza Bros.
Chakan: The Forever Man
Columns I / III
ComixZone
Crack Down
DecapAttack
Dr. Robotnik'sMean Bean Machine
ESWAT: City Under Siege
Eternal Champions
Fatal Labyrinth
Flicky
Gain Ground
Golden Axe II / III
Jewel Master
Kid Chameleon
Phantasy Star II / III
Ristar
Shinobi III: Return of the Ninja Master
Sonic : Spinball / the Hedgehog / the Hedgehog 2 / 3D Blast
Sword of Vermilion
The Ooze
Vectorman
Vectorman2
Virtua Fighter 2
Shining Force: the Legacy of Great Intention/Force II: the Ancient Seal
Shining in the Darkness
Super Thunder Blade
Adventure in the Park
Air Hockey
Black Sheep
Bomber
Bottle Taps Race
Brain Switch
Break a Fireline
Bubble Master
Cannon
Checker
Chess
Cross the Road
Curling 2010
Dominant Amber
Fight or Lose
Flash Memory
Hangman
Hexagonos
Hidden Agenda
Hide and Seek
Jack's Pea
Jewel Magic
Jura Formula
Lost World Sudoku
Maze 2010
Mahjong Solitaire
Memory
Mirror Mirror
Mr. Balls
Mya Master Mind
Naval Power
Panic Lift
Plumbing Contest
Skeleton Scale
Snake
Spider
T-Rex Memory Match
Wall-Breaking
Warehouse Keeper
Whack-A-Wolf
Enfin, c'est terminé pour la Megadrive Mini en espérant que vous trouveriez votre bonheur parmi tous ces jeux.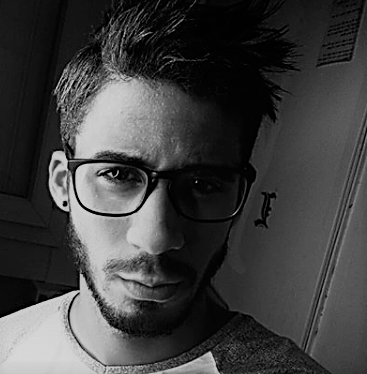 Journaliste gameactuality.com